No, not THAT Georgia! I'm talking about the country – the Republic of Georgia! This European (or Asian) – depending on who you ask – country is the oldest wine producing region in the world. It's literally where wine started. Geographically, Georgia is where Europe meets Asia, bounded by the Black Sea to the west, Russia to the north, Turkey and Armenia to the south and by Azerbaijan in the east. Due to its unique positioning between East and West, its wine and native cuisine mirror that balance. And make no mistake, Georgian wine and food are having a moment.
Wine exports are on the rise and Georgian restaurants seem to popping up in cities across the US, giving more people a chance to fall in love with the unique cuisine and wine of this ancient wine region. The wines deftly bridge and meld with a myriad of flavors and textures of not only Georgian meals, but a wide variety of cuisines. If you're like me, you've been hearing more and more about Georgian wines over the past few years and have had your curiosity piqued. I've definitely seen some on wine lists here and there and even some in retail stores (including TW!). When I see new wines showing up in my market, I'm always curious to learn more. Lucky for me, the folks at Wines of Georgia are mind readers and sent me a few wines to try and encourage me to pair them with food.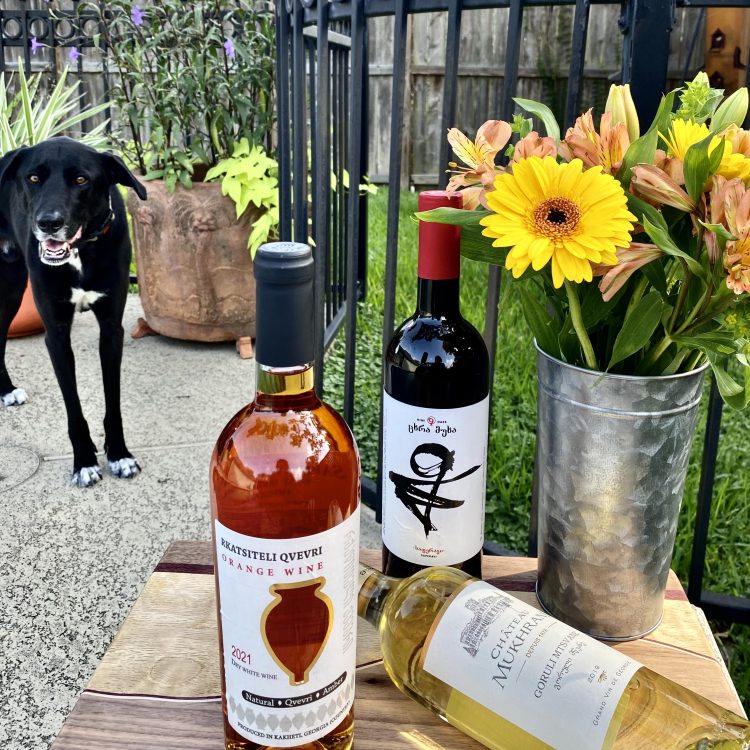 The Birthplace of Wine
While many have laid claim to being the birthplace of wine, Georgia certainly has the most concrete and compelling proof. Back in 2015, scientists studying the history of agriculture in Georgia uncovered ancient clay vessels that contained the remains of grapes and grape seeds. The grape and seed material were dated to 6000 BCE, the earliest known location for grape winemaking. In fact, Georgia is home to more than 500 varieties of indigenous grapes—roughly one-sixth of the world's total grape varieties.
Thus, even before the ancient Egyptians and Greeks developed wine cultures of their own, there was Georgian viticulture. In fact, the ancient Greek writings of both Homer and Apollonius of Rhodes include mentions of Georgia's traditions of vine growing and winemaking. Further, the Western words for wine—vin, vino, wine, and others—are thought to have originated from the Georgian word ghvino (or gvino). Even the beloved Mother Georgia statue overlooking the capital city of Tbilisi tells the tale of Georgia's wine significance as it holds a sword in one hand and a wine cup in the other.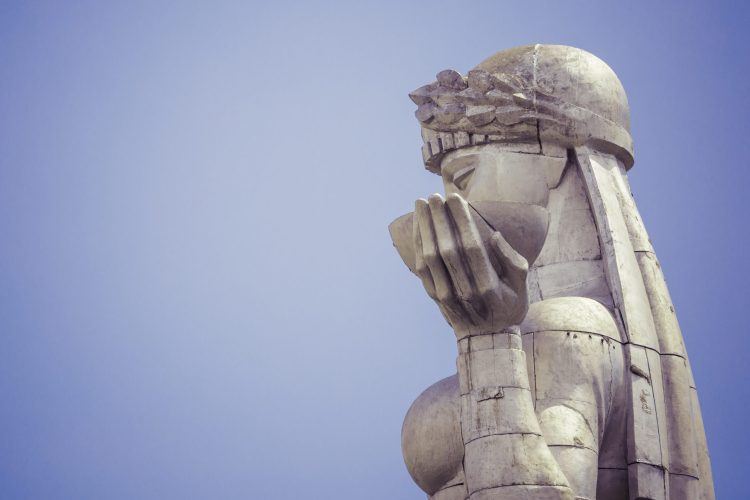 Given that Georgia has over 500 varieties of indigenous grapes, they have done considerable work to nurture these varieties. To be sure, Georgia's vineyards include endangered grape varieties found nowhere else on earth. Today, some vineyards even feature living vine libraries, where visitors can sample rare grapes.
Georgian Wine Styles
Amber Wine
Many of us know Georgia for its traditional amber wines. These skin-contact white wines, sometimes referred to as "orange wine," are often fermented and aged in large clay vessels called "qvevri." The wines take on the amber color when the wine is fermented on the grape skins. Local varietals Rkatsiteli, Mtsvane, and Kisi, are typically used in these wines. While we're talking about amber wine, I should also point out that Georgian red wines can also be made in qvevri. The use of clay vessels has seen increased usage in recent years from vintners in other regions around the world, but for Georgia this tradition is centuries in the making.
Georgia's amber wines tend to be extremely food-friendly and offer up notes of dried orange and apricot, nuts, and honey as well as some herbaceous notes and tannin character. It may be tempting to chill them, but drink them closer to "room temperature" between 55-65 degrees. I find that I enjoy them more with food as that's where they truly shine. While amber wines are extremely versatile, be sure to pair them with foods of a similar intensity. It's probably a good idea to avoid foods that are bitter and focus more on foods that offer up fat, salt, and spice. Think cheese pizza with spicy Italian sausage with red pepper flakes, hard or stinky cheeses, a Philly cheesesteak, eggplant parmesan, or a BLT. Even lamb chops and steak play well here. If you're into full-bodies bite wines, give these a whirl.
We paired with a meat pizza featuring pepperoni, ham, Italian sausage, and bacon. Y'all, this pairing was fire! Like perfection in every way.
White and Red Wines
Georgia also has a plethora of dry white wines, which make up about 75% of planted vines. Rkatsiteli leads the way and is one of the varieties making a name for itself beyond Georgia's boundaries. It tends to be aromatic with tropical fruit and herbaceous notes and is known for pairing with Indian, Asian, and Middle Eastern cuisines. It is also extremely versatile and is made in a number of styles from fresh, dry wines to complex, amber-colored skin-contact wine, to sparkling, sweet and fortified wines. Other notable white varieties that have made the way beyond Georgia include Mtsvane, Kisi, Tsolikouri, and Khikhvi. We recently enjoyed Goruli Mtsvane and paired with a green curry tofu that Thing 2 made at camp. While I have no doubt Rkatsiteli would have paired well with the dish, we really enjoyed the Goruli Mtsvane with it. The lime and slight honey notes provided a nice contrast to the curry.
When it comes to red wine, Saperavi leads the way. Like my friend Alicante Bouschet, Saperavi is unique in that its is one of a handful of vinifera grapes with red flesh and red skin and often produces wines that are inky, dark, bold, and tannic. The wines are known for black fruit, savory spice, mocha, and even meaty characteristics as well as notable levels of acidity and tannin. And it's very much a food wine. Italian meat sauce, grilled pork, black bean or mushroom burgers, and steak would all play well. We enjoyed with "porchetta style" stuffed pork with sweet potato purée and roasted fennel.
Georgian Wine and Food Tourism
And yes, wine and food tourism is a thing in Georgia! In fact, Georgia is home to quite a burgeoning wine and food scene. Georgia's capital, Tbilisi (which is a great stepping off point to wine country) is accessible from a number of major city connections including Munich, Paris, and London as well as Doha and Istanbul. With the marked increase in tourism over the last several years, many hotels have sprung up in Tbilisi. You can find everything from luxury to budget hotels and everything in between, including some properties from major companies the likes of Marriott.
When it comes to food, Georgia has no shortage of flavors and textures to delight even the most seasoned travelers. Meat plays a central role in the local cuisine along with fresh vegetables and herbs as well as local bread and cheeses. Cheeses like Sulgani and Imeruli, salty cow's milk cheeses are the most common and are a great accompaniment to the local Puri bread. Khachapuri, an addictive bread made with gooey cheese and butter is Georgia's National dish and could give any pizza a run for its money.
Soups and stews are also common in homes and rural restaurants alike. Walnuts also figure prominently in Georgia and ground walnuts are a key ingredient in many dishes as is walnut oil. Many of these ingredients find their way into the "supra" which is a traditional, often extravagant, meal that is prominent in Georgian social life. It's a celebratory feast, a tradition, a religious rite, and a national identity all rolled into one and is a part of all of life's major celebrations.
And of course the wine is not far behind. Tbilisi has a number of wine bars and wine-focused restaurants for visitors to enjoy. And if you're looking for someone to put it all together, the folks at Road Scholar just created a really cool wine and food program in Georgia. The 12-night trip includes visits to vineyards and villages to learn about agriculture, sustainability, winemaking, bread baking, the region's history, and more. There's even craft beer tasting and dumpling making.
Georgia has definitely made it to my bucket list and is most certainly on my mind!
*Cover Image Courtesy Colangelo & Partners