Alicante Bouschet. Hear it, learn it, remember it, pronounce it (Ah-lee-KAN-tay Boo-SHAY) – and drink it. This signature red wine of Portugal's Alentejo (that's "Ah-len-TAY-zhoo" to you) region is quite special. It is one of a handful of vinifera grapes with red flesh1 and often produces wines that are dark, bold, and tannic. I once heard a somm declare that Alicante Bouschet makes Nebbiolo look like Gamay! But no worries as Alentejo winemakers are masters at taming those big tannins. Once tamed, many of these wines are ripe, fruity, and easy-drinking.
A French cross of Petit Bouschet and Grenache that happened back in 1886, Alicante Bouschet may have technically originated in France, but it's safe to say that "Ali" is Portuguese inside and out. In fact, many folks (me included) assumed it was a native Portuguese variety. With structural similarities to Cabernet Sauvignon but with softer edges due to the very warm climate in Alentejo and amazing acid-retention qualities, it is very much the flagship of the region. This, despite the mind-boggling 250-plus indigenous Portuguese varieties, including Trincadeira and Aragonez, not to mention a host of international varieties.
In addition to sunny days tempered by cool, breezy nights, Alentejo is blessed with wide open spaces, gentle plains, and blue skies that go on forever.
And with the rising stature of the entire Alentejo region (heck all of Portugal!), it's only natural that the wines are gaining more recognition.2 Wine routes have cropped up to encourage wine tourism with experiences ranging basic wine tasting to full on wine and food pairings, all while embracing the region's history and traditions. In fact, due to the quality wines and gastronomy of the area, Alentejo has even been referred to as the "new Tuscany." *Sees Alentejo in wine travel future.* And there is substance to back up the increasing popularity of the wines.
Covering about a third of Portugal, Alentejo has an ideal climate for viticulture with its long, dry summers, granite, limestone, marble, and schist soils, and ideal harvesting conditions with little rain.
The quality DOC3 wines are made in very small sections of the greater Alentejo region. Within the Alentejo PDO are eight smaller sub-regions.
Quality wines of the region will be labeled DOC Alentejo and may also bear the name of sub-region. What's more, Alentejo is a pioneer in sustainability and serves as a benchmark for other regions. With its Wines of Alentejo Sustainability Plan ("WASP" – let it go!) the region is committed to being stewards of the land. Whether it is reduction in pesticides, improvements in soil health, or conservation of scarce resources, the plan has the backing of many producers in the region.4
OK, so what have I tasted. A lot actually. I was fortunate to attend a class on the wines of Alentejo and talk about an eye opener. I was so amazed by these wines that I knew very little about. The diversity in styles was amazing, but what really stood out was how drinkable the wines were.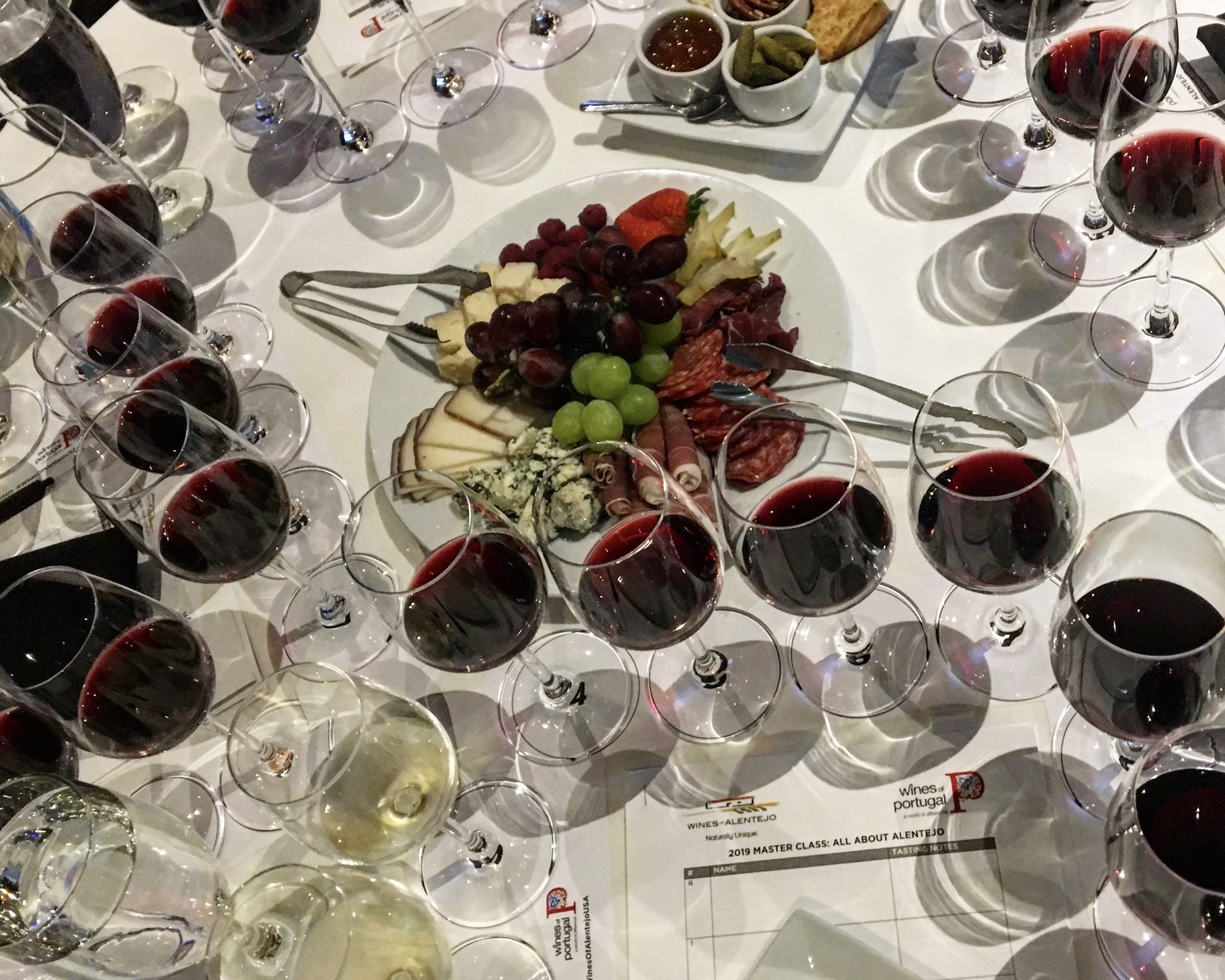 I was also sent several bottles of Alicante Bouschet to try. This was some of the best "work" yet for The Corkscrew Concierge! And it was such a treat to taste these wines side by side to compare and contrast. The common denominator in the wines was the vibrant fruit and spice profile, but these wines offered so much more. Different levels of complexity, acidity, tannins, etc. kept my nose deep in the glass and wine swishing around my mouth.
2013 Mouchão Red ($60)
From the folks that first brought Alicante Bouschet from France to Alentejo in the late-1800s, they certainly know their way around this grape and set the standard. Made only in the best years, the Mouchão wine is a single-vineyard wine from the Carapetos Vineyard in the Portalegre area. Age had definitely softened up the tannins. With dark stewed fruit, licorice, and spice, along with violets and mint, it was the most earthy of the group of wines but still had lots of fruit to give. An excellent wine.
2012 Dona Maria Grande Reserva ($45)
From an estate that was once owned by a king, Dona Maria has one of Portugal's oldest Alicante Bouschet vineyards. Additionally, winemaker and Julio Bastos is widely regarded as one of the pioneers of the Alentejan wine renaissance. This one is crafted of 50% Alicante Bouschet, along with 20% Petit Verdot, 20% Syrah and 10% Touriga Nacional. Smooth and easy drinking with lots of spice (the most of the flight), vanilla, floral notes along with dark berry fruit. Even with a bit of age, it still showed a good level of acidity.
2017 Herdade dos Grous Moon Harvested ($25)
This was the youngest and most tannic of the group, yet it is still very drinkable now. Just give it some time to open up and do its thing. 100% Alicante Bouschet with wild berries, mocha, coffee, and vanilla spice with a lingering finish. Per the winemaker, grapes are "hand-picked when the moon exerts the greatest pull on the life-giving sap." It is this can-do and inquisitive spirit of combining tradition with modern techniques, that allows winemakers in the region to produce such varying styles of wines.
2016 Herdade do Rocim Alicante Bouschet ($20)
Crafted of 100% Alicante Bouschet, this one hails from an estate in Southern Alentejo that is known for its temperate micro-climate as it enjoys cool air from the nearby Algarve coast. The cooling breezes as well as the volcanic soils of granite and schist, results in wines that have higher levels of acidity and a great deal of minerality. Vibrant black fruit tempered by bold tannins makes for quite the elegant and complex sip.
2013 Esporão Vinha das Palmeiras Alicante Bouschet ($45)
Another single vineyard wine made only in the best years, this one comes from the family owned Esporão estate. As one of Portugal's largest and best-known producers, they make a classic expression of Alicante Bouschet. With juicy blackberries, licorice, leather, and smooth tannins, it's rich and opulent and just fun to drink.
After such a great exposure to the wines of the region, I'll surely be adding more to my cellar. Not to mention that I can't wait to visit! Seriously, if you're more on the fruit forward side of wine rather than the earthy side, you should give these a whirl. Cheers y'all!