The #WinePW group of writers is talking about under the radar European wine regions this month. And I knew just the country whose wines I wanted to feature. Kosovo! Particularly those from Stone Castle Vineyards.
Sometimes I'm able to write an article with small amounts of research and can get it turned around pretty quickly. The same holds true with travel planning. But other times, I find myself spending hours doing research just to understand the status quo and how and why we are where we are. In the case of travel, this happened when I took trips to places like Croatia and Slovenia as well as places like Hungary and Austria. Particularly when I visited Croatia and Slovenia, I found myself going down the rabbit hole and studying the former Yugoslavia all the way back to the First World War. I just hate to be ignorant and not understand what I'm looking at when I travel. That's what beach trips are for! I still recall some of the thought-provoking conversations we had with a driver in Croatia and because I was armed with some knowledge of Croatia's history, I had context for her comments – even through the haze of all the Croatian wine. As an aside, I still contend that of all the places I've visited, I never felt more welcome as I did in Croatia.
Similarly, when I heard about Kosovo's Stone Castle Vineyards and Winery, I again went down the rabbit hole to understand more of the country's history, particularly as it relates to the state of the current wine industry. So once again, I was back studying the former Yugoslavia from its early beginnings all the way up to its breakup and beyond. Don't worry, I'm not going to give a history lesson – this is a wine blog after all – but the background certainly helped me to understand the importance of the rise of Stone Castle Vineyards.
Kosovo Wine Industry
History
If you don't know much about it now, chances are you'll soon be hearing more about the Kosovo wine industry. Kosovo has a long history of cultivating grapes and producing wine (thousands of years in fact) albeit with the techniques that are a carryover from the former state-owned system. Production and exports were humming in the 1980s under the tutelage of the government. Wine production had long been an important part of the country's agricultural business as wine was one of the leading exports. But the breakup of Yugoslavia, followed by the conflicts of the 1990s, wreaked havoc on the vineyards and production facilities.
But changes are a-happening. After the wars of the 1990s, both the government and private business showed a renewed focus on the industry. With privatization and an emerging economy in transition, new entrants are slowly entering the industry. At the end of 2019, there were 27 licensed producers in the country. Hmm, could this be my chance to invest in a vineyard? Inquiring minds want to know.
The country is also tackling its laws surrounding viticulture and wine production. The Ministry of Agriculture, Forestry, and Rural Development has put in a great deal of work in this area during the past decade, with the hope of finalizing the rules by 2025. They also plan to establish consistency with European wine law as well as make Kosovar wines more prominent in both regional and European markets. Wines are currently exported to over 30 countries, with Croatia, Serbia, Albania, Slovenia, and Switzerland making up the largest markets respectively. Work is also being done to shore up vineyards and production facilities, establish new cultivation systems, and diversify the wines produced.
The future certainly seems bright for the Kosovar wine industry. There are even "wine routes" that are cropping up, pointing thirsty visitors to the various vineyards and wineries in a burgeoning wine tourism destination. The wines are also receiving international accolades, further cementing the country's status as a place of quality wine production.
Regions and Grape Varieties
Kosovo is comprised of 18 distinct wine regions, with the bulk of the production in the Rahovec region (where wine growing dates back to 1 AD) followed by Lipjan and Prizren.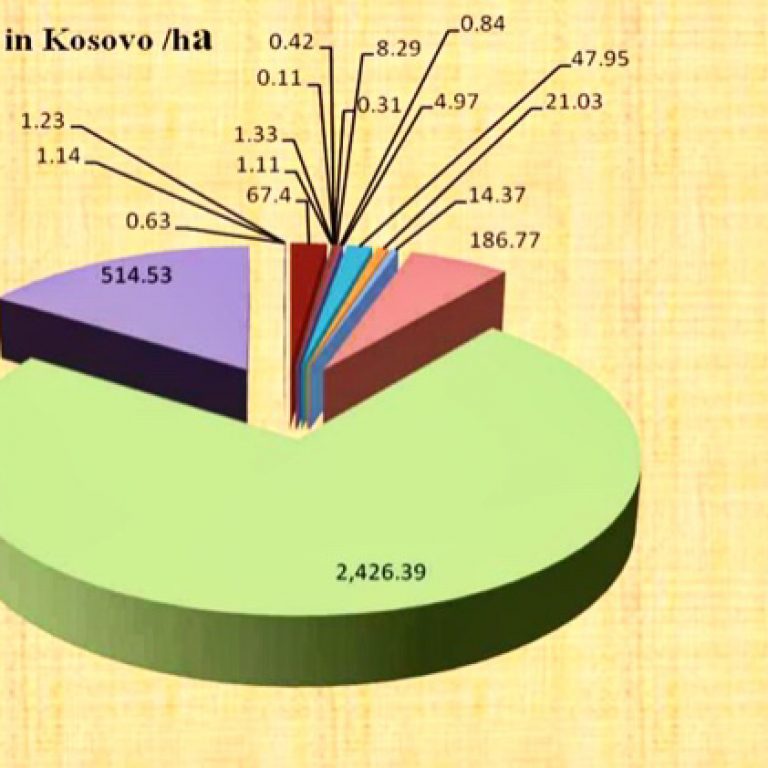 Red grapes varieties make up 2/3 of vineyard plantings and are by far, the most popular. While indigenous varieties dominate – Vranac, Prokupa, and Zhameta are the top three in order – many international varieties also crop up. Gamay, Pinot Noir, Cabernet Sauvignon, and Merlot can be found amidst the myriad varieties grown in the country. I was so excited to see the prominence of Burgundian varieties!
With respect to white wine, native variety Smederevka is by far the most planted, with Welschriesling (aka Italian Riesling as it's called locally), Chardonnay, and (Rhine) Riesling also being planted in significant quantities.
And yes, the geography is great for cultivating wine grapes. The major wine-growing regions with their moderate climates receive 270 days of sunshine which provides ideal growing conditions. The Rahovec Valley in particular, with its Mediterranean climate similar to southern France and Italy, is located in an agriculturally rich region of southwestern Kosovo. With its clay and limestone soils, elevations that reach up to 1,700 feet above sea level, and varied microclimates, it's understandable why Rahovec Valley is the premier wine region in Kosovo.
Several state owned wineries were privatized once fighting had ceased. The largest of these is Stone Castle Vineyards in Rahovec in the southwest of Kosovo. The area is sunny with a moderate climate and historically has a reputation for Pinot Noir wines.
Stone Castle Vineyards and Winery
Located in Rahovec Valley, known locally as the "Tuscany of Kosovo" in southwest Kosovo, is Stone Castle Vineyards and Winery. It is the largest and most well-known winery in the country. Inspired by visionary winemaker Robert Mondavi, Albanian American Rrustem Gecaj saw Kosovo's potential and set about putting his homeland on the international wine map.
Background
Gecaj emigrated from Yugoslavia in 1974 to escape communism, first moving to Italy and then to Canada, and eventually landing in the United States. In 1976, he was granted a United States visa and settled in New York City, eventually becoming a U.S. citizen. He began working in a restaurant and after several months was promoted to a chef position where he remained for three years. After building his savings, Gecaj partnered with his nephew in a series of real real estate investments from residential to commercial and even had a successful pizzeria. While he thrived in New York, Gecaj never forgot his homeland and dreamed of one day rebuilding his family Kulla 1back in Kosovo. In 2002 he made his initial investment in property in Kosovo, and in 2006 when the privatization of the winery was allowed, he saw the opportunity to return and realize this lifelong dream.
Stone Castle Vineyards and Winery was born out of the former state-owned winery "NBI Rahoveci," which was built by the Yugoslavian government back in 1953. Gecaj, along with his extended family, including his two sons, Avni and Avdi, are working hard to revitalize the region. Efforts include replanting vineyards using modern viticultural practices, transforming the winery to a state-of-the-art, premium winemaking facility, and bringing in consultants with fine-wine expertise.
But it wasn't just his drive to to make wine that spurred Gecaj on. He wanted to see the entire wine industry rise to prominence and used his resources to elevate the region's other vineyards and winemakers. Gecaj "strived to have a label that said, 'Product of Kosovo'," shares son Avdi Gecaj.
In addition to elevating the wine industry, Gecaj wanted to do more for his country as a whole. He wanted to provide jobs, rebuild his war-torn country, and restore a sense of pride to those who had lost hope. "My father's business plan was a plan to give people hope," explains Avdi. "He saw an opportunity to give people jobs in Kosovo." The winery employs 250 people full time and up to 700 part time seasonal workers.
The winery exports its wines to Germany, Switzerland, Czech Republic, Croatia, Albania, Canada, and the United States and is looking to soon enter the United Kingdom, China and Belgium markets.
Efforts Around Sustainability
Much like it's efforts around providing jobs and a sense of national pride, Stone Castle has made a concerted effort to sustainability. As part of the extensive upgrades made at the winery, a unique energy-saving gravity flow system is an integral part of the winery's operations and complements the family's interest in incorporating sustainable energy saving practices throughout the winery and vineyards.
Additionally, Stone Castle now farms some of its vineyards organically, with ongoing efforts to try to convert to all organic. They are also currently working on a Kosher certification for their wines.2 and eventually hope to convert to solar energy.
The Wines
With more than 1,500 acres of vineyards and over 20 different grape varieties planted, Stone Castle is by far the largest grape grower in Kosovo. Wines available in the U.S. ('cause that's where I live!) include indigenous Vranc, as well as Cabernet Sauvignon, Chardonnay, Merlot, and Syrah/Shiraz. All of Stone Castle's wines are made from estate-grown grapes from the heart of the Rahovec Valley, known locally as the "Tuscany of Kosovo."
I was sent four wines to sample to get a taste of the region. As they all appeared to be bold red wines, we grilled some steaks and had some fun with it.
2018 Stone Castle Gjergj Kastriott Ancient Vranac
Not having any experience (at least that I could recall) I wasn't sure where to put the Vranac in the tasting order. I'd read that the variety shared some ancestry with Zinfandel aka Primitivo aka Crljenak Kaštelanski, so knew it would maybe work before or after the Merlot. As I was in doubt, I put it first. The fruit comes from the hilltop of the estate and is planted at 350-450 meters. The wine comes in at a respectable 13.5% alcohol. Soft upon entry and fruit forward with black cherry, black plum, leather, oak. The softness on the front end finishes with a wine that shows bold, drying tannins on the finish.
2018 Stone Castle Merlot Selection
Next up was the Stone Castle Vineyards Merlot which also came in at 13.5% alcohol and was aged in French oak for 20 months. Notes of graphite, cherry and raspberry, and earth with a long drying finish. I was surprised at how the tannins crept up on the end of this one.
2017 Stone Castle Cabernet Sauvignon Reserve
The Stone Castle Cabernet was the lone 2017 in my selection of wines and probably my favorite sip of the group. With fruit grown at 450 meters and aged 18 months in oak it offered up mocha, red and black fruits, and a slight herbaceous note. Extremely smooth with well integrated tannins with 13.8% alcohol.
2018 Stone Castle Shiraz
Then final wine was the Shiraz. Stone Castle was the first winery in Kosovo to plant the Shiraz grape and now produces an award-winning premium version. Big, bold and tannic with the classic meaty notes you'd expect from Shiraz along with blueberry, cracked black pepper, and smoke.
All of the wines were big and bold with substantial tannins, and certainly benefitted from being paired with a big beefy ribeye steak.
I'm certainly excited to see where Kosovo's wine industry goes. Of course, I'm already thinking of a visit. When I visited Croatia, I spent all of my time in Istria to the north. Perhaps next time (soon-ish?) I'll go south to Dubrovnik and then head over to Kosovo. Insert "thinking" emoji.
And perhaps Rrustem said it best, "For us Stone Castle Vineyards and Winery conveys a special sense of place, history, and growing traditions. Our wines will help share positive images of Kosovo, our people's potential and capabilities."
Also be sure to see what countries the other #WinePW writers are covering and what deliciousness they are cooking up.
After the ravaging effects of the Kosovo War, many of the country's traditional Kullas (which translates to "stone fortress") were destroyed. Despite their sturdy, meter-thick walls and two to three story heights, these Kullas had to be rebuilt. When Gecaj was looking to name his winery, he was very thoughtful about the name. Using traditional stone from the region, he modernized the design of the winery and named it Stone Castle after the traditional Kullas as they are emblematic of Kosovo's enduring resilience and commitment to retaining their rich heritage.
For a little more on the Kosher wine process, see

my previous article

, which was eye opening for me.