If you've visited the Willamette Valley for wine tasting, you may have based yourself in Portland or McMinnville. Portland allows for easy access to the northern part of the Willamette Valley in addition to the Columbia Gorge region with its stunning waterfalls and river views. Those staying in McMinnville no doubt have enjoyed the town's restaurants and boutiques, not to mention it's amazing dining scene. But if you haven't laid your head down in Newberg, OR, its high time you did. With its central location, proximity to amazing wineries (including the amazing Ribbon Ridge wineries), and all around charm, Newberg, OR should be high on the list when considering where to stay in the Willamette Valley.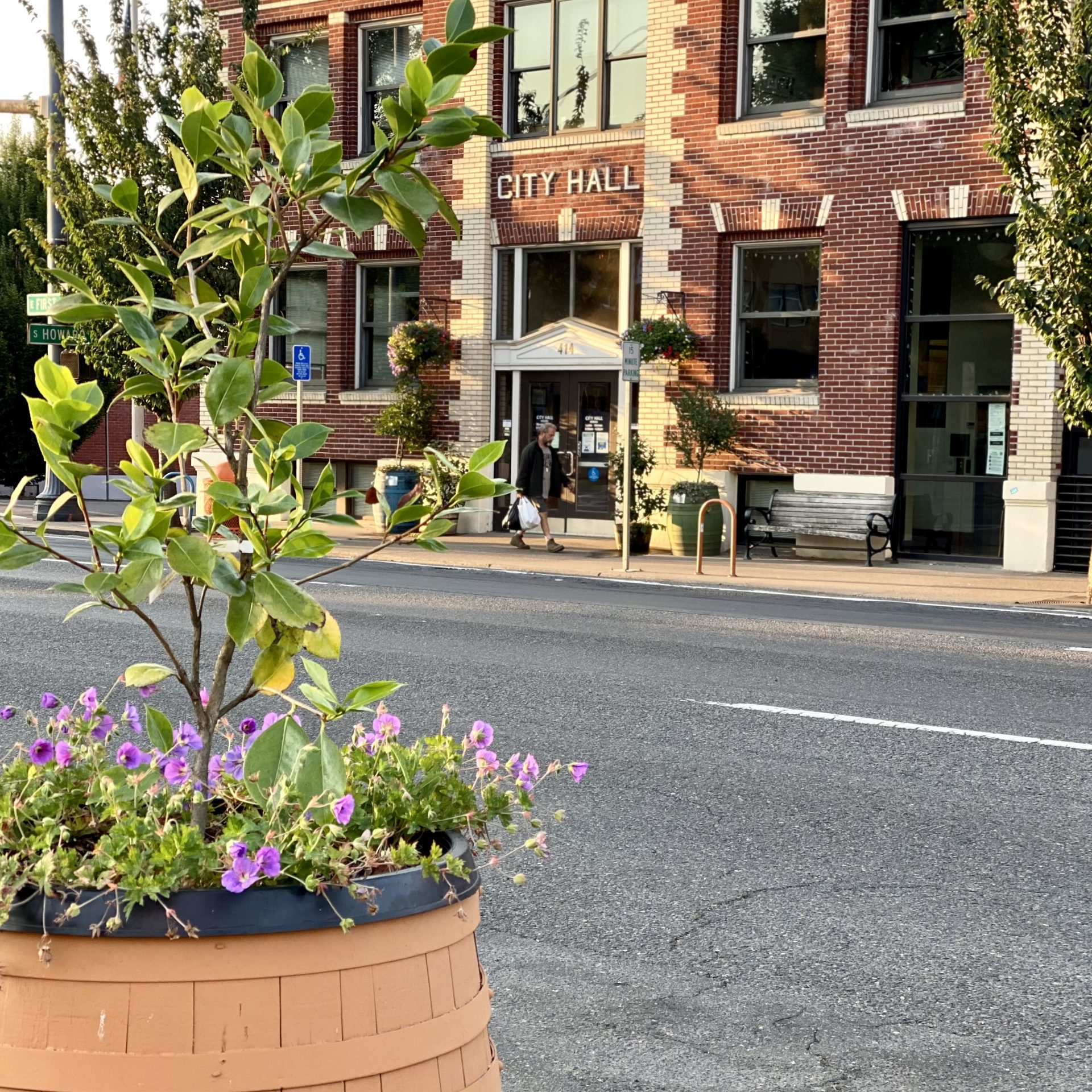 Sitting literally in the center of the Chehalem Mountains, Ribbon Ridge, Yamhill-Carlton, and Dundee Hills AVAs, the premier sub-regions of the Willamette Valley are just a stone's throw away. By the numbers, Newberg, OR has it all:
100+ wineries in a 10-mile radius
22 miles from Portland
19 independent boutiques and galleries
10 farm-to-table restaurants
7 downtown winery tasting rooms
3 craft breweries
Newberg, OR is also home to distilleries, artisanal ice cream makers, independent coffee roasters, lavender farms, a specialty cheese shop, walking trails, and so much more.
Coffee
I love the coffee vibe here. One of my favorite things was taking a morning walk and just popping into a random coffee spot. One of my faves included The Coffee Cottage, Newberg's first coffeehouse, with its shaded and cozy patio nestled among the tress and flowers.
My other fave was the See See Motor Coffee Co. which is part of a grassroots movement to keep motorcycling alive and well in the Pacifica Northwest. While I'm not motorcyclist (and have no intention of becoming one at this stage in my life) I loved open air cafe (the garage doors were open the day I visited) as well as the expansive patio with its picnic tables and umbrellas, which provided the perfect spot for people watching.
Sugar & Cheese
Do be sure to get your sugar fix at Sprinkles of Joy Bakery, which will surely provide a little joy.
And a stop for some nibbles from Good Company Cheese Bar & Bistro is a must. Whether you want to do a wine and cheese tasting, gather supplies for a picnic, or grab a few items to take home, the selection is sure to please. In addition to cheese and wine, there are jams, olives, meats, oils, crackers, beer, and more.
Wine
While I of course love all the wineries in the surrounding areas, I also loved that the downtown area had several tasting rooms that you could easily walk to.
Eat
The Painted Lady, rated a top 20 restaurant by Zagat readers, comes highly recommend. It is an intimate, formal affair and features a prix-fixe multi-course menu.
For something still upscale, but a little more laid back, The Allison Inn's JORY Restaurant pays tribute to Oregon's agricultural bounty with its seasonal, farm-to-table fare.
And of course, the above-mentioned Good Company Cheese Bar & Bistro has its menu to go. For something a bit more filling, grab something off their bistro menu. If you're in the mood for something a little lighter, you can't ever go wrong with some cheese.
Arts
If you're an art fan, Newberg, OR has plenty to offer. Galleries, sculptures, and the public arts-devoted Chehalem Cultural Center provide plenty of options to get your culture on.
Walk
Newberg is known for its numerous walking trails. One of my favorite things was walking the downtown area and adjacent neighborhoods to take in all of the beautiful flowers and trees.
Stay
For the ultimate in luxury, the Allison Inn & Spa provides it all. Suites with fireplaces and personal terraces, an amazing spa with twelve treatment rooms, gardens and pathways, and so much more can be found throughout the 35-acre property. You have to plan as it books up, and it isn't inexpensive, but what a pampering experience.
If you're looking for something downtown with many options within walking distance, the Yamhill Flats have you covered. These studio and one bedroom suites (there are only 5) are located in the heart of downtown and provide quite the residential feel. Each unit has a small kitchenette and the larger units provide a separate living room and fireplace. And I cannot stress enough how CLEAN this place is.
Once you decide to head out of downtown Newberg, OR, the wineries of the Ribbon Ridge AVA are a stone's throw away and offer great views, delicious wines, and relaxing experiences.