One of the hardest things when visiting the Willamette Valley is deciding where to taste. While that's the case for many wine regions, I find it particularly true for the Willamette Valley. It's a region dominated by one varietal – Pinot Noir – so how do you even begin to sift through all the great Pinot to be had? One strategy of course is to seek out producers that have other types of wines in their portfolios aside from Pinot. But that can have you zigzagging across the region wasting precious time. So how about focusing on one of the sub-regions nestled within the larger Willamette Valley? I did just that when I visited the Ribbon Ridge AVA aka American Viticultural Area.1
So named for the ridge that it sits upon, the Ribbon Ridge AVA is the smallest in Oregon with only 500 planted acres that extend from the Chehalem Mountains. Reaching an elevation of up to 683 feet from the floor of the Chehalem Valley, the ridge provides the impression of an elevated island planted with vines. The island-like characteristics and elevation provide for air and water drainage on all sides as well as provide for a long, consistent, cool growing season. This means it is ideal for the Pinot Noir, Chardonnay, and Riesling found throughout the region.
The tiny region measures just 3.5-miles long by 1.75-miles wide, which makes it easy to visit without lots of lost travel time. And what it lacks in size, it makes up for in prestige. It is arguably one of the most prestigious wine regions in the world. Established on July 1, 2005, the wines of the region are highly rated and decorated with tons of scores in the 90s and above. 2 And yes, while many of us love to hate the ratings game, it's always a plus for the winemakers who work so hard to put a beautiful product in the bottle for us to enjoy.
I was struck by all of the other things I saw growing, particularly the staggering amount of hazelnuts and Christmas trees as we drove through the region. In fact, the Ribbon Ridge AVA has been regarded as a distinct farming district ranging back to 1888. In addition to all the hazelnuts and Christmas trees, the region is known for walnuts, prunes, hay, timber lots, and cattle.
And it's so scenic and beautiful. There are amazing views all around. And the wines absolutely lived up to the hype. I can't emphasize enough that it really is hard to go wrong wherever you decide to taste in the Ribbon Ridge AVA. I loved each and every place I visited.
Domaine Divio
Dijon, France-born Bruno Corneaux, proprietor and winemaker at Domaine Divio is a fourth generation Burgundian grape grower. He first came to Oregon as an intern and the place left an impression on him – it reminded him of Bourgogne. "Divio is my link to Bourgogne," Bruno shared. "Divio is the early name of the town of Dijon in Bourgogne where I'm from. It's a way for me to remind people of where I'm from."
And you can certainly taste the Burgundian influence in his wines. The wines are fragrant, elegant, and complex and are crafted in a traditional Burgundian style with minimal intervention, fining, or filtration. Sitting up on the ridge decked out in an Adirondack chair while taking in the views with a glass of wine is life!
We were able to enjoy lovely expressions of the Pinot Noir and Chardonnay of course (and y'all know how I love Willamette Valley Chardonnay), but one of the standout wines for me was a delicious and unique ancestral Burgundian blend called Passetoutgrain which is a blend of 2/3 Pinot Noir and 1/3 Gamay. I need more of that wine in my life! Tastings at Domaine Divio are done both indoors (in their elegant barn tasting room ) as well as outdoors (with the great views). They also have tastings with a wine paring element.
We also had the pleasure of enjoying more of Bruno's wines with dinner. And yeah, we had some fun with pictures too!
Ribbon Ridge Winery
When pioneer Harry Peterson-Nedry planted the first vines in the Ribbon Ridge AVA in 1980, he felt in his gut that it was a special place. Many others thought it was way too far west and way too cool, but he knew better. Peterson-Nedry is known for selling fruit to other winemakers from his famed Ridgecrest Vineyards as well as producing wine under his own two brands, RR and Ridgecrest, with daughter Wynne. In addition to his groundbreaking work in the Ribbon Ridge AVA, Harry was instrumental in the Willamette Valley gaining Protected Geographical Indication ("PGI") status by the European Union. The only other American region with this distinction is Napa Valley.
A tasting with Ribbon Ridge is indeed a unique experience. Their yurt nestled among the vines is the essence of a rustic, outdoor Oregon wine experience. OK, its just damn cool!
While their signature is Pinot Noir, other wines such as Riesling, Grüner Veltliner, Pinot Gris and Gamay Noir round out a delicious and varied portfolio. I was quite smitten with the Gamay. Hmm, I'm sensing a Gamay trend…
Trisaetum Estate Vineyard and Winery
Founded in 2003 by James and Andrea Frey, Trisaetum is operated in the heart of the Ribbon Ridge AVA. The unusual winery name is an amalgamation of the names of the couple's kids – Tristen and Tatum. In addition to their estate in Ribbon Ridge, they also have vineyard estates in the Yamhill-Carlton and Dundee Hills AVAs.
I loved that the winery is as much an art allergy as it is a tasting room. There are so many unique and interesting metal sculptures on the grounds outside and inside there is an extensive selection of James' paintings. And speaking if the grounds – just stunning. In addition to being a great winemaker, James is an internationally recognized artist whose paintings have been sold around the world. I soooo wanted to purchase a painting for the empty space above my sofa, but alas, I didn't have any measurements with me!
As for the wines, the Freys own multiple wine brands. The Trisaetum production facility produces wines not only for their Triseatum label, but also for their 18401 Cellars brand from Walla Walla and their Pashey sparkling brand. Each year, James bottles single vineyard sparkling wines, Riesling, Chardonnay, and Pinot Noir. My favorite wines were their Rieslings – the dry, medium dry, the Coast Range, the Ribbon Ridge – all of them! Like so many others, tastings can be held inside or out. Oh and do add the cheese and charcuterie plate to your tasting. It brings out the best in the wines.
And the views…
Utopia Vineyard
What a treat to spend time with Dan Warnshuis, owner and winemaker at Utopia Vineyard and Winery and a key leader of the Ribbon Ridge AVA. The ultimate hands on guy, he is involved in every aspect of wine production at his winery.
Dan describes his winery as "a safe haven for the wine interested." And its so true. It's a relaxed, comfortable place for all sorts of folks to enjoy wine. If you're really into the geeky parts of wine, you can taste some top notch Chardonnay and Pinot Noir (including a really cool Pinot Noir Blanc).
But if you just want to drink and hang out, you can do that too. Utopia has corn hole, bocce ball, fire pits, great views and more for folks that want to hang out and are more "wine interested." For me, I like to do a little of both – geek out and then hang out.
One cool thing that Dan does in his tastings is include an older vintage in his tasting lineup so folks can taste current releases along with a wine with some age on it. The 2013 Pinot Noir made me swoon! While Pinot is king, Dan also has Grenache, Syrah, even a late harvest Riesling in his portfolio. Tastings can be done in their barn, on the patio, or even as part of a picnic.
Eminent Domaine
So listen, I'm moving in to Eminent Domaine. I know I'm a bit old, but I'm up for adoption. The stunning views, the home, the winery, the Chardonnay that brought a tear to my eye – I want all of it! Heck, even the dog! Like this is your winery and you live right door next to it?! But seriously, what a stunning property with stunning views. And run by such nice people.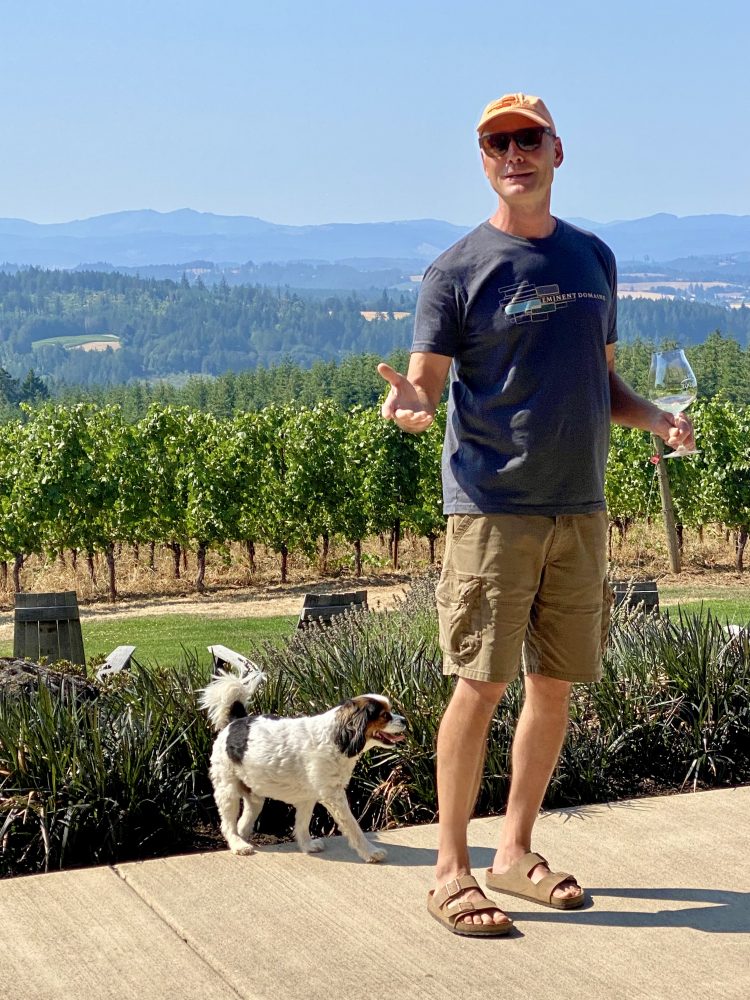 Owner and winemaker Jeff Meader named his winery for an experience he had with an "eminent domain" land issue many years ago. The city took his land under the guise of eminent domain, paid him much less than it was worth, and didn't even use it for what they were supposed to use it for. But it seems he certainly had the last laugh. He lives with his family in a beautiful place crafting exquisite wines.
Whether enjoying the picnic area (you can bring your lunch), enjoying their covered patio, siting at the edge of the vines, or haming it up with Benny the dog, it is sure to be a delightful experience. Here, its all about the Pinot Noir as they craft several different ones each vintage. These wines are rich, yet delicate with lovely fruit and great acidity. As much as I so enjoyed the Pinot, the Chardonnay was ah-mazing! Like I've said before, Willamette Valley is killing it for Chardonnay! And you WILL want to grab a glass or a bottle and sit and take in the views.
Styring Estate Vineyard and Winery
The folks at Styring Estate say that "Pinot is our passion. Riesling is our whimsy." I say, bring on the whimsy!
Family-owned and operated Styring is truly a hidden gem in the Willamette Valley. Steve and Kelley Styring are an absolute delight and so down to earth. And you can certainly see the joy they have when sharing their wines with you.
The secluded property with thick towering trees, row upon row of vines, green rolling hills, and breathtaking valley views seriously beckons tasters to enjoy a glass or two while enjoying the great outdoors. There is no shortage of outdoor spaces to kick back and enjoy. I was a little obsessed with one of the amazing trees on the property. It's begging you to have a picnic.
The property also boasts a gorgeous tasting room. And with a varied portfolio of hand-crafted wines including Pinot Noir, Riesling, Cabernet Sauvignon, Petit Verdot, Sparkling, and Dessert Wines, there is something for everyone. We focused on Riesling while we we there and loved tasting through their sparkling, dry, and dessert Rieslings. By the likes of the Rieslings, I'd say they are just as passionate about them as they are Pinot Noir. And with good reason. I know people love to hate sweet wines, but their sweet Riesling was just such a beautiful balance of sweetness and acidity. So damn good with cheesecake bites!
I so enjoyed getting to know some of the the winemakers and wineries Ribbon Ridge AVA. Its a great taste to taste some of the best that Willamette Valley has to offer. And with its proximity to Newberg (in fact all of the wineries have a Newberg city address) visitors have the perfect base to stay. Be sure to check out my tips on a stay in the very charming Newberg.
Ribbon Ridge is the most decorated AVA with 90+ scores according to Wine Advocate. In 2017, 88% (or 29 of 33) of the Ribbon Ridge wines were rated 90+, 89% of which were pinot noir. In 2018, Ribbon Ridge continued to net the highest scores of all AVAs as rated by the Wine Advocate, with 87% of those wines submitted receiving 90+ scores (33 of 38).