Potente and Osso & Kristalla are the newest, and much anticipated, Italian restaurants to grace Downtown Houston.
Conceived and brought to life by Astros owner Jim Crane, the restaurants sit side by side and are located across from Minute Maid Park, home of baseball's Houston Astros.
Potente is an upscale, luxurious, Italian-villa inspired dinner destination.
Sister restaurant Osso & Kristalla is a bright, cheerful, casual trattoria that is open all day.
Where Potente wows with its swanky, over the top sophistication, Osso & Kristalla invites you in to relax in its easy going, rustic, yet modern interior.
I was invited with the Houston Food Blogger Collective to a 'First Look' event to get a glimpse of all of the glamour and Italian deliciousness. While the restaurants are a study in contrasts – Potente which oozes romance and elegance and Osso & Kristalla which beckons to chill with a group of friends – the similarities that bind them are high quality, local ingredients and a commitment to making the customer feel at home with great service.
The Food
The menu at Potente sets the stage for a truly fine-dining experience and features a compact selection of seafood and homemade pastas, as well as beef, duck, and lamb. The more casual menu at Osso & Kristalla offers up delicious pizzas, pastas, salads, and Italian Secondi with a modern twist. And because the restaurants are so new, diners can expect to menus to evolve given customers reactions and input.
Some tasty highlights of the evening included:
Arancinis with marinara were drool worthy and a perfect start to the evening.
As was this beef carpaccio on a bread stick.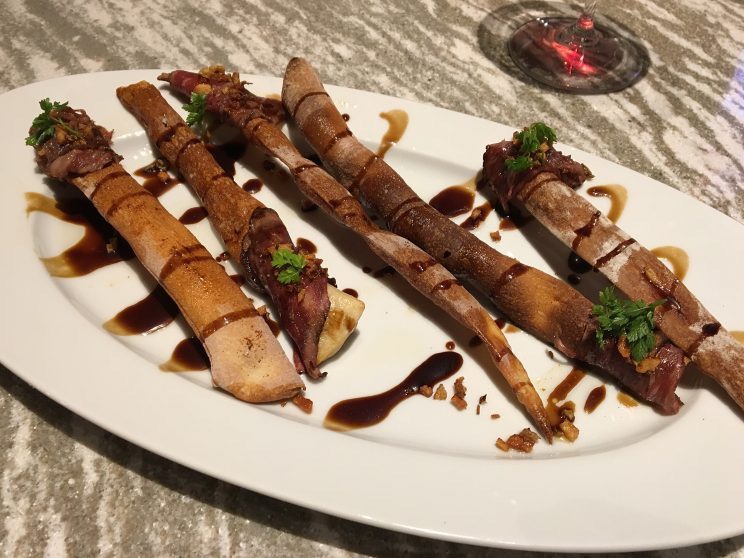 The Salads – they were truly a thing a beauty and so artfully presented. While the kale salad with apple, pancetta, pine nuts, ricotta and preserved lemon dressing as well as the Caesar salads were fantastic in their own right, this steak salad definitely stole the show.
The pizzas with fresh ingredients and toppings were top notch, but the perfectly executed crusts – crispy on the outside with a light and fluffy softness on the inside – were the perfect base for the authentic Italian style pizzas. This pizza is the real deal.
Entrees of note included:
Italian BBQ Shrimp with Giant Couscous, Sundried Tomato, and Almond.
This amazing Rigatoni & Meatball stuffed with Fontina. Seriously delicious meatball.
And this juicy Roasted Chicken.
The evening ended on a fittingly sweet note. While pastry chef David Berg indicated that the dessert menu was still being tweaked, these Tiramisu bites were absolutely divine! If they make it on to the menu, get the chocolate. Really.
The Wine
Because this is a wine blog. And while foodies will for sure swoon over the menu, wine enthusiasts are sure to love the wine selection for what it has and does not have. Both restaurants feature a large selection of Italian wines (about 65% is made up of Italian wines), as well as a selection of French, Spanish, and California wines amongst others. But what is missing are the oft seen, and much maligned, high restaurant markups. Osso & Kristalla and Potente will sell wine at blessedly low markups (think Clark Cooper's Ibiza, Brasserie 19, and SaltAir; Underbelly; or Reef). The goal? To have the customer not be afraid to truly explore the wine list. And – to make them want to come back and try more.
Even though the restaurants will share the same focus on Italian wines and favorable pricing, the menus themselves will be quite different. Osso & Kristalla will feature around 50 wines, all by the glass, with the goal that most wines sell for under $50. Want a $50 Barolo? You'll be able to get one at Osso. Additionally, Osso will feature wines that are more recognizable to the average consumer and that will sell themselves.
Potente on the other hand will have wines that generally start at the $50 price range and go up from there. The restaurant will also utilize the Coravin system to showcase some truly special wines. The wine collection at Potente is still being assembled, but the goal is to offer around 300 wines. And if you want to dine surrounded by the nectar of the Gods, reserve the restaurant's Wine Room, which is the actual cellar and seats eight.
So whether you choose to dine at Osso or Potente, wine lovers can expect great things from this fantastic addition to the Houston wine scene. And no worries if you're dining at Osso on this fabulous patio and want a bottle of some high-end juice on the Potente list as they will bring one right over for you.
Rejoice Houston wine lovers!