You know those people we love to hate? The Kardashians, Taylor Swift, Chris Brown, Gwyneth Paltrow, Ben Affleck, etc? I'm not saying this applies to ME (well a couple do) but you get what I'm saying. Well I think there are also wine varietals that fall into the same category. There are wines out there that people love to hate. Pinot Grigio comes to mind. Moscato anyone? I'll also contend that Primitivo aka Zinfandel falls into that category. I know, because I was one of those people. Back in the day, if you showed up with a bottle of Primitivo or Zinfandel, it was a hard pass for me. I just assumed the wine was too alcoholic and flabby and uninteresting. Like the PG and Moscato myths I've been able to dispel, I've now been able to do that with Primitivo/Zinfandel. Primitivo di Manduria, that is.
OK, but no one still has proven to me that Pinotage is worth my time…
I went to a Zinfandel event earlier this year (more on that to come) and participated in a Primitivo tasting the year before. And what I learned from both experiences is how wrong I'd been in my dismissal of these wines. Like any other varietal, the hands that craft them and the places the grapes are grown is everything. In the case of Primitivo, this dark-skinned variety produces intense, fruity, tannic, and often high-alcohol wines. Many times I'd end up with an alcoholic fruit bomb with very little nuance, which was a big turn off for me. But as I learned with other varietals, I just wasn't drinking the right ones. Like me, if you previously had a poor opinion of Primitivo or never even tried it, I implore you to give it a whirl.
A Bit About Primitivo
First things first. Genetic testing revealed that Primitivo is genetically identical to Zinfandel. Once thought to be indigenous to California (at least by Americans) the testing not only determined that Zinfandel and Primitivo were the same, but also that they both originated in Croatia where it's known as Crljenak Kastelanski. Yeah, so I call it "CK" cause there are way too many consonants in the first word. It also goes by the name of Tribidrag. And while Primitivo, Zinfandel, and Crljenak Kastelanski are one in the same, they are each distinctly their own thing driven by the distinct climates in which they are grown.
Puglia aka Apulia (the heel of Italy's boot) represents the height of Primitivo and is permitted throughout the entire region. Sometimes crafted as a varietal wine or in a blend, you don't have to look far to find Primitivo in the region. Situated between the Adriatic and Ionian Seas, Puglia is a place of wind and sun. Think sun-kissed beaches, shimmering blue water, and white-washed facades contrasted with a sea of green vines and olive groves. Travel goals!
Comprised of 6 provinces, Puglia is one of the flatter regions in all of Italy. The region supports a number of farming endeavors including wheat, olive trees (responsible for nearly half of Italy's olive oil), and of course, wine. The small bush vines of the region are often found in iron-rich soils that lead to rich, concentrated wines.
Viticulture came to Puglia (which was then under Spanish rule) when people crossed the Adriatic while fleeing the Ottoman Empire. They were given land to settle the area and it so happened that many of them had experience with grape growing. In 1861, Puglia became a part of the Kingdom of Italy at a time when viticulture had been on the rise. It was during this period that wine as a crop became more valuable than olive oil and wheat. The demand for blending wines from the French, whose vineyards had been devastated by phylloxera, was a significant driver in the exponential growth in wine production. But it didn't last. A customs war by the French that increased duties tenfold decimated exports to France. And it would get worse. A few years later, phylloxera would break out resulting in the destruction of vast stretches of vineyards.
The Primitivo di Manduria Difference
After recovering from phylloxera and a couple of world wars, the modern era of winemaking in Puglia was one focused on quantity as opposed to quality which meant that the wines were not always of the best quality. But things are changing. Emerging from the shadow of Primitivo's old reputation of a bulk, blending wine, producers in the region have committed to reducing yields and using modern techniques to make wines of depth and complexity. And the region's ancient vines – some almost 100 years old – certainly provide an assist.
Wines are crafted in a variety of styles from classic, traditional methods to more modern takes. Additionally, many producers have committed to limited use of insecticides and pesticides, the use of indigenous yeasts, as well as organic and sustainable viticulture methods.
And while Primitivo grows throughout Puglia, Manduria, in central Puglia, is where Primitivo really shines. It is truly it's spiritual home – even if it did come from Croatia originally – and is the only Italian region to specialize in the variety. The wine growing region in Manduria stretches between the municipalities of Brindisi and Taranto. Here, Primitivo is sexy, exciting. It's sensual and plush. Here, Primitivo is generous, big, and bold. And unapologetically so! Rich in fruit and spice along with herbs and earthy notes, it is certainly no one trick pony. Its one of those wines that is rich in everything. The minimum alcohol content for these wines is 13.5%. 'Reserve' wines, which are aged a minimum of two years, require a minimum of 14% alcohol. And if you enjoy a good dessert wine, the Primitivo di Manduria Dolce Naturale DOCG, located in the same area, is worth seeking out. Primitivo di Manduria. Find it. Get it. Enjoy it.
To ensure consistency of the wine's quality, the Primitivo di Manduria consortium was created in 1998 by a group of winemakers committed to showcasing the best of the varietal. From there, the consortium gained official recognition in the early 2000s and in 2015 was officially tasked with protecting the quality and origin of the wines. And the work continues. But the beauty in of all of this is that they are not trying to be something they're not. Primitivo is big and bold, with higher levels of alcohol. It is what it is. But winemakers are making balanced wines as opposed to alcoholic fruit bombs. The producers are taking what nature gives them and getting the best out of their land.
During my tasting of 11 Primitivo di Manduria wines, I was amazed at the nuanced, well-crafted wines. I tasted elegant marine wines from the coastal strip of the region that displayed balsamic, chocolate, tobacco and dark fruit characteristics. I tasted vibrant and fresh wines that offered up oriental spice, cloves, white pepper, and black plum. I tasted wines aged in oak and those without. And I tasted wine from producers that have been making wine for nearly 100 years and those that have recently gravitated to the region to try their hand at wine.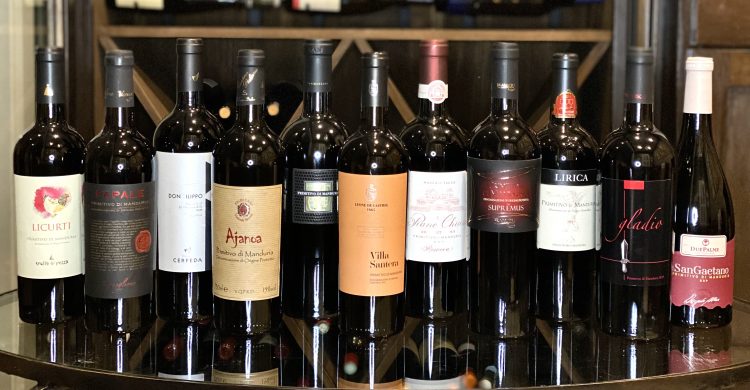 All those different flavor profiles had my mind racing about what to pair with these wines. I'm from Texas and definitely thought of tasty, smoked BBQ. Beyond that roasted game, any red meat, and aged cheese would pair nicely. Other foods that come to mind include Korean BBQ, curries, eggplant parmesean, or a mushroom pizza. The wines of Manduria have a nice acidic backbone which makes them excellent food wines.
I do hope the next time you're out shopping, you reach for a bottle. Cheers to Primitivo di Manduria!