The third Friday of September is upon us so that means it is almost International Grenache Day. No, we don't need a "wine holiday" to drink wine, but I always think its fun to toast the day, particularly when it's dedicated to a varietal that doesn't get a lot of love. Plus, who doesn't enjoy a holiday? Particularly one with great wine from a region that I absolutely love.
Plus this day is really neat as various wine regions in countries around the world from Barossa in Australia, to Aragón in Spain, to the southern Rhone in France, and on and on celebrate the day. It's so cool that so many are having Grenache, Garnacha, Cannonau, Alicant Blau, Aragones or whatever you want to call it depending on where you are in the world. There's even a Facebook page dedicated to the movement.
To be sure, grenache is one of the most widely planted grapes in the world. Some of the more prominent places where it's grown include the southern Rhône in France, the Priorat region of Catalonia, the Barossa region in Australia, Sardinia in Italy, Aragón in Spain, and Yakima Valley in Washington State. It also is used to make the amazing dessert wines Maury and Banyuls in Roussillon. But it doesn't stop there as grenache is also grown and produced in Israel, Morocco, Tunisia, Greece and more recently Mexico, Argentina, and South Africa.
But this year, I'm focused on grenache from California's Central Coast. Santa Barbara County to be exact. While genache is often found in blends (think of a typical southern Rhône CDP or a GSM from Australia), Santa Barbara and the AVAs that sit within it produce some amazing varietal grenache. If you've been following along, you know that I've been losing my mind over the Chardonnay and Pinot Noir from this region. But one of the things that became apparent to me when I visited the area was how damn good the grenache was. And the syrah…but we'll talk about that some other time.
Grenache is a variety that loves hot and dry conditions which results in wines that are softer and more fruit forward, with higher levels of sugars and thus higher alcohol. So how does a variety that loves the heat do so well in a cool-climate area like Santa Barbara? Well as I've learned, Santa Barbara is quite varied and really does have something to offer everyone. Each of its AVAs has its own unique climates and microclimates.
My first introduction to Santa Barbara wine was certainly for its cool-climate Pinot Noir and Chardonnay that benefit from its unique transverse (i.e. east-west) mountain ranges. But the further inland you go, such as the Ballard Canyon AVA and the easternmost parts of some of the other AVAs, the warmer it becomes. And this is where you'll encounter more Rhône varieties including grenache, as well as Bordeaux varieties. Add in the fact that the Central Coast has one of the longest growing seasons that provides for optimal physiological ripeness of the grapes, and it becomes more apparent why grenache is well-suited for the area. No doubt that these are some beautifully ripe, balanced wines.
Here are of some of the delicious Santa Barbara grenache wines that I've had the privilege to enjoy.
Kaena Wine Grenache, Los Olivos, Ballard Canyon, and Santa Ynez Valley ($35-60)
I was walking around Los Olivos having a vinous good time, when the sign "Grenache is Queen" in a window caught my eye. Ever so intrigued, I decided to go inside for a tasting. What a great decision and what a treat! Hawaiian born winemaker Mikael Sigouin's primary winemaking focus is Grenache. He works with as many as eleven different grenache sources that he crafts into seven or eight grenache wines each year.
And that sign? Mikael views grenache as feminine due to its softness and fruit forward profile. But at the same time, he also views grenache as strong which is also characteristic of women. Childbirth ain't for the faint of heart! This is some seriously elegant and seductive grenache and Mikael certainly knows how to get the best out of it. I bought most of the grenache I tasted as well as his Grenache Blanc. He is so gifted when it comes grenache and his passion and enthusiasm are certainly contagious. I'm dubbing him the King of Grenache!
2017 Babcock "Love Among The Ruins" Grenache, Sta. Rita Hills ($30)
As much as I love the Chardonnay and Pinot Noir from Sta. Rita Hills, it soon became apparent that I love everything from there. There's not much grenache from Sta. Rita Hills, so that explains why I'd never had any. I mean who knew that it could even ripen there? But then when you consider that long growing season that I mentioned above and that the fruit from this one comes from the warmer, eastern edge of the region, it seems entirely plausible. And let me tell you, this is a sublimely elegant wine with oodles of red berry fruits, herbs, and pepper spice. The maritime influence no doubt played a role in this one.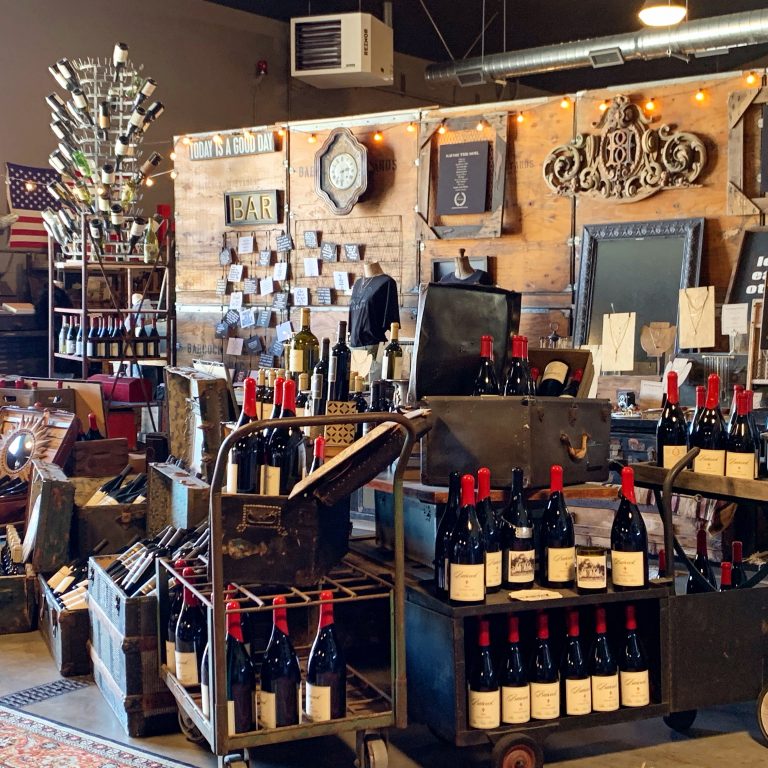 And this may seriously be one of the coolest tasting rooms ever!
2017 Margeum Grenache, Santa Barbara County ($40)
Margerum was one of the places that came highly recommended by many when I was planning my trip out west. We visited the gorgeous tasting room in Santa Barbara's Funk Zone though they have another tasting room in Buellton.
Here, it was all about the Rhône varietals. And the grenache did not disappoint. The nose reminded me of fall baking spices (ahh!) with black plum, blackberry, spice, and meaty flavors. This may be one of the most complex grenache wines that I can recall having. And their Syrah…but we're talking grenache right now.
2017 Stolpman Grenache, Ballard Canyon ($34)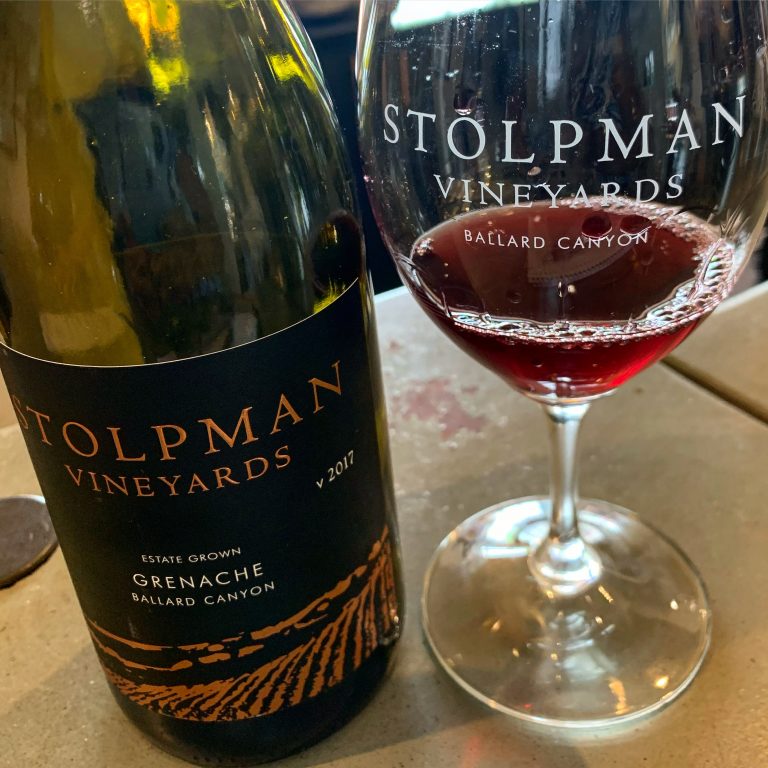 Another producer that came highly recommended, Stolpman was a great stop while hanging out in Los Olivos.
While they get major props for their Syrah, the grenache is certainly worth exploring. Hailing from the warmer, inland Ballard Canyon, this one is crafted of 100% Grenache from 22-25 year-old vines and provides a nice balance of structure and fruit. Mocha, red and black fruits, stone and a surprising level of tannin. One of those wines that I like to call "cerebral" as it just kept me thinking and evaluating. Stolpman also crafts a beautiful rosé of grenache.
2013 Paul Lato "Kiss Me Again", Santa Maria Valley ($85)
The promise of access to Paul Lato wines is one of the things that spurred me into action to visit Santa Barbara. Shoutout to work colleague Ed for planting the seed! In a nod to the delicious dessert wines of Maury and Banyuls, Paul Lato has put his own spin on a dessert wine. Crafted of 90% grenache and 10% Syrah from the Bien Nacido Vineyard in Santa Maria Valley, this was truly the icing on the Paul Lato cake. Candied cherry, plum preserves, and a touch of vanilla spice. And the label is cool too!
Given that grenache tends to be softer, fruit forward, not very tannic, and less acidic than other reds, it ends up being very approachable. Not to mention that it pairs with a variety of things. I've even had fish with some of the lighter styles. With its easy-going nature it should seriously be embraced by more casual drinkers. So why not Santa Barbara Grenache? Happy Grenache Day y'all!