Is it October already?! My grandmother used to tell me that the older I got, the quicker time would seem to go by. And ain't that the truth?! When I was a kid, Halloween and Christmas (the ultimate kid days) seemed to take FOREVER to come! Now, every time I look up, I'm being bombarded with Halloween costumes and crazy loads of candy and then I blink and its Christmas – which requires even more effort on my part. I'm this close (thumb and index finger pressed together) to blowing the lid on the whole Santa thing so I don't have to sneak around and wait until 3am on Christmas Eve to take out the gifts. Yeah, OK, reigning in my inner Grinch. Before I get too ahead of myself for October and all that it entails (its Texas Wine Month, Virginia Wine Month, Merlot Month, not to mention Champagne Day and Pinotage Day are in there and some other stuff too), its time to recap the great drinks, eats, and sights of September.
September saw me visiting the Texas Hill Country as well as New Orleans. It also saw me dodging Tropical Depression Imelda (we are so sick of rain in Houston!) and being stuck in New Orleans for some additional time due to the Houston airport closures. And yes folks were all excited that I got to spend extra time in NOLA, but I was so over the beignets, fried stuff, saucy stuff…you get my point. I just wanted to go home, lay in my bed, and eat lettuce and drink water. And I did get there eventually.
Since New Orleans is such an amazing place of culinary delights, EDS September will be all about NOLA. And apologies in advance if you're looking for Bourbon Street escapades and Hurricanes. That was my New Orleans vibe a couple of decades ago. My version today is a little more refined.
Eat
I was in New Orleans, so the eats had to be great right? Mr. Corkscrew and I used to have Saints season tickets, so we traveled to New Orleans fairly often and had tried several of the city's restaurants over the years. But then Thing 1 and Thing 2 came along and we gave them up. So on my most recent business trip, I was happy to try some new places as well as visit some old favorites.
Given the name of the restaurant, it's obvious that chef Donald Link's specialty is pork. I was fortunate to meet fellow foodies (who were complete strangers) while eating at the chef's counter at Cochon. We ordered different things and shared the deliciousness with each other. #Winning. But its not for the faint of heart – or the vegetarian.
Smothered Greens
I'm a big fan of greens, particularly mustard greens, but I can also throw down with some collard greens. Its one of the things my mom and grandmother always cooked when I was a kid. Even after I left for college (#GoIrish) and would come home for breaks, I always requested a meal with greens. As an adult, I'm a cooking snob about mine and will not let anyone else make them for our Thanksgiving dinner. Don't even try. Yeah, my greens are the bomb, but these greens were the shit! OMG! That smoked pork and whatever "smothering" they did made these collard greens otherworldly.
Smoked Hamhock, Country Captain, Pickled Butternut Squash
One of the things that always showed up in said mustard greens were ham hocks. It's the South y'all! But it was usually broken up and distributed throughout the greens. I've never had a hamhock quite like this!
Crispy Pork Cheek w/ Cherry Tomatoes & Green Goddess
I mean where does chef come up with this stuff? What an amazing concoction! The contrast of the acidity in the tomato and sauce with pork was spot on.
Roasted Shrimp w/ Cured Jowl, Romesco & Baguette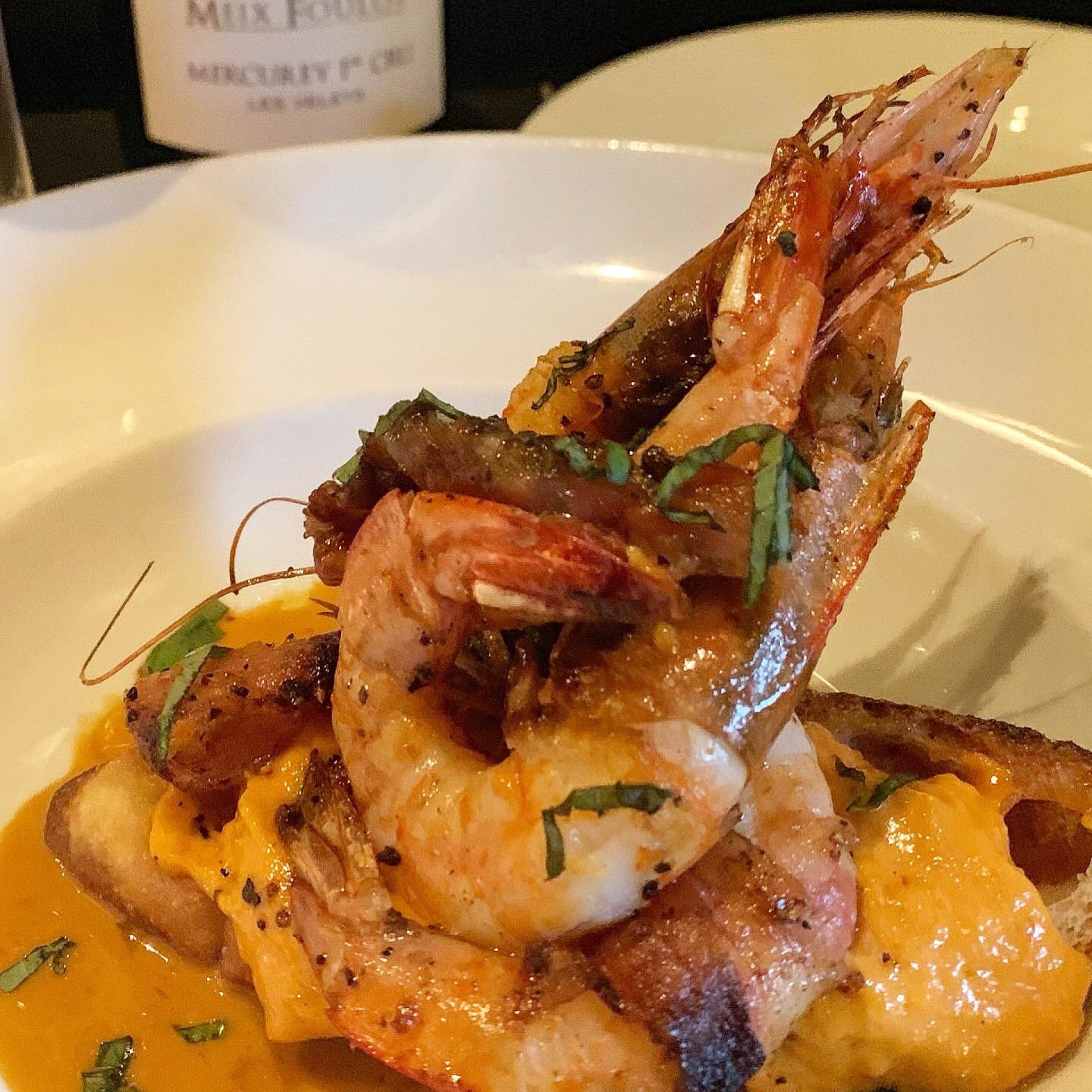 Plump shrimp bathed in a sauce of shrimp broth, chili, and pork juices with bits of pork jowl. Just wow!
Fried Alligator w/ Chili Garlic Mayonnaise & Wood-Fired Oysters w/ Chili Garlic Butter
I've had alligator on several occasions, but I think this version tops them all. The chili garlic mayo was damn delicious and puts this dish over the top. And the oysters had a hint of Asian flavor with amazing chili garlic butter that you just wanted to dip everything in.
I still remember the first time I heard the phrase "gris-gris." Mr. Corkscrew and I were still dating, and I was with some of his extended family who were joking about some woman putting the "gris-gris" on a man by putting something in his food. FYI, gris-gris is like voo-doo or a spell and originated in Africa. So when I saw there was a restaurant with this name, I was certainly intrigued to try it. This ended up being another chef's table experience which I always appreciate.
Oyster BLT
Definitely the most interesting BLT evah! Fried Gulf Oysters, Smoked Pork Belly, Tomato Jam and Micro Arugula with Sugarcane Vinegar were the components of this BLT. No bread required! I still get amused at the sight of pork belly. As a kid, people cooked fatty cuts of meat because it was cheap and it was what they could afford. Now, fat is a delicacy that costs $30! But I digress…this was so decadent and so good.
Chicken Gizzard Grillades
I've always loved chicken gizzards. Whenever my grandmother made dressing on Thanksgiving, she would always make a large pot of gizzards to chop up and incorporate into the dressing – and a few extra for me.1 I had no idea what a gizzard grillade was but when in Rome… sous vide chicken gizzards, stone ground grit cake, caramelized peppers and onions with brown gravy. Oh my! While certainly not to prettiest dish in the world, it is the ultimate comfort food for those who swoon over rice and gravy. The gizzards are cooked sous vide for 24 hours and are amazingly tender. I'm not a big gravy person (that's more of Mr. Cokrscrew's thing) but this umami-laden liquid was damn tasty. And rich. I was sad that I couldn't take the leftovers home to him.
Obviously, there's no shortage of fried chicken in the South. I first discovered Mother's when I was on a work assignment in New Orleans right out of law school *&#!$# years ago. I loved it then and still love this no-frills New Orleans institution. I almost always take it to go cause it doesn't have the greatest atmosphere. But what it lacks in atmosphere, it most certainly makes up for in flavor. I've had many things on their menu, but their fried chicken is probably my favorite.
It's hard to describe but this is the airiest, crispest chicken around. And so well-seasoned. Shh, don't tell my grandmother. Grits and greens (of course) round out the meal.
Dook's Place Blackened Shrimp Remoulade Po-Boy w/ Fried Green Tomatoes
So ya gotta get a po-boy when you go to New Orleans. And there's certainly no shortage of them whether you go for fried (oyster, shrimp, etc), something with roux (summoning roast beef debris), or even starchy (yes there is a such thing as a French fry po-boy). This happened to be my last NOLA meal – at the airport.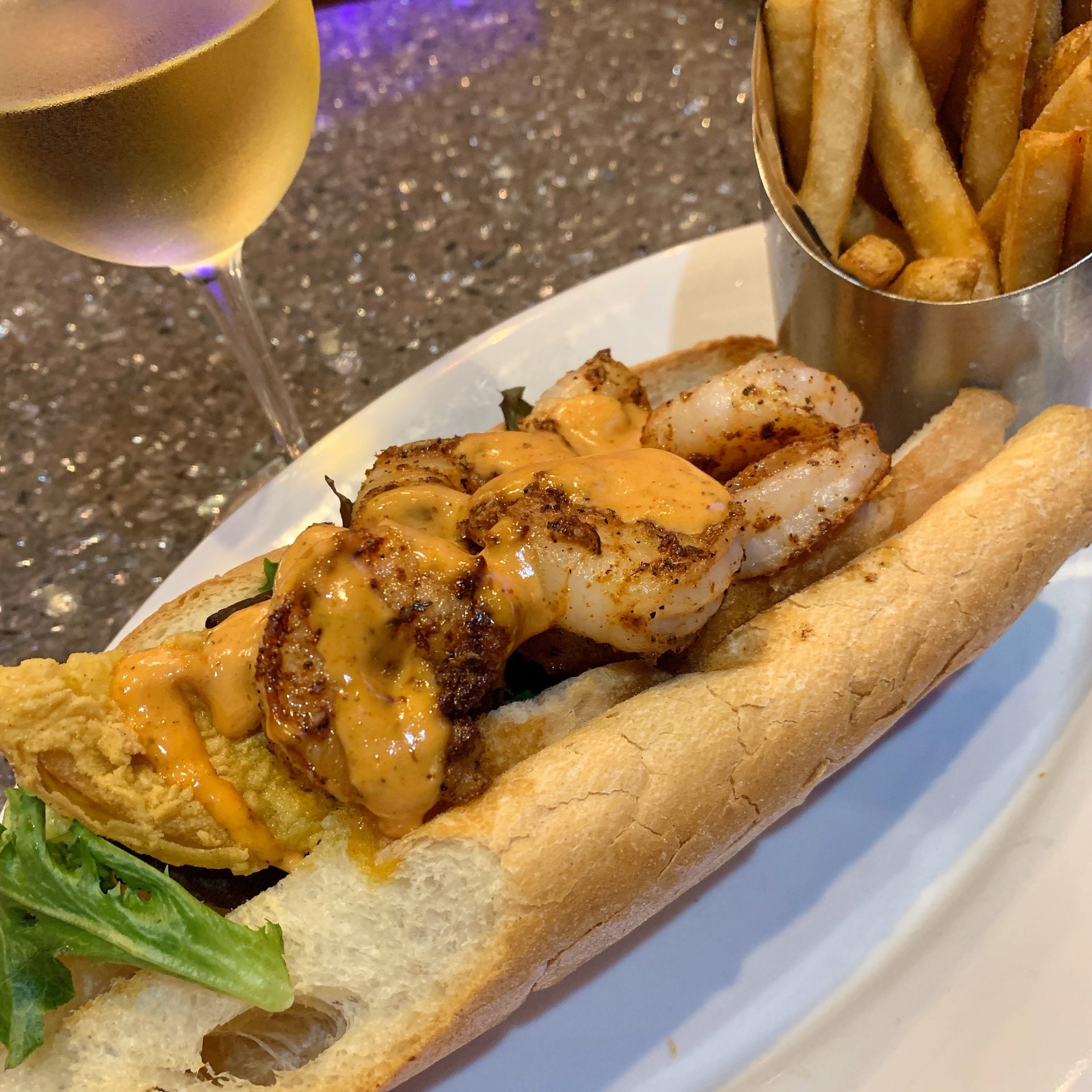 I love blackened shrimp. And remoulade. And fried green tomatoes. So this one was a no-brainer. It may be blasphemy to some, but I just tossed the bread aside and dug in – with a knife and fork!
Located at the edge of Jackson Square, Muriel's happens to be one of my favorite restaurants in the city.
It was the place that I first had mirliton that was actually good. They also make a ridiculously good duck breast jambalaya. But one of my favorites has always been their pork chop. The double-cut, wood grilled behemoth is topped with a sugar cane apple glaze and is so moist and juicy.
Accompanied with addictive pecan candied sweet potatoes and greens (yes again!).
Beignets Galore
So about those beignets…what had happened was…First, the conference that I was attending in New Orleans had a beignet station (along with Café Du Monde's legendary chicory coffee) right in the middle of the exhibit area. Every day. Every single day. Then they brought us a Café Du Monde truck cause I guess we needed one in the evenings too.
Drink
There were obviously great bottles of wine at each of the dinners I attended throughout the week. But I also found a couple of really cool wine bars in New Orleans worth mentioning.
Quaint and cozy, this wine bar and gastro pub is located on Poydras Street just steps from the Superdome.2 I couldn't decide if I liked the patio or the beautifully restored interior more.
With 30 wines on tap (mostly American with a few international selections) along with a handful of beers, it's a fun place to try a wide variety of wines.
Glasses of wine can be had by the 2.5 oz half glass, 8oz glass, carafe, or bottle. All told there were 15 reds, 12 whites, and 3 Rosés available on tap. Whether you want to go all in for the fantastic food menu which features modern and upscale takes on some Louisiana classics or just want to hang out at the bar and nosh on the complimentary popcorn (self serve) it's definitely worth seeking out.
I've been to a few places with enomatic machines and the selections have generally been OK, but nothing really special. This place takes it up several levels. With a global selection of over 120 different wines, this is a great place for wine geeks and novices alike.
20 year old Rioja and Barolo, great Pomerol, Phelps Insignia, Faiveley, and so much more. I was like a kid in a candy store equipped with the all important (and dangerous) tasting card. Seriously the best selection I've seen in an automated wine system.
So when fellow wine blogger and Champagne Madame, The Bubbleista raved about Effervescence, I knew I had to go. But with the week's wall to wall itineraries each day, I wasn't sure I would be able to fit it in. Well the dreaded Imelda, which caused me to spend a couple more days in NOLA than I'd planned, worked to free up some time for me and off I went. Talk about making the most of an opportunity! Yes still wines are available but you can get that lots of places. Here it's about sparkling wine all the time! Sparkling wine flights, cocktails, bottles, and everything bubbly in between. Cava and Sekt and Prosecco and Cremant and Lambrusco and Sicilian brut and…ya get my point. If you're a bubbly lover, this is a can't miss. I mean if you have a flight called "All Krug Everything" you're definitely my kind of people. And while I didn't eat, there is a small but efficient menu available as well. Flights can be done in half or full versions. Guess which one I did…
See
I've lost count at the number of times I've been to House of Blues in New Orleans and places beyond. While the food isn't anything special, it's undeniably a great place for live music. And what began as a live concert hall and restaurant is also a non-profit that provides art and music programs to youth. As luck would have it, the folks from E*Trade invited some of us to a private concert at House of Blues to see Train perform. Since lead singer Patrick Monahan is in line to be my next husband (don't tell Mr. Corkscrew) I was thrilled to be able to attend. Still might have some "Drops of Jupiter" in my hair.
Yes, it's a restaurant with great food, but it is so much more. Like much of the city, Muriel's comes with a great deal of history and even has its own ghost. The building in which the restaurant resides dates back to 1718 when the city was founded and is regarded as one of the most haunted places in the French Quarter. One of the building's most infamous owners, Pierre Antoine Lepardi Jourdan, who bought the building after the Great New Orleans Fire in 1774 and made it his home, is believed to be one of the ghostly presences that reside in the restaurant. He lost his home in a gambling bet and before vacating the home, committed suicide there and never really left. The upstairs seance room is the area where Jourdan committed suicide.
The staff today continue to welcome Jourdan's spirit (as a peace offering) by reserving a permanent table in the restaurant for him complete with bread and wine. The staff set the table each morning.
Amongst many things, New Orleans is known for its quaint courtyards. These iconic and beautiful courtyards are important parts of the city's architecture and can offer respite during a warm summer day. Initially utilized as functional spaces such as for loading and unloading carriages, keeping the wealthy from having to walk through muddy streets, and as a workspace for laborers, they were as utilitarian then as they are romantic today. The one at Café Amelie is one of the most beautiful and romantic.
Located in the 150-year-old Princess of Monaco Courtyard and Carriage House right on Royal Street in the French Quarter, it was named for Amelie Miltonberger, the mother of Princess Alice, the first American Princess of Monaco. Princess Alice lived in an accompanying townhouse in the complex in the mid-1800s. Guests can dine al fresco in the courtyard or inside in one of the dining rooms in the historic carriage house. While many courtyards are part of private residences, two of my other favorite courtyards are the ones at Hurricane Central, i.e. Pat O'Briens and The Court of Two Sisters Restaurant. So the next time you're in the city, take a closer look at these beautiful structures.
So that's it for the September edition of EDS. I did have a few other non-NOLA memorable sips and sights but will save them for the next edition. Cheers until next time.
I've secretly laughed at people who tell me they don't eat gizzards and then sit at my house and eat dirty rice. Yeah, OK.
Copper Vine's location is on the National Register of Historic Places. The building was the former home of Maylie's restaurant that was opened in 1876 by two French immigrants and served as a refuge for the men who worked at the Poydras Street market. The restaurant was open for more than a century.