So continuing on from Day 1 (you did read that right) we were ready for more wine tasting as we'd had some good rest, lots of water, and a solid breakfast. And this was the day we got to go to the Library. Read on…
Bending Branch Winery
Our first stop was Bending Branch Winery in the town of Comfort, TX, which is about thirty minutes south of Fredericksburg. We made sure to get there at 11am when they opened as they don't have a reservations system and it was Saturday. I discovered these folks a few years ago when I heard that they were doing great things with Tannat. We were introduced to Tannat on a wine tasting trip to Uruguay (read all about it here) and really enjoyed it. Our last visit to Bending Branch was so memorable and it was literally one of those few times that I visited a winery and bought EVERY wine they offered. So we were happy to make a repeat visit. And while they do have a tasting room in downtown Comfort, I highly recommend going up to the main winery in the hills. The have a couple of great outdoor sitting areas and I love the patio with the fireplace. Of course I was there in June so it was of no use to me.
We tasted seven wines total, six of which were on the tasting list. The tasting was $10 per person and was waived with a two bottle purchase. Not a hard thing to do here! Linda (whom we'd met previously at the downtown tasting room years ago) was our server and is absolutely wonderful. She's originally from Tennessee and has a collection of goats amongst other furry friends. You will love tasting with her.
First up was the 2014 Vermentino. No better time to have this as it is a great summer wine. Crisp, bright acidity and lots of citrus. Vermentino is primarily found in Italy but I keep seeing more and more of it lately. Linda says she's had this with an orange pecan muffin. For breakfast? I like the way she thinks!
Next we tasted the 2014 Picpoul Blanc. They actually have a lot of fun with this wine. They host a Kentucky Derby event every year during which they age the wine in Pappy bourbon barrels. That alone makes me want to lick the barrels (umm, drink the wine). Crisp and bracing acidity on this one makes it a perfect match for oysters. This was a new grape for me and it's grown primarily in the Rhone and Languedoc regions of France.
The 2015 Comfortage was next and was much different from the first two wines we tried. I could tell this one had seen some oak as it was much more creamy and buttery, but still had some nice acidity. This one was made with 100% Texas fruit. It's made from 100% Roussanne grapes and was fermented half in stainless steel and half in oak barrels.
We also tried the White Thinkers Blend, which was not on the tasting menu. It was a blend of Viognier, Muscat Orange, and Muscat Diamond and quite fragrant on the nose, but dry. Think pool sipper. I was actually amazed at all the different white wines offered as they only had one on our first visit. A couple of years make a big difference!
Moving on to the reds, first up was the red Thinkers Blend. This is a proprietary blend of seven varietals from what they call their "small batch experiments." Now this is great science and tasty as well. The wine was earthy and I picked up some flavors of mushroom, leather, and dark chocolate, all balanced with nice acidity. I could have this wine with a number of things or all by itself.
The next red was the Souzão which Linda and I had a great time trying to pronounce. She says several "experts" have offered up the correct pronunciation. I just call it the "Portuguese S wine" since its best known as a Portuguese blending grape for Port. This is a deep, dark red and apparently all the color and flavor is due to the fact the Souzão grapes have red flesh in addition to red skin. The wine was very fruit forward with lots of red fruit on both the nose and palate. I couldn't think what I would have with this wine but Linda thinks it would go with just about everything from the grill as well as Pizza.
Last, but not least was their 2012 Tannat from the Bella Collina Vineyards. They consider Tannat to be their flagship grape and really do a great job with it. The first time I visited I tried a few different Tannats, but this time there was just one available for whatever reason. This one had some plum and raisin notes, some earthiness and had very approachable tannins. Go ahead and drink up now. My only disappointment was that this was not made with Texas fruit. I've had their Texas Tannat and it's fantastic.
So what did we get? Well, we got a couple of things we tasted (the Tannat, Souzão, and White Thinkers) as well as a couple of things on faith. Linda swears the 2012 Charbono is all the rage so I got that, as well as their 2012 Petite Sirah. I'd had the Petite Sirah on a previous visit (different vintage probably) and really enjoyed it. So here's to having a little faith.
And just as I was making my decision on what to buy, in walks Dr. Young who is the founder and co-winemaker at the winery. He was so nice and engaging and was totally fine with me talking his ear off. He even humored me and let me take his photo. Cheese!
Becker Vineyards
Our next and last winery for the day was Becker Vineyards.
They have beautiful grounds including an outdoor tasting bar and extensive seating areas. They also have lavender fields onsite that are absolutely gorgeous in April and May. This was the very first winery we visited on our initial trip to the area fifteen years ago and it's more popular than ever. The current tasting room is probably triple the size of the one we first visited.
One of Becker's claims to fame is that their wines have been served in the White House. That popularity leads to some very large crowds. They also produce a staggeringly wide variety of wines, but Cabernet is probably what they do best.
So if you can't go when they first open or during the week, do the Library Tasting. In fact, just go for the Library Tasting, period. This was our first time doing this particular tasting and is THE way to go. In fact, since we tend to be in the area on weekends and I don't want to deal with the crowds, we'd stopped visiting. Well after this experience, they are back on the list. And the Library Tasting gets you access to some of the Cabernet that is not available of their regular tasting menu. This particular tasting is only offered on Saturdays (but can also be arranged by appointment) and is a bit pricier than some in the area at $60 but I felt it was worth it for the experience you got. The entire tasting experience was about two hours though I think it generally lasts about an hour and a half. I think we were just a really chatty bunch.
After passing through the throng in the tasting room, we were whisked back into one of the barrel and tank rooms where we began our behind the scenes tour with the winery General Manager, Bret Perrenoud. We started the party with a taste of Jolie, which is a dry Rosé produced by the Saignée method.
Saignée is the French bleeding off method where some of the pink juice is removed from red wine, thereby resulting in a darker, more intense red wine. The pink juice is fermented on its own to produce a Rosé wine.
Next up, we had a tank sample of the 2015 Reserve Viognier.
It's "Reserve" because Dr. Becker says so. OK. Works for me. Just a little geekery here – they do not filter the wine. Instead they cold stabilize and chill. Now apparently this wine was close to being ready but needed a few more weeks before bottling. It seemed ready to go to me. And that why I do hashtag #lawyering and they do what they do.
Next up was a barrel sample of a 2015 Merlot which had been in the barrel for six months. We also had a barrel sample of the 2014 Merlot to compare.
As part of this, we learned about American vs. French oak and I learned that you can even pick the specific forest that your oak comes from. Who knew?! Well, I'm sure some folks knew, but I didn't realize that. We also learned a few things about the taxation of wine. In fact, Bret made several references to taxes throughout the experience. Bret even told us that at some point, the Feds (federal government to you) came to check out the barrels as they didn't believe that the winery was losing so much wine. But when they got treated to hundred degree Texas heat, they understood and came around. I have to tell you that this tax lawyer was quite intrigued. But don't worry that you're going to a (yawn) tax lecture. Most people I suspect didn't even pick up on the tax references. I do a lot of work with excise taxes so I'm very attuned to this area.
The final barrel sample we tried was the 2014 Raven (all I could think of was "Nevermore") which was a blend of Malbec and Petit Verdot. Yes, I lover Edgar Allen Poe. I thought this one tasted ready to go too and indeed we were told that it was just about ready to be bottled.
So after five tastes (see why I only booked two places for the day?) we were ready to get down to the nitty gritty. We descended into the underground barrel cellar to the "Reserve Wine Library" which serves as the home of their single vineyard Cabernet Sauvignon program both in barrel as well as their vertical wine collection.
I definitely see this cellar in my future. Or not. We were then treated to a vertical tasting (2008-2010) of their Canada Family Cabernet Sauvignon in the beautiful library.
The Canada Family Vineyard is located in the High Plains AVA and is known for its rocky soil which imparts lots of mineral notes in the wines. The wine was accompanied by a fantastic cheese plate. Like so fantastic that I asked about and took notes on some of the cheese too.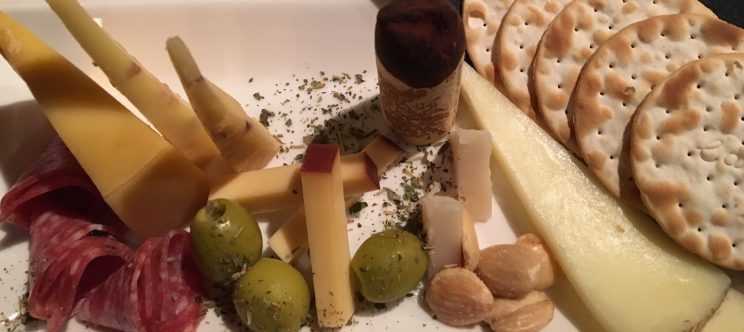 We tasted in order of youngest to oldest and 2010 was my favorite of the bunch. The Husband favored 2009 and interestingly enough there seemed to be an equal distribution as to the vintage that everyone favored. So of course, we bought multiple bottles of both as well as some of the Jolie Rosé.
Definitely do yourself a favor and experience Becker this way.
The Dinner Plan
After a short nap (I can't hang like I used to), we ended up having a fairly early dinner at Navajo Grill. This is a great restaurant with lots of outdoor seating as well as an outdoor bar.
They have a nice wine menu with a fairly global selection available. We went for some Chilean Pinot as that is definitely one thing you can't grow in Texas (at least not well).
We each started with a salad course. I had the Fried Avocado Salad which came with a corn salsa, radishes, as well a chipotle aioli. It was delicious.
The Husband started with The Blue Cheese Wedge and was equally pleased with his selection. It's hard to go wrong with anything topped with bacon.
For our entrees, I had the Double Cut Pork Chop which was served with a fantastic garlic lime kale, chipotle sweet potatoes and seasonal fruit chutney.
The Husband was a bit more adventurous than me and ordered the Hill Country Game Plate. It was a delicious decision and was served with wild boar bacon wrapped venison loin (that's a mouthful), prickly pear glazed quail, warm potato salad, and pan seared Brussel sprouts.
We ended the evening with a nice glass of bourbon after dinner. And we had twenty four new friends to take home.
So until next time Hill Country…