There is an oasis in the hell otherwise known as Disneyland. I'm just kidding. I love Disney. After all, it's "The Happiest Place on Earth" and witnessing Thing 2's reaction to seeing his beloved Mickey Mouse was indeed priceless. But in the midst of all the magic and happiness, there is wine to be had. Disney wine, I tell ya! We were visiting the Disney of the west and visited both Disneyland Park and Disney California Adventure for spring break. And while there was no wine to be had at Disneyland Park (and I'm generally OK with that), there was wine at California Adventure. And for some reason, having wine at California Adventure just seemed "right" given that it was the "hipper" and "cooler" place of the two parks. You truly have the laid back California vibe so it just seemed appropriate that there should be wine. Wine at Disneyland Park would just be all wrong.
So in the Pacific Wharf area of California Adventure sits the Golden Vine Winery. Yep, that's right, the Golden Vine Winery. The Golden Vine Winery of course isn't a real winery, but it has its fair share of wines from which to choose. It's actually a combination of restaurants and wine bars and Disney has placed grapevines near the entrance to give you the winery effect.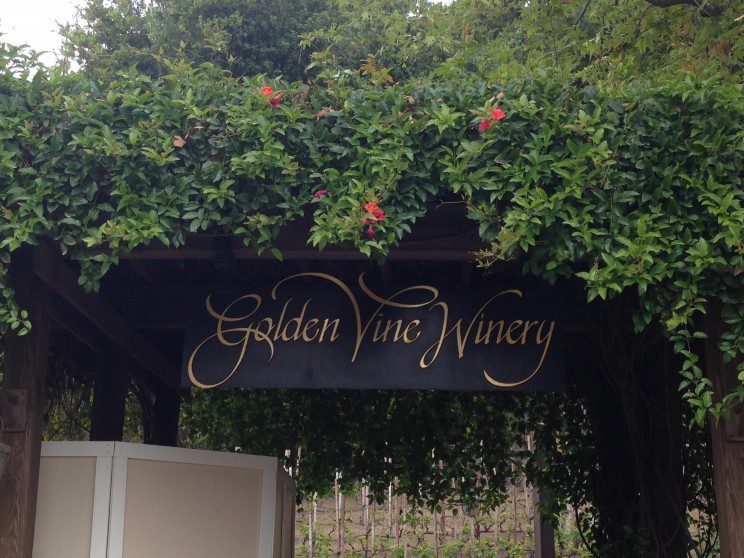 Apparently the goal of the whole venture is to create a wine country experience similar to Napa Valley. OK, not quite, but certainly a nice respite for those of us who need a break from all of the magic. We got there in the evening and after what felt like an eternity walking, it was the perfect time to sit a spell and imbibe a little.
Golden Vine Winery is made up of four distinct dining/bar areas – Wine Country Trattoria, the Mendocino Terrace, the Sonoma Terrace, and the Alfresco Tasting Terrace. Wine Country Trattoria is a full service restaurant that offers up Italian cuisine and overlooks the Pacific Wharf and Paradise Pier areas. They offer various wines and also provide two different wine flights – a California Wine Country flight and a Tour of Italy flight. We were just having light bites so we didn't indulge here. The wine list at Mendocino Terrace provides a global listing of wines and I was surprised to even find some Port selections. However, the appetizer selection is a bit limited here in that they only have a cheese box or a meat and cheese box from which to choose. But if it's just wine you're after, it's quite the comfy spot as you're able to sit under a canopy of shade trees on the patio and sip your wine. Relaxing indeed. The Sonoma Terrace had a much more limited wine selection, but offered up a great selection of beers from California craft breweries.
We ended up at the Alfresco Tasting Terrace, which is on the second floor of the complex and provides great views of Cars Land (which may or may not have been a good thing).
The terrace was a great place to kick back and relax. We had the option of high tables or a collection of sofas and chairs and opted for the sofas.
All of the wines were from California – you're at California Adventure after all. But more than that, all of the featured wines are from the "Disney Family of Wines" and are all from wineries that have some sort of special relationship with Disney.
They offered up eight different themed tasting flights (which I always appreciate) in addition to selections by the glass. I was only familiar with a couple of the wines so it was a great opportunity to try something new. And they had a selection of Mediterranean inspired appetizers as well as Ariel and Lightning McQueen Punch in cups that lit up so everyone was happy. Mama got her wine and Thing 1 and Thing 2 got another overpriced cup that we would have no room for when we returned home. I decided on the "Big Reds" flight which consisted of a Malbec, a Zinfandel, and a Syrah.
We actually ended up having several of the appetizers including a couple of flat breads, risotto bites, and some really good bruschetta. And after getting a another glass of wine after my flight, all of the endless walking and crowds seemed miles away.
I should also note that there was an upcoming Disney California Adventure Wine & Food Festival for the month of April. It consists of multiple events including wine tasting sessions, wine education sessions, and food and wine paring dinners. We were a couple of weeks early for that, which is probably just as well as I may have just sat and had wine with my kids giving me the side eye and wondering why we weren't riding anything.
All in all, this was such a nice diversion from the hectic pace of the park. And because we had views of it the entire time, after my Disney wine flight I was more than ready to face the adventures in Cars Land. Hello McQueen…