So here we are again at the close of another year where I share my most memorable wines of the year. At the beginning of every year, I'm full of anticipation of what the new year will bring. And every year, reality begins to set in in just a few weeks. Like every one preceding it, 2022 had its share of highs and lows in pretty much every category of life – personal, professional, business, etc. But of course there was great wine, great events, and great travel.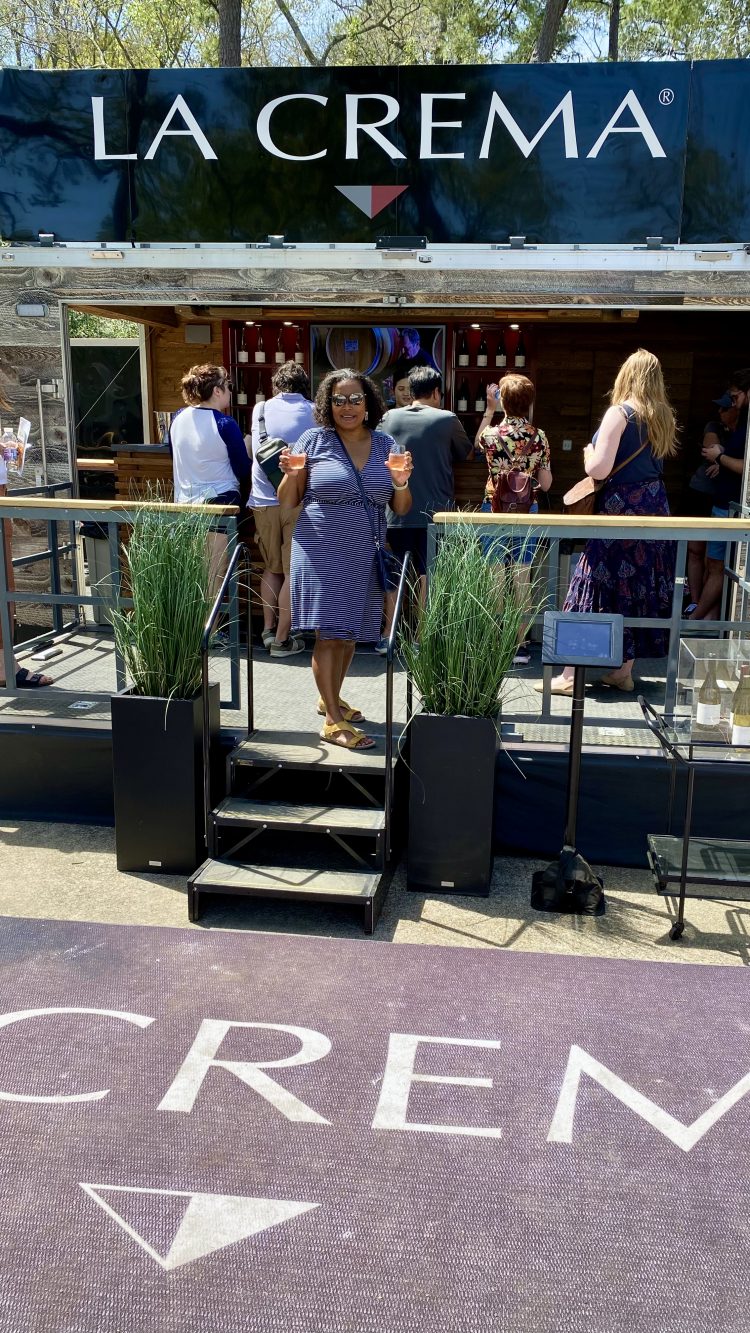 Thing 2 started his first year at a traditional school and I've just held my breath as each week progresses. He started out really well and settled in better than we expected. And while the last few weeks have seen the wheels come off the tracks some, I'm hopeful this long rest will help him get back on track. Y'all pray, cross your fingers, do a jig, or send whatever good vibes you can to my boy. Thing 1 started high school and got her own bitter dose of reality. She's always been the straight A, straight everything kid (she's also the kid that asks for permission while the other just asks for forgiveness) and was humbled quite quickly at the hands of Honors Biology. Multiple times. But she's fighting her way back and I know she'll eventually figure things out.
While voting and voting rights is a passion of mine (I'm a Voting Deputy Registrar, frequently text bank, volunteer my legal talents, etc) I pulled back this year as I just couldn't handle the mental exhaustion that goes with it. Given that the political landscape is a shit show and the fact that part of my tax lawyer job involves dealing with Congress and legislation, I just didn't have it in me this year. I needed to protect my peace. This was true particularly in light of some of the devastating legal decisions that came down. I'm hopeful I can get myself together and get back to it because there are still many people out there who need their voices to be heard. We'll see…
And speaking of the lawyer life, I've been talking to my financial planner about the big "R" and he keeps telling me that I will run out of money at 95. Dude! Why am I even still going to the office?! I have my reasons, but man, its getting more difficult.
And just as the year was winding down and things seemed good – no more travel, school about done, and lots of family time – we were dealt a heartbreaking blow. My 16 year-old cousin was killed and I was left once again with questions and an awful sense of futility. Not to mention heartache, anger, sadness, and everything in between. We're still processing it all…
On the wine front (because this is a wine blog after all) it was an exciting year for the Corkscrew Concierge. I'm grateful to have been asked to participate in press trips to Spain and Portugal this year. It was such a fantastic opportunity to get an up close look at the regions of Catalonia (Spain) and Alentejo (Portugal), not to mention meeting many IG friends IRL. I was also able to enjoy a long overdue trip to Texas wine country. I've been visiting the area since 2001 (since I was a baby) and have marveled at the changes. The industry is still young but very much headed in the right direction. I'm quite bullish on that and even started a monthly Texas wine roundup to do my part to spread the word about what folks are doing down here.
I also got back to doing wine events in 2022 and ended the year with a wonderful ladies lunch of 45. They loved the wine and food pairings and I was reminded of how much I enjoyed doing these types of events.
There were also many wonderful wine trade events (too many to count) during the year that provided great opportunities to learn about new wines and regions as well as to meet the people behind the wines.
In addition to wine trips, we took several family trips including to Mexico, Cape Cod, Chicago/South Bend (Go Irish!) and Anguilla. Oh, and one final thing – the Corkscrew Concierge was listed as a "blog to read" in a Forbes feature called "A Wine Blog for Every Taste[bud]." How cool is that?! Thank you to wine friends that spread the word about my little wine blog. Without further ado, here are the year's most memorable wines. And as always, "memorable" doesn't mean its the best thing I drank, it just means there was something special. But yes, it has to be tasty too!
NV Piper Heidsieck Cuvée 1785 Brut, Champagne, France
This was memorable as it was my first wine of 2022 after getting my butt kicked hard by Covid! All I can say is thank goodness that I was vaxxed and boosted as it could have been a lot worse. A night out with great food and great drink saw me being thankful to still be here. And this is one of those rare, affordable champagnes (around $40) that always delivers and is widely available. And if it's important to you, the folks at Wine Spectator typically give this one high marks.
NV Roletto Gran Cuvee Erbaluce di Caluso Brut, Italy
So first, I'd never heard of Erbaluce in my life. And for me, this is what I love about wine tastings – the ability to discover something new. This $13 sparkler (run to Spec's to get some!) had me running around asking what it was and where I could get it. This new (to me) white varietal hails from Piedmont in Northern Italy. Of course we know Piedmont for its famous red wines the likes of Barolo and Barbaresco. When it comes to white wines, I was familiar with Arneis (Roero) and Cortese (Gavi) but honestly didn't know much more than those.
Erbaluce comes from the town of Caluso, enjoys DOCG status, and is made in a variety of styles. It is a high-acid, light-bodied varietal and is made in a dry style (Erbaluce di Caluso), a sweet white style (Caluso Passito), and a sparkling wine (Caluso Spumante). I was able to taste two of the styles and of course, my fave was the sparkling wine. Bright acidity, crisp bubbles, creamy mouthfeel, toast, yellow apples, bosch pears. This is now firmly on my list of bubbly I love!
2009 Château L'Evangile Pomerol, France
I always love the concept of Open That Bottle Night ("OTBN") which occurs the last Saturday in February. It's a night when you're supposed to open a great bottle of wine that you've been holding onto just because. I mean how many times do we hold onto a bottle of wine waiting for a special occasion? I went all in and opened the 2009 Chateau L'Evangile Pomerol and wow! I tell everyone that I am firmly 'Team Right Bank' when it comes to Bordeaux and Pomerol has some of my faves. 2009 was a great vintage for Pomerol so I knew I was in for something special. 95% Merlot and 5% Cabernet Franc and bestowed with 100 points by a certain critic, this was truly swoon-worthy. So elegant and still full of life with ripe black fruits, smooth tannins, and a finish that went on and on. I picked this one up at Total Wine a few years ago for around $500.
2021 Pedernales Cellars Tempranillo Joven, Texas High Plains
During my Hill Country visit I was able to meet with winemaker Joanna Wilczoch and drink a couple of things that's she's trying her hand at. One of them was a "joven" style Tempranillo that I walked away completely smitten with. Pedernales Cellars is known for its Tempranillo, so it was no surprise that I enjoyed the wine. The surprise was that this was Joanna's first time making a "joven" wine. In Spain, "joven" means "young" and refers to a young and early release of Tempranillo, many times without oak. These are fresh and fruity wines meant for early consumption rather than aging. I tend to drink on the lighter end of the spectrum, so really appreciated this one. $40 for this tastiness.
2014 Paul Bara 'Special Club' Rosé Champagne, France
I'm so grateful to fellow blogger and sister from another mister, Davon Hatchett-Robinson aka The Bubbleista and local sommelier Marcus Gausepohl of Houston Wine Merchant for educating me on "Special Club" champagnes. Special Club Champagne is the highest tier of classification that grower champagnes can achieve. The designation was created in 1971 by 12 grower-producers with a mission to promote Champagne produced from 100% estate-owned grapes that are supremely terroir-expressive. These wines are only made in great vintages and must satisfy rigorous standards – which says a lot given how meticulous the standards already are in Champagne. Marcus recommend this one to me and told me not to hold onto it for too long and just enjoy. Well OK! I literally had it two months before I popped the cork, which is quite unusual for me.
Champagne Paul Bara is practically synonymous with Bouzy, the capital of Montagne de Reims which boasts some of the best Pinot Noir in the region. This one (~$150-175) is mostly Pinot Noir with a bit of Chardonnay, and brings to mind raspberries with a touch of cream. Such elegance and finesse! And so darn expressive!
2020 Massipa de Scala Dei, Priorat, Spain
A true unicorn as it is a rare white wine from Scala Dei, Massipa de Scala Dei ($25-35) is crafted from 45 year-old Garnacha Blanca and Chenin Blanc vines. For perspective, this is the only vineyard that Scala Dei has planted to white varieties. Both varietals are co-fermented and aged in large wooden vats with a resulting wine that is refreshing and toes the line between between being racy and smooth and luscious. 15 Bodegas is your best bet for getting your hands on this one.
And speaking of Scala Dei, I gotta give an honorable mention to the Scala Dei Cartoixa Priorat ($40-55) which is my fave red from them crafted primarily of Garnacha (80%) and Carignan. Its also easier to find than the aforementioned white wine and is classic Priorat deliciousness.
2018 Leduc-Frouin Anjou Blanc, Anjou, France
Dinner with friends is always great, but sharing a wine that they swoon over is truly a special experience. I love sharing my wine knowledge with friends. That means I'm also the person that typically orders the wine. On this night, I chose exceptionally well as they loved it so much that we ended up ordering a second bottle. If you read this blog, then you know that bubbly and Chenin Blanc are my spirit juice and this one reminded me of why I love Chenin. Lots of juicy, ripe stone fruits balanced by the acidity for which Chenin is known. Retailing between $20-24, I could drink this any time!
Pebble Rock Cellars Sparkling Rosé of Mourvèdre, Texas High Plains
Pebble Rock Cellars was one of the producers I visited during my Texas Hill Country trip this year. Of all the producers in Texas, I'm so excited to see what the duo behind this wine do in the future. Robert and Lydia Nida created Pebble Rock Cellars not only with a desire to make delicious wines, but also as a means to educate others and pay it forward. In addition to running their own winery, they act as winemaking and vineyard consultants and are all about being a resource for those who are interested in pursuing the wine business. Even with their own employees, Robert and Lydia ensure that they provide exposure to various parts of the business that may be of interest. That same approach to educating others shows up in their tastings. Each quarter, they choose a topic of interest related to wine and incorporate that into the experience. Whether it's harvest, lees aging, or exploration of the senses, they cover a wide variety of topics. The Sparkling Rosé of Mourvèdre ($35) was the first out of the gate during my tasting there and hit the mark. Fresh, fizzy, and full of ripe red fruit.
2015 A Tribute to Grace Grenache, Santa Barbara, CA
After a visit to Priorat earlier in the year, I was firmly in a Grenache state of mind. So when Grenache Day came around, I had several options from which to choose in the cellar. And this time around, I chose a grenache from one of my favorite regions – Santa Barbara! I visited the region a couple of years ago and just loved the expressions of the wines made there. I loved the Pinot Noir, the Syrah, and yes, the Grenache.
A Tribute To Grace Wine Company is all about crafting authentic expressions of Grenache. All of their wines are single-vineyard and 100% Grenache including Rosé of Grenache, Grenache Blanc, and of course, Grenache Rouge. Owner Angela Osborne is from New Zealand but moved to California in 2006 in search of a place to grow her beloved Grenache. In NZ, it was just too cool to ripen Grenache, which needs sun and heat. Curious about the name? Angela named her label after two of her favorite things: her Grandmother Grace and her most beloved attribute. So Grace and grace.
And you know that someone so dedicated to one varietal has to make some some killer juice. Coming in around $45-55 (depending on where you get it), this was just delicious! I couldn't believe how light it was in the glass. Almost thought I was pouring Beaujolais! Just such a pretty pale garnet red in the glass. One whiff in the nose provided notes of violets, graphite, cranberry, and cherry. And what a sipper! Lithe, lean, and elegant with bright, tart cherry and racy acidity, mushroom, earth and maybe a touch of cinnamon spice.
2014 Vazart-Coquart Special Club Blanc de Blancs, Champagne, France
Your girl threw a bubbly-filled birthday bash with good friends and family this year (I'm still so full of joy and happiness that they all came to celebrate with me) and there were lots of great bubbles slurped down. But of all the stellar bubbly, the Champagne Vazart-Coquart was my fave. This is the bottle that started the evening off and ended up being my fave champagne of the night. In fact, it was the fave of a few people. As I've said, the best way to enjoy wine is with friends and family. Mineral, salinity, yellow apple and citrus plus a little toast, it was a joy to drink. Around $100 if you can find it.
2021 Elena Walch Pinot Grigio, Alto Adige, Italy
There's "alcohol water" Pinot Grigio and then there's PG from great regions that truly do it some justice. I've long waxed poetic about the high altitude wines of Alto Adige and this one reminded me of why I love the region. Is this the most complex wine ever? Of course not, but its cool and refreshing and goes down so darn easy. And I enjoyed it in a stunning setting in Anguilla. At $20, I'd happily drink this on any beach, at any time.
Enrico Serafino Alta Langa, Piedmont, Italy
Yeah, OK, this is why in the past, I've typically excluded sparkling wines from my 'wines of the year list' as they tend to take over. But there was no way I could not include this. Last year, I got a taste of Alta Langa and it blew my mind. I knew nothing about these wines and was surprised to learn of this Piedmontese sparkler. Alta Langa is a Piedmont DOCG for brut sparkling wine made in the traditional method. The wines must be vintage wines, must be made from Pinot Noir and Chardonnay, be produced from fruit grown at a minimum 250 meters altitude, and undergo at least 30 months of aging. I was thrilled to get the opportunity this year to have the Enrico Serafino Alta Langa and it was exquisite!
2019 Failla Pinot Noir, Seven Springs Vineyard, Eola-Amity Hills, OR
This was another 2-bottler (retail around $45-60) as the group loved it so much, we ordered a second bottle. We enjoyed this during Mr. Corkscrew's birthday dinner and it was truly one of those bottles that reminds me why I so enjoy Oregon Pinot Noir. I've had several wines sourced from Seven Springs Vineyard and they have all been stellar. This one was ripe and luscious, but also earthy and savory. Everything just seemed so well in balance and each sip just kept you coming back for more. More than that, Mr. Corkscrew absolutely loved it.
Well, that's it for 2022. Cheers to the adventures ahead in 2023!