Perched on southeast-facing alluvial terraces of the Santa Lucia Mountains near California's Monterey Bay is one of California's most exquisite, yet under the radar wine growing regions – the cool climate Santa Lucia Highlands ("SLH") AVA. And the wines are spectacular!
*Image Courtesy of Santa Lucia Highlands
Santa Lucia Highlands AVA
Location & History
Nestled within the larger Monterrey AVA between the Salinas Valley and the Santa Lucia Range, the SLH is a long, narrow region that is comprised of only 22,000 total acres – much of it unplantable mountainside – with total planted acres coming in just shy of 6,000. Measuring about eighteen miles long and one to three miles wide, it is small, but mighty. With soils comprised mostly of granite, alluvial deposits, the region is set up on a bench terrace that slopes down from the mountains with vineyards planted anywhere from 50 to 1,600 feet in elevation. Pinot Noir reigns supreme with Chardonnay the next most planted variety. After that, small amounts of Riesling, Syrah, Pinot Gris and a few others crop up – all varieties that love the region's cool climate.
But it hasn't always been that way. Vinifera grapes were planted in the area by Spanish missionaries as early as the 1790s. In the 1970s, the first commercial plantings of grapevines were made, but not necessarily Pinot Noir and Chardonnay. It wasn't until the 1980s and 1990s, that growers really began to hone in on the region's signature varieties of Pinot Noir and Chardonnay. The region became an AVA in 1991.
The Climate
And there is a reason that Pinot and Chardonnay are embraced. The SLH is known as a cool-climate region – an essential characteristic for world-class Pinot Noir and Chardonnay. And as I've learned, these characteristics also lead to exquisite Syrah. To be sure, the cold, deep Monterey Bay is the most important climatic influence in the SLH providing the area with significant amounts of wind and fog. The bay also provides a moderating effect for a long, consistent growing season.
The length of the Salinas Valley, east of the SLH, stretches unimpeded from the very cool Monterey Bay in the north down to warm Paso Robles to the south.
As Paso heats up, warm air rises up and sucks in the cool air from the Bay creating a vacuum effect over the Valley. The cool wind literally rushes in on a daily basis and serves two important purposes. First, the wind diminishes photosynthesis early in the day which extends the growing season. Second, the wind's cooling effect enhances the carbon loading in grapeskins, where flavor and phenolic components develop, leading to complex wines with great depth and intensity.
In addition to affecting the region's wind, the Monterey Bay also provides the region with significant fog that blankets the area and cools the grapes every evening. The fog also provides for a consistent temperature in which to ripen grapes. All of this means sunny, warm days in the morning followed by cooling afternoon winds and fog in the evenings. Put it all together and you get slow, gentle ripening and one of the longest growing seasons in the state with grapes that are fully ripe with marked acidity.
The Region's Cooperative Winemaking Spirit
I had the opportunity to participate in a virtual event with some of the region's premier farmers and winemakers. And I use the word 'farmer' very intentionally as many of the folks on the call regard themselves as farmers first and foremost. These are real farmers that are out there on the ranches and that have been farming these lands for generations. "I'm proud to be a farmer" shared Mark Pisoni in a sentiment that was evident from most of the owners and winemakers participating. After all, if you don't farm great fruit, you can't make great wine. I was able to taste through several wines (sent as samples) and hear about the region's history, climate, and more. It was quite special to learn about the region from members of pioneering families such as Mark Pisoni, Dan Lee, and Steve McIntyre.
One of the things that really struck me about the region is that it is like a large, extended family. SLH consists of a number of close-knit, multi-generational families. There is a great deal of comraderie and cooperation between wineries as a win for one, is a win for all.
"We talk about the climate and the weather and all that. You gotta have that for a region to be successful. But you gotta have great people and I feel like our region has some fantastic, multi-generational farming families…These are neighbors. And these are neighbors you can count on. Like you can borrow a tractor from them. You can run down and say 'hey I have a question' can you help me out? We are really a team working together to make better wines. We're all out trying to do a fantastic job and it's really cool to be a part of that team…And I feel like that collaborative spirit [is] because we're farmers, we're a small outfit, and we want to help each other out…I invite people to come out to show people that real family that we have as an appellation."

Mark Pisoni
Well I'm coming Mark! I can't wait to visit! But in the meantime, I'm just enjoying the wines…
The Wines
The Pinot Noir
Pinot Noir comprises over 55% of the region's planted varieties. The number one thing that people associate with Santa Lucia Highlands Pinot Noir is the ripe fruit. The region's climate allows for a lengthy and consistent level of fruit maturity and that ripeness shows in the richness and depth of flavor in the wines. The region's Pinot is also known for its soft, smooth mouthfeel and of course, its natural acidity. In fact, acidification is rare for the region and its even more rare to find a flabby Pinot. So in other words, y'all these are some sublime Pinots!
2018 Clarice Wine Company 'Rosella's Vineyard' Pinot Noir ($90)
So this was a new to me producer and I was like, surely if its that great, I would have heard of it. Yeah, well I was wrong! Oh my! Tart cherry, cranberry, cherry cola, dried roses, earth, and a touch of herbs. I love a cerebral wine and this one held my attention from beginning to end. The wine toes a line between elegance and rusticity and offers up both old and new world characteristics. Everything a Pinot should be. Count me a fan!
2016 Hahn SLH Orchestral Pinot Noir ($90)
Along with Miner (which I'll get to below) I was most familiar with Hahn Wines out of all the Santa Lucia Highlands wineries. In fact, I'd had the "regular" SLH Pinot Noir on few occasions and always enjoyed it. I was a fan. But this was another experience altogether! Fairly fruit forward with bramble and cherry, but with savory components (earth and tea spice) to provide some structure, this was luscious and decadent and just a joy to drink. The almost creamy tannins and silky mouthfeel draw you in and keep on going with a lingering finish. And apparently this is a winemaker pet project and is a field blends of sorts with several different Pinot Noir clones planted and harvested together.
2017 McIntyre Vineyards Estate Pinot Noir ($48)
I swooned over McIntyre's Merlot last year during Merlot Me month and couldn't wait to get a taste of the Pinot Noir. The base of this wine comes from grapes that were planted in the region in the early 1970s. So it's like having a taste of Santa Lucia Highlands heritage in your glass. Those old vines provide for an intense and flavorful wine. This one was fresh with rich black cherry, herbs, slate, and layers of earth carried along by nicely structured tannins and acidity. One of my favorite food combos is pinot and pork so I was so looking forward to pairing this one with a 7-hour smoked pork roast. So delish!
2017 Miner 'Gary's Vineyard' Pinot Noir ($60)
I visited Miner Wines way back in 2008 or 2009 or maybe even 2010. I can't remember exactly as it was long before I was 'The Corkscrew Concierge.' I recall that I chose to visit them because they had Pinot Noir and I was a Pinot girl deep in Cabernet Land. That, and I had a friend that was a big fan of their Oracle and suggested I visit. And here we are today with more of their Pinot. Keeping with the pinot & pork theme, we paired with grilled pork, wilted greens, and roasted vegetables. This structured beauty presents layered berries along with baking spice, dried herbs and velvety smooth tannins.
The Chardonnay
Chardonnay is the second most planted variety at 2,200 acres and one of the signature varieties of the region. And if you've been following along, you know that I've had a come to Jesus moment with California Chardonnay and it is because of wines like this. These wines are mineral driven and energetic, and have great acidity and great freshness. The acid and the freshness are testaments to the cool climate of the Santa Lucia Highlands. But these are not just lean and racy wines – they also have amazing texture and concentration. Truly the best of both worlds.
2017 Scheid Vineyards Reserve Chardonnay, Escolle Vineyard ($45)
The Scheid Reserve Chardonnay is a medium bodied beauty that provided elegant minerality that really shined, along with notes of lemon custard, lime, ripe apples, green pear and a touch of spice. It toed the line nicely between its richness and ripe fruit along with its mouthwatering acidity. We paired the wine two ways. First we paired with garlic Parmesan wings. Y'all, Thing 1 and Mr. Corkscrew swear wings are a food group! In this case, the acidity loved the fried deliciousness.
We then finished it off with steamed crab legs and drawn butter. And yeah, shellfish is probably a food group for me!
2017 Talbott Vineyards Chardonnay, Sleepy Hollow Vineyard ($45)
Talbott Vineyards' Sleepy Hallow Vineyard is one of the most renowned vineyards in the SLH. It was designated as one of California's "Grand Cru" vineyards by Wine Enthusiast for its ability to produce exceptional wines year after year. The fruit in this particular wine comes from vineyards that range from 15-25 years old. Beautiful floral and citrus aromas lead to a wine that offers up peach, apricot, toast, lemon curd, and almond carried along by vibrant, crisp acidity. We paired this one with crispy rice with shrimp, bacon, and corn. A party in the mouth!
2018 Lucia Chardonnay, Soberanes Vineyard ($45)
The hand-picked and sorted fruit for the limited production Lucia wine duly represents the three Pisoni estate vineyards – Pisoni Estate, Soberanes Vineyard, and Gary's Vineyard. True to the region's hallmark balancing act, the textured body and richness of the wine is deftly balanced by the vibrant acidity. The wet stone and salinity spoke my language loud and clear and the citrus zest and apple just brought it all together. We paired the wine with crispy skin snapper over wilted greens and what a dinner it was!
2017 Luli Chardonnay ($24)
I don't know what it was, but this was the first wine out of the gate during our virtual tasting and I was like dayummmmm! Will they all taste like this?! Luli is a partnership between the Pisoni family and a Master Somm named Sara Floyd. The goal of the partners was to create a handcrafted wine at a reasonable price. Mission accomplished as this drinks way above its price point! With fermentation in neural oak and no malolactic fermentation, it shows brightness and vibrancy along with ripe fruit and body. I'm such a fan of this wine! I drank it on the porch in the rocking chair, and then with some popcorn, and then just because…
The Syrah
People say that Americans don't drink Syrah and I guess I was one of them for a while. I've gone from a person that absolutely could not stand Syrah to one that geeks out more and more on them. I mean, what the hell was wrong with me?! But the more I drink Syrah and learn about it, the more I'm drawn to those from cooler climates such as SLH as they seem to have both an elegance to them as well as great depth of flavor. Surprisingly, the SLH has only 59 acres of Syrah and is made by only a handful of producers. This is likely because Syrah can be a hard sell. But once you taste these, you'll definitely go back for more. If these wines don't make Americans drink more Syrah, I don't know what will!
2015 Cattleya Soberanes Vineyard Syrah ($70)
Y'all know that I love a good wine story as much as I love a good wine. And I love owner and winemaker of Cattleya, Bibiana Gonzales Rave's story. Growing up in Colombia, she had few instances to enjoy wine. But on the few occasions that she did, it was enough to spark her dream of becoming a winemaker. So off she went to France where she studied viticulture and enology as well as worked with Bordeaux giants such as Château Haut-Brion amongst others before coming to California. In her words, "Growing up in Colombia shaped who I am. Training in France defined me as a winemaker. Becoming a U.S. citizen gave a new sense of place and purpose to my life work." And as for the wine, it had me at bacon! Smoky and meaty with rich black fruits accompanied by a tinge of white pepper and floral notes. It's powerful, with velvety tannins that coat the tongue, but also strikes a balance with it's elegant acidity. We paired with a smoky BBQ ribs and what a match made in heaven!
2017 Wrath KW Ranch Syrah ($35)
We also drank the Wrath Syrah with our smoked ribs. Because if one Syrah is good, then two are great! I'd actually first encountered Wrath when I picked up a bottle of their Pinot Noir during a trip to Los Olivos based on the recommendation of a wine shop owner. Having fond memories of that one, I was expecting great things from the Syrah and we certainly did enjoy. Notes of black plum preserves, smoky meat, forest floor, dried herbs, and black tea along with boldly elegant and plush tannins. Just an absolute treat for the senses.
The Riesling
And last, but certainly not least, the Riesling. While we hear so much about the Pinot, Chardonnay, and increasingly Syrah from the region, there is Riesling in SLH. According to Dan Lee of Morgan Winery, there is a fair amount of Riesling, but most of it is old and commercially farmed and generally goes to larger wineries for blending. But given its cool climate, its natural to wonder if more SLH winemakers will devote the time and care to it.
2019 Moran Winery Riseling, Double L Vineyard ($24)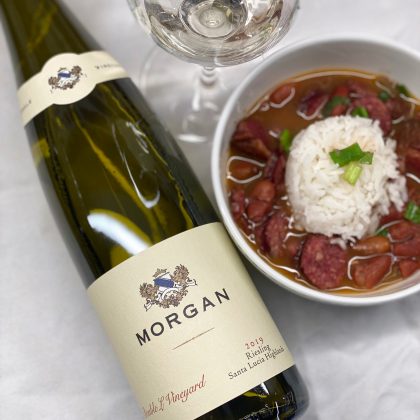 While Dan Lee of Morgan makes greater amounts of Pinot Noir and Chardonnay, it was great to hear him talk about his Riesling from the organically farmed Double L Vineyard (which stands for Double Luck in honor of his twin daughters). For his Riesling, he imported two clones from Germany that have quite a bit of the petrol characteristic for which the variety is known.
Similar to the German Kabinett style, this one was a gorgeous off-dry wine balanced by bright acidity with notes of honeysuckle, lemon zest, and green apples. Given its hint of sweetness, we paired with red beans and rice with andouille sausage which had a touch of Cajun spice.
Y'all, what an enjoyable deep dive into the Santa Lucia Highlands – a region that I knew very little about. And as it's just a quick jaunt from both the San Jose (hour and a half) and San Francisco (two hours) airports, I can't wait to visit!