If German Riesling isn't part of your wine rotation, you're doing it all wrong. Riesling just turned 585 and it is still going strong. The folks at Wines of Germany have declared March 13, 1435 as the birthday of this quite noble variety, which coincides with the first documentation of the grape's existence. All things considered, it is looking damn good and doesn't appear to be a day over 500!
And from my perspective, Riesling is hands down the most versatile wine pairing partner around. There is no better wine (IMO) that pairs so easily with so many foods. As a southern gal, I've paired Riesling with everything from fried chicken to gumbo (it loves Cajun and Creole cuisine) to our beloved Tex-Mex, and even a plain old salad. It's just that capable of melding with so many cuisines. Even if I'm making a choice between Riesling and Pinot Noir – both of which are often regarded as quintessential pairing wines – forced to choose, I'm going with the Riesling.
And let me put it out there right now – all Riesling is NOT sweet!! It drives me batshit crazy that for large events, I have to hesitate to suggest a Riesling because of fear that people will stay away from it because they think it is sweet. Repeat after me: All Riesling is not sweet. All Riesling is not sweet. When in doubt, for German Riesling, look for 'Trocken' or 'Grosses Gewächs' on the label. That being said, when made into a sweet wine, these are some of the most beautiful wines that will ever touch your lips. As you were…
Riesling's versatility stems from the fact that it is capable of producing a variety of styles depending on where it is grown. It can be delicate with green fruit and floral notes when grown in a cooler climate. When it plays in warmer climates, it is more full-bodied and offers up rich citrus and stone fruits. And if left on the vine to create a late harvest or a dessert wine, it's naturally high acidity means that it can lead to well-balanced and downright ethereal sweet wines. Riesling's notable acidity provides it with the ability to age for years, even decades. Cue the petrol!1 Plus, all that acidity makes it fantastic for sparkling wine production.
And while Riesling is cultivated in a number of places including the USA's Finger Lakes and Washington State, Australia's Clare and Eden Valleys, Austria, Alsace, and New Zealand, it's spiritual home is undoubtedly Germany. With over 24,000 hectares (about half of the world's Riesling vineyards), Germany is home to the world's largest vineyard area dedicated to Riesling.2 And just about every style of Riesling is produced there. And if you're watching your quarters, German Riesling generally provides amazing values and are quite budget-friendly.
Understanding How to Buy German Riesling
Admittedly, it's not always easy to know what to buy when trying to purchase a German Riesling. I've actually "consulted" with strangers in the store when they were trying to figure out what the heck they were buying. Well, I had their back and I have yours too. Trust me, it is worth a little bit of understanding to experience these great wines.
First, there are two primary categories of quality wine that you need to look for – Qualitätswein (often abbreviated as QbA) and Prädikatswein. Many dry wines are labeled Qualitätswein, though these wines can be medium sweet. As noted above, producers have tried to help us out and many times you'll see the word "trocken" on the label which tells us the wine is dry. "Halbtrocken" or "feinherb" usually refer to off-dry or medium sweet wines. Many of the best, dry Qualitätswein will also bear the term 'Grosses Gewächs' or 'GG,' on the label which refers to wines that come from the best vineyard sites. So if you see 'GG' and you want a dry wine, you're good to go.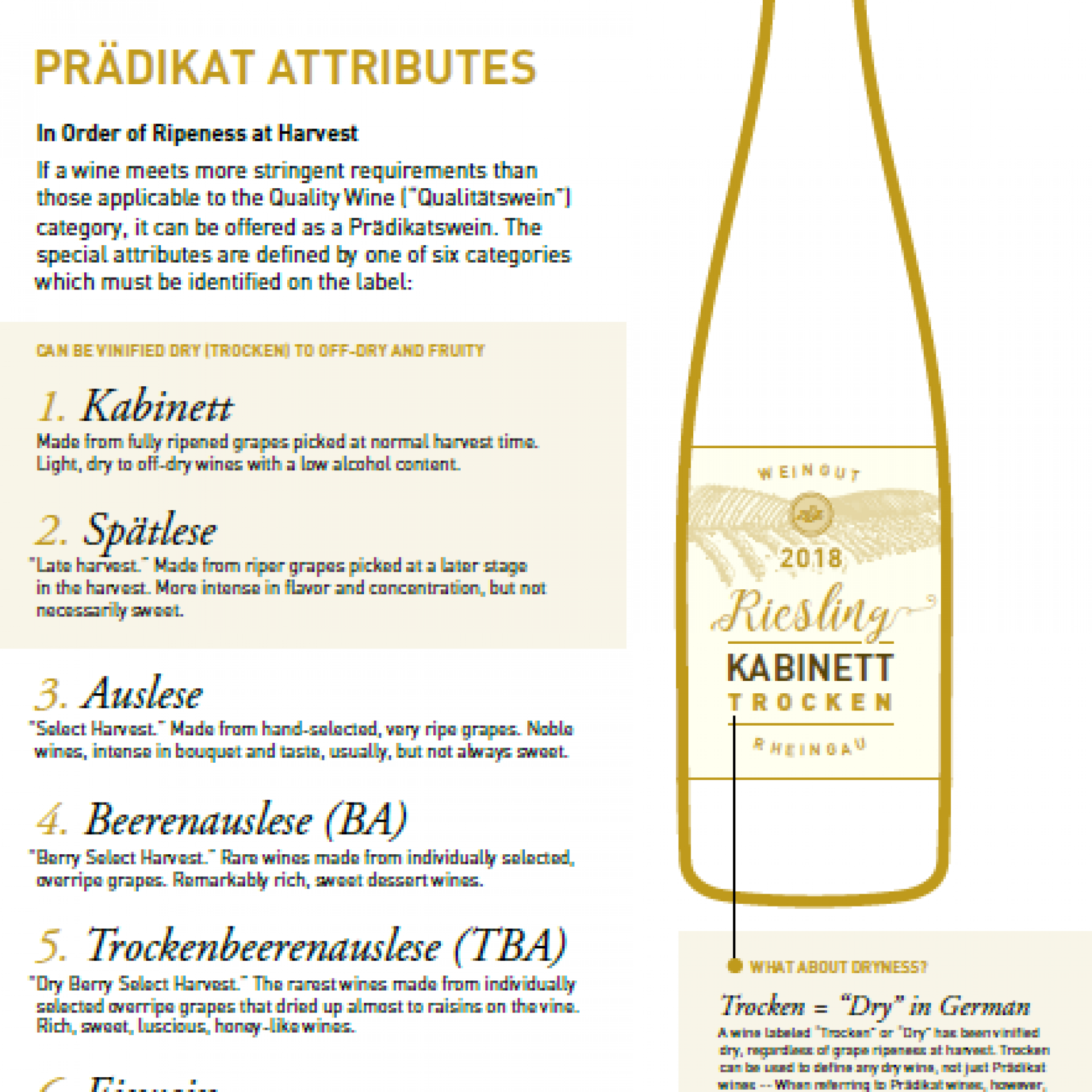 Prädikatswein is the other category of quality wine and is divided into six sub-categories – Kabinett, Spätlese, Auslese, Beerenauslese (BA), Eiswein, and Trockenbeerenauslese (TBA). The first three are made in styles ranging from dry to medium sweet. The last three are sweet only wines. If you encounter a Kabinett, Spätlese, Auslese wine and it doesn't have additional information such as "trocken" on the label and you're trying to figure out if it's sweet or dry, look at the alcohol level. Drier wines have less sugar and higher alcohol levels while wines with higher levels of sugar (meaning less sugar was converted to alcohol) have lower alcohol levels.
German Riesling I've Been Drinking
I was sent a couple of different wines from the folks at Wines of Germany to toast the birthday wine. We were dining al fresco and were able to take our time and compare the two different Rieslings. And a simple salad with shrimp tempura was the perfect meal to enjoy these wines. We compared the 2016 Pauly Generations Riesling from the Mosel region and the 2017 Louis Guntrum Riesling from the Rheinhessen region.
The Pauly Riesling had a modest level of alcohol at 11% vs. the Louis Guntrum, which had 12.5% alcohol.3
So I immediately knew the Louis Guntrum wine would be drier (less sweet) than the Pauly. Second, the Louis Guntrum wine includes "trocken" on the label which also tells me that the wine will be dry. The back of the label also indicates the sweetness level at 0.8% which is considered dry.4 Did you know that most tasters are not able to perceive sweetness below 1.5%?
Finally, (and not to geek out too much) the regions that the wines come from also tells me something about them. Riesling from Mosel tends to be lighter, more delicate, with lower alcohol and higher acidity whereas Riesling from Rheinhessen tends to be some of the most full-bodied in Germany with higher alcohol and riper fruit flavors. One style is certainly not 'better' than the other. Rather, it comes to preference as well as what you're trying to pair the wine with. In this instance, since the tempura batter had a little bit of spice, I thought the Pauly Riesling was the better wine for the dish. The Louis Guntrum Riesling would be better suited for roast pork or even some duck.
So the next time you're stuck trying to think of a wine that will pair with your meal, be sure to consider some German Riesling.