I've been visiting the Texas Hill Country for almost 20 years now1 and a LOT has changed. Generally speaking, The Texas Hill Country encompasses a big area – it is Texas after all! But in this case, I'm generally talking about the 30 mile stretch along Highway 290 between Johnson City, TX and Fredericksburg, TX.2 This stretch is in the heart of Texas wine country and is ground-zero for a lot of the tourist-based activities for the industry. Definitely where you want to go for a first visit. I've seen the area go from a handful of wineries, some of which pushed sweet, thin, or otherwise unmemorable wine-ish, to what it is today with winemakers who are proud to produce what grows well in Texas.
Undoubtedly, an important part of the state's growth as a legitimate producer has been the shift in focus on growing what showcases the best of Texas' terroir. Years ago, I didn't hear many people talking about the soils and micro-climates and the like but today that is just as much a part of the conversation as how good the wines are. Back then, people were pushing Pinot Noir, Chardonnay, and the like because that's what they thought consumers wanted. Today, you see farmers and winemakers embracing Rhone, Spanish, Portuguese, and Italian varieties because of the similarities in climates. I've had Texas Viognier, Roussanne, Tannat, Mourvèdre, and Tempranillo that I would put toe to toe with wines from any region.3
Stepping back a bit, you should know that Texas is the 5th largest producer of wines in the USA with over 400 wineries. You should know that the Texas Hill Country it is the second most visited wine region in the country4 and tenth most in the world. You should know that wine grapes have been grown here since 1662 when they were first planted by Franciscan priests. You should know that it was a Texan (at least a transplanted one) and a Texas rootstock that saved the European wine industry from the devastation of phylloxera.5 You should know that the Texas Hill Country AVA is the second largest in the country. And while we're talking AVAs, know that 80% of the state's grapes are grown in the Texas High Plains AVA – not the Texas Hill Country AVA.
So now that you know all that, let's get down to the important stuff. Where to taste, where to eat, and where to stay in Texas wine country. I got your back!
Taste
I've been tasting at William Chris since their humble beginnings6 with my first visit back in 2009 I believe (long before I had this blog or even knew what one was). Back then, their tasting room consisted of a charming, restored 1905 farmhouse that could accommodate a handful of folks in the various rooms. Fast forward to today where they have just unveiled a 5,500 square foot tasting room and welcome center that provides great views of the vineyards and the rolling hills beyond. This is an amazing feat for the Hill Country to be sure.
After really getting into the local Texas wine scene several years ago, the thing that drew me to (and continues to draw me to) William Chris is their commitment to producing wines with 100% Texas fruit. All those years ago, I became more and more frustrated with tasting "Texas wines" made with California grapes. And while this is a politically charged issue in Texas that I will leave to the politicians and winemakers, I can take control of where I spend my Texas wine dollars. On my most recent visit, I tasted the Pet Nat Sparkling Rosé, a still Rosé, the Mary Ruth white blend, Roussanne, Mourvèdre, Hunter red blend (Merlot & Malbec), and their signature Bordeaux blend Enchanté.
Standout Wines: Pet Nat Sparkling Rosé, Mourvèdre (any of them),7 Enchanté Bordeaux blend.
Tasting Details: All tasting experiences are by reservation only. The new tasting room is members only while all other tastings ($20) are conducted in the original farmhouse. Additionally, the large new tasting room affords WC the ability to offer wine and food pairing experiences ($50) in addition to standard wine tastings. These experiences are open to all visitors (not just members) in the member's private room. Barrel tasting as well as estate tours are also available.
One of the newer players to the Hill Country in 2018, family-owned and operated Ab Astris is already putting its mark on the Texas wine scene. With a name that means "of the stars" they are indeed destined to become stars in the industry.
I was able to taste through a couple of beautiful varietal Roussannes, a Roussanne blend, and Malvasia Bianca for white wines. Red wines tasted included Montepulciano, Tempranillo, Tannat, a Bordeaux Blend, and a red blend called Tribus (probably their most popular wine) which is a blend of Mourvèdre and Malbec with small amounts of Petite Sirah and Tannat. Currently estate vines are planted to Tannat, Clairette Blanc, and Souzao with additional Tannat as well as Petite Sirah and Montepulciano expected in the near future. As the vineyard estate is recently planted, they source the bulk of their fruit from the Texas High Plains. And make no mistake, they are committed to producing 100% Texas wines. I was fortunate to be able to chat with owner Tony Smith during my tasting where he gave me the lay of the land as well as some insight to his and wife Erin's journey. This dream of theirs was truly a labor of love almost a decade in the making. And aren't those the best stories? I also was able to meet with daughter Kristen, who was the tasting room manager and whose husband, Mike, is the winemaker.8 They definitely keep it all in the family. As Mike hones his winemaking skills, the family has been working with famed consulting winemaker John Rivenburgh. The winery has a gorgeous veranda with live oaks, fire pits, and scenic views, and is a great place to sit back and while away the hours.
Standout Wines: Tannat (talk about Texas Tannat at its finest!) and Montepulciano (so easy drinking and I was mad I didn't have a pizza in my purse to pair!)
Tasting Details: Open Thur-Sun; $15 for 5 wines; fee waived with the purchase of 3 bottles
Like Ab Astris, Signor is one of the newer kids on the block (they opened in February 2018) but have great plans ahead of them. Owned by Clay Signor and Eric Weisinger (who is also the winemaker), theirs is an interesting tale. The Signor and Weisinger families go back multiple generations to the 1950s when they lived side by side just north of Houston. Eric and his father John eventually left Texas for Oregon where they established the Weisinger Family Vineyard. But drawing on years of strong family bonds, Clay Signor reached out to John for help in starting a vineyard and winery in Texas. John brought in son Eric and as they say, the rest is history. Eric is tasked with winemaking while Clay is able to focus on his love of horticulture, agriculture and ranching.
I loved the beautiful, modern tasting room and the extensive grounds with several different seating areas. This is definitely one of those places where you'd want to linger with a glass. On my visit I tasted Roussanne, Chardonnay, Rosé of Syrah, Pinot Noir, Sangiovese, and Tempranillo. The wines offered were sourced from both Texas and Oregon (all made by Eric) with a plan to eventually get to 100% Texas wines.
Standout Wines: Pinot Noir from Rogue Valley, OR and Sangiovese (TX)
Tasting Details: Open Thur-Mon; $18 for 5 wines; charcuterie boards are also available for purchase
With New York roots now firmly entrenched in Texas, folks were crazy excited with this addition to the Texas wine scene. Natural is the key word here and that has been their philosophy since the beginning. Multiple passes through the vineyard to get the best fruit, all-natural spontaneous fermentation, no commercial yeasts, and an all-around low intervention approach leads to wines that are rustic, lively, complex, and so exciting to taste. My tasting was hosted by Rusty Meador, father of co-owner Regan Meador and we had a great time chatting it up. As the winery was previously based in New York,9 I had the opportunity to taste a bit of the last remaining NY wines as well as their Texas production. Fruit is currently sourced from local Texas vineyards as the Southold estate has been planted but it not quite ready for production.10 I was able to taste a variety of wines including a Sangiovese Pet Nat, Roussanne, sparkling Lagrein,11 a red blend of Sangiovese and Cab Franc, and a red blend of Cab Franc, Malbec, and Merlot. Cerebral stuff here y'all.
And those views! You can't miss me with a swing and their patios with big porch swings overlooking the hill country seriously beckon.
Standout Wines: Call of the Brave Sangiovese, Don't Forget to Soar Roussanne
Tasting Details: Open Thur-Mon by appointment only; $15 for 5 wines
Located right in Fredericksburg, this is the winery where you feel like you're one of the family. From the greeting I received walking in the door, the rapport with the staff, and all-around relaxed atmosphere, it's a great place to taste some fine Texas wine. Owned by Andy Timmons, who is revered for his grape growing abilities and is the largest grape grower in the state, along with Andrew Sides and Troy Ottmers, it's a sure bet that Lost Draw showcases the best in Texas fruit. Wines tasted during my visited included Viognier, Roussanne, Sangiovese, Tempranillo, Mourvèdre, and Tannat. And while it wasn't on the tasting menu this time, I'd previously had their Picpoul Blanc and fell in love with it so definitely had to get more to go. When you're done with your tasting, mosey on out to the patio where you may catch some live music.
Standout Wines: Roussanne, Mourvèdre, and Tannat
Tasting Details: Open Mon-Sun; $15 for 5 wines; Cheese and meat board can also be purchased
Just about every person at every winery I tasted at wanted to know where else I was tasting. And almost all of them suggested I visit Calais if it wasn't already on my list. They absolutely raved about Benjamin Calais and his wines. Fortunately it was on my list (thanks for the rec Susan G!) and I'd already made myself a reservation. With the tasting room and cellar built into the side of a hill and no signage, you have to keep your eyes peeled or else you might drive right by the place. After making a last minute hard turn so as not to miss the entrance and wandering around a bit to figure out where I needed to go, I have to say that I was damn excited to see what was in store for me.
Listening to French-born Ben Calais was enthralling. Like for real. He's quite charismatic and talks like a true technician with discussions of science and chemistry – but all done in a manner that regular folks like me can understand and actually want to hear. I was in! And the wines? Beautiful, well-crafted wines that anyone would be proud to put on their table. I tasted an absolutely amazing (and surprising)12 barrel fermented Sauvignon Blanc that was somewhat reminiscent of a Pessac style wine. He hopes to try his hand at Semillon so can't wait to try that as well. I also tasted a couple of vintages of the Cuvée L'Exposition which was 100% Cabernet Sauvignon, a Merlot called La Cuvée du Ruisseau, and a proprietary red blend called Gravitas which is dominated by Petit Verdot and is intended to be made only in the best years. I also tasted a Texas unicorn – a botrytis affected Chenin Blanc aptly named Le Botrytis Texan. I mean who the hell knew?! Botyrtis isn't supposed to happen in Texas! According to Ben, the farmer was going to toss the grapes, but he had a vision and thank goodness he did. I bought some to take home and even enjoyed with my Mardi Gras king cake.
Standout Wines: Sauvignon Blanc, Gravitas red blend, Le Botrytis Texan
Tasting Details: Cave Tasting at the tasting bar, Fri–Sun, $15 prepaid, and by appointment only; Winemaker's Table, Sat only, $45 prepaid, and by appt only.
Where to Stay
Though Texas wine country continues to expand and develop, the town of Fredericksburg is ground zero when it comes to exploring the area. It was settled by German immigrants in the mid-1800s and that German heritage is still apparent as you walk around town. There is no shortage of bratwurst to be had and biergartens around town. Plus, there's tons of fun shopping to be done.
Located in Fredericksburg not far from Main Street is the absolutely charming Cotton Gin Village. Consisting of seven, 19th century log cabins as well as seven newly built cottages, this elegantly rustic B&B is located on the same property as the famed Cabernet Grill Restaurant. Featuring antiques, wood-burning fireplaces, and log-framed beds, it exudes the rustic charm for which the Texas Hill Country is known.
The grounds with covered porches, quaint courtyards, and relaxing koi ponds provides the perfect place to kick back after a day of wine tasting. And the warm Texas breakfast you'll find waiting outside your door is delicious fuel for the day's upcoming adventures. For more on my most recent stay, click here.
I've lost count of the number of times I've stayed at this cute little lodge. Located just a block off Main Street, it is within easy walking distance to restaurants and shopping. The dense, wooded grounds offer quiet and seclusion and make you feel as if you're in some out of the way place. The romantic lodge features sixteen private suites, many of which come with oversized jacuzzi tubs.
And whether you take advantage of the pool on warmer days or cozy up in front of the oversized outdoor fireplace on cooler days, you'll find the large shared patio area is the perfect place to unwind at the end of the day. Weekend visitors are able to enjoy a warm breakfast onsite while weekday visitors are provided vouchers to use at a number of local restaurants.
As the wine trail along Highway 290 gets longer and longer, many visitors are looking for more middle of the road options along the 30 mile stretch from Fredericksburg to Johnson City. Enter Stonewall Motor Lodge. Located in Stonewall between the two towns, it is less than fifteen minutes away from over fifty wineries, distilleries, and breweries. SML was originally built to house the US Secret Service and Press Corp when Lyndon B Johnson became President. Completely refurbished and decorated in a mid-century modern theme, it features twelve room and five RV spots. And as I am writing, they are putting the finishing touches on four full sized cabins. But the best part about this spot? The upstairs deck with views for miles that provides a great place to enjoy a glass or two.
Managed by, and located next door to the estate vineyard of William Chris, Hye Way Haus is another option for those looking to base themselves in the middle of the Highway 290 wine trail. Built in 1924, this B&B pays homage to the period's architecture and design.
Guests can choose from five different suites or rent the entire house. And membership has its privileges as guests of the B&B are able to have William Chris arrange accommodations as well as tours and tastings at the winery.
Where to Eat
Cabernet Grill was recently named one of Wine Enthusiast's 'Top 100 Wine Restaurants in America' making it one of only seven Texas restaurants to make the prestigious list which recognizes establishments that represent the most dynamic experiences in wine-focused dining across the country. Known for its all-Texas wine list, this is elevated Texas Hill Country cuisine. Chef Ross Burtwell partners not only with local vintners, but also grape growers, farmers and craft beer and spirits entrepreneurs to showcase the best food and wine that Texas has to offer. With seasonal and locally sourced cuisine expertly paired Texas with wines, diners get the ultimate Texas Hill Country dining experience. One of my absolute favorite bites on the menu are the Texas Twinkies which are bacon wrapped jalapenos stuffed with beer sausage and redneck cheddar served with jezebel dip.
For a deep dive on the food and wine, check out my most recent visit. Also be sure to make a reservation.
Set in an old remodeled house, refined and Inventive southern cuisine is the name of the game here. Utilizing mostly locally sourced ingredients, entrees such as steaks, chops, and seafood are well executed with southern touches here and there. Appetizers are creative, and I especially enjoyed the Navajo fries and the wonton-wrapped shrimp. I'm also a fan of the maple bourbon mashed sweet potatoes. The biggest complaint here is that the prices are a little on the high side for what you get. And while the interior is warm and inviting, their rustic limestone patio sets the scene for a relaxing meal. Reservations highly recommended.
It's a little out of the way, but definitely worth the drive for some down home eats. Don't be distracted by all the other good stuff – get the burger. Really. There is a reason Texas Monthly named this one of the best burgers in Texas. And it ain't pretty. In fact, it looks like something I might make at my house. Hand formed patties in all sorts of shapes with roundish, squarish buns plopped down on a non-descript plate. But that's all the superficial stuff.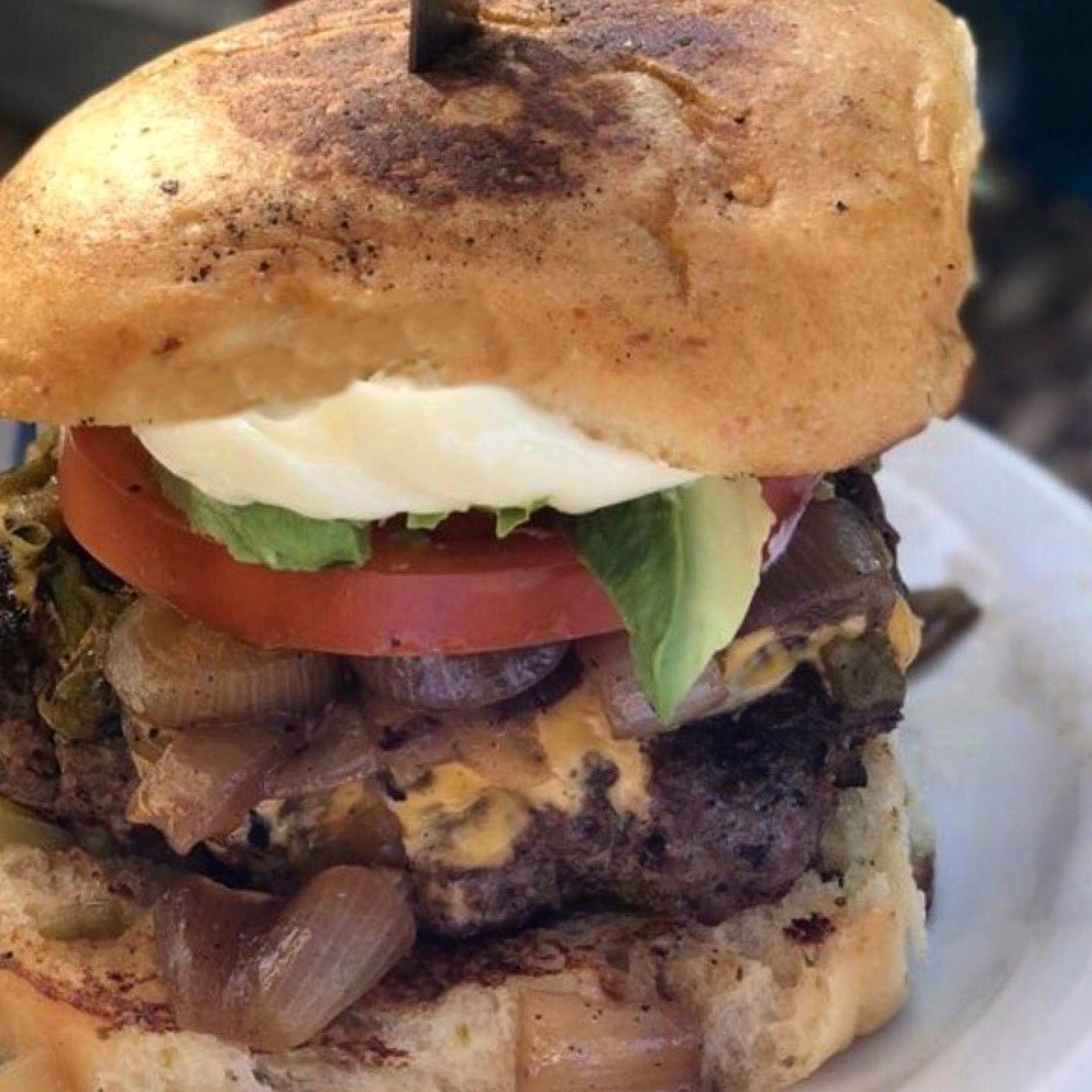 Once you get past all that, your taste buds will seriously thank you. Trying to press down and stretch your mouth may be an exercise in futility so you may have to try your hand at a fork and knife. But the reward is a well-seasoned, juicy concoction so full of amazing flavor it will put many a burger to shame. Oh, and you won't be able to finish it.
With so much change and exciting new things in the area, I think I'm already due for another trip to Texas wine country!
You may also be interested in some of my other visits to the area.
Texas Hill Country Wine Do-Over Part 1
Texas Hill Country Wine Do-Over Part 2
Cheers to Texas Wine Country y'all!