*This article is one in a series that covers my visit to the Eger wine region.
What began in 1984 with six hectares, Thummerer Winery has now grown to 100 hectares and is a bustling enterprise. Located in Noszvaj, about 12 km from the center of Eger, Thummerer is very much a family affair. Every member of the family including children, grandchildren, and in-laws take part in the production and operation of the winery. During my time there, I had the pleasure of having a tour done by granddaughter Annett.
Thummerer has represented excellence for the Eger region for decades. It was previously recognized as winery of the year and founder Thummerer Vilmos was recognized as winemaker of the year (the first ever from Eger). A walk through the extensive underground cellar that sits 16 meters below the mountain and is made from volcanic tufa rock – half of which was hand carved – found me enthralled by the family's winemaking tradition. And the noble mold growing on the cellar walls was also something of a sight. Given its depth and the mold, the cellar is able to maintain constant temperature and humidity.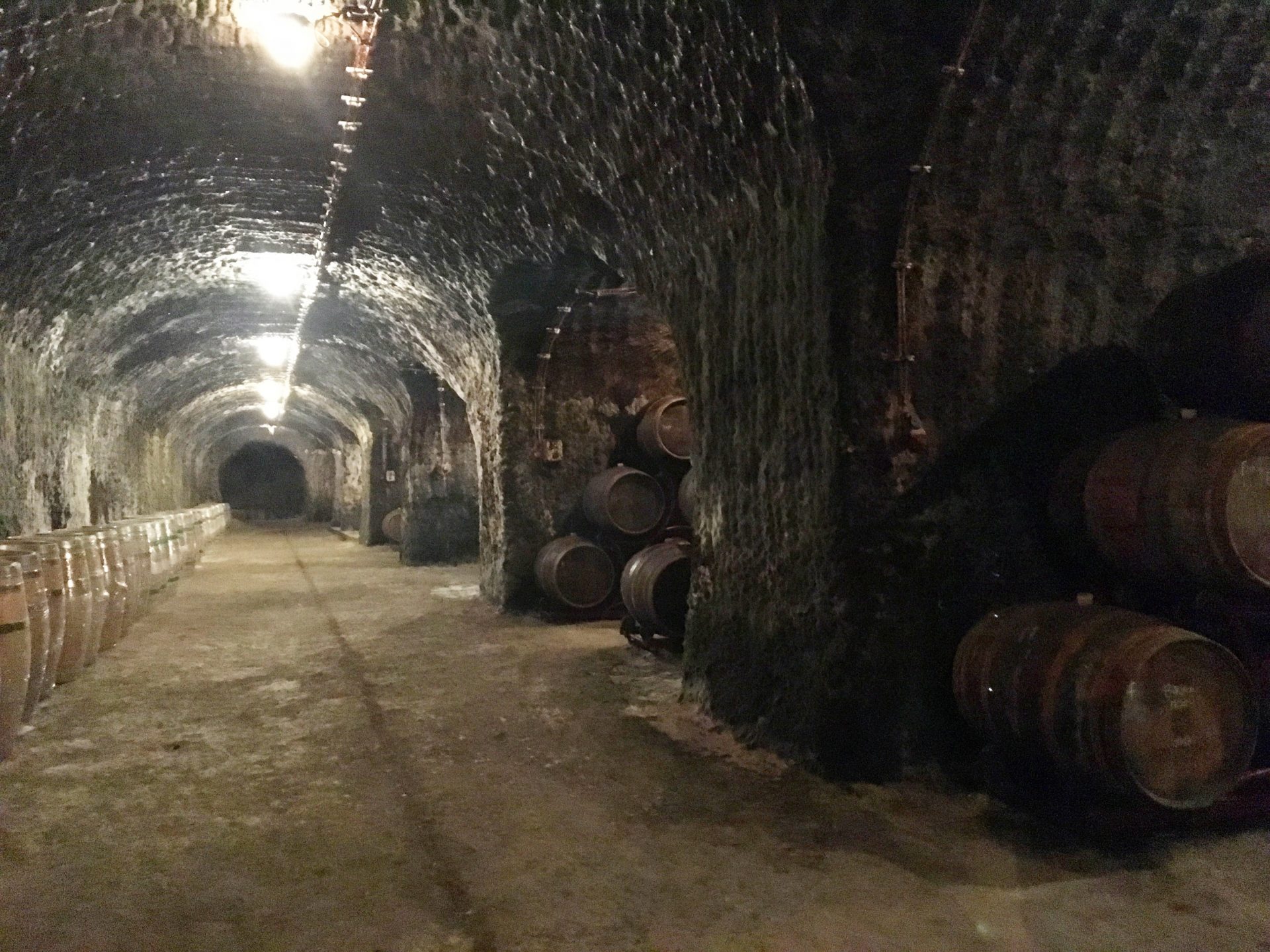 With their extensive vineyard holdings, the family's entire production (about half a million bottles a year) is sourced from their own vineyards. They only utilize Hungarian oak (cause why not?) and their production consists of 80% red wine and 20% white wine. And recently in 2013, they began producing sparkling wine. With an approach that focuses on constantly renewing their technology, in both the winery and the vineyard, the goal is to craft modern wines.
Here's what I tasted.
2017 Egri Rosé
The Thummerer Egri Rosé was surprisingly the first Rosé I'd encountered. Crafted of Kékfrankos, Pinot Noir, and Merlot it had a touch of natural (not added) fizzy CO2 leftover which gave it some liveliness. A gorgeous rose pink, it was fruity and zesty with strawberry and citrus.
2017 Egri Csillag
Made in a reductive style with all stainless steel, this one had vibrant acidity along with citrus and floral notes. Thummerer also makes an Egri Csillag wine with a "Superior" designation that sees a bit of oak.
2015 Egri Bikavér Classicus
Comprised of Kékfrankos, Merlot, Cabernet Sauvignon, Cabernet Franc, and Pinot Noir, this was one of the fruiter and lighter Bikavérs I'd had. All of the varieties were harvested, fermented, and aged separately for nine months and then blended together to age for another nine months in oak.
2013 Cabernet Sauvignon Superior
With one-hundred percent Cabernet Sauvignon, this was a well-structured effort with black fruits and an herbaceousness that was compelling. And while I very much enjoyed the wine and was tempted to purchase it, ultimately I limited my purchases to the indigenous wines – cause that's why I'm there, right?
2013 Egri Bikavér Superior
What was probably my favorite sip at Thummerer, this one bears the "superior" designation and struck a fine balance between fruit and tannin. Made up of Kékfrankos, Merlot, Cabernet Sauvignon, Cabernet Franc, and Syrah it saw eighteen months of barrel ageing along with some additional bottle ageing before release.
These five wines are only the tip of the iceberg as they have a pretty extensive portfolio. They also throw quite the parties at Thummerer with all sorts of wine and food events. One of their most popular wine tasting programs for groups involves food and wine pairing. People seriously talk about the food almost as much as the wine. Before I left, I was able to take a look around their kitchen and boy did it smell good.
Tastings are available by appointment.
Thanks again to Annett for all the great info and for being a fabulous host. Be sure to check out the other wineries I visited while in Eger. Cheers!