My Malbec World Day celebration this year prominently features women (as well as some men!) and the wines that they produce. Whether owners or winemakers, these women are responsible for the tasty juice that many of us are privileged to taste.
Like just about everything else, Malbec originated in France. One of the original blending grapes of Bordeaux where it's not grown much anymore,1 it still thrives in southwest France's Cahors region. But while it may have all started in France, Argentina is the country that gave this once humble grape its rock star status. Ask anyone what grape is grown in Argentina and you'll inevitably hear Malbec. Ask many folks where Malbec is grown and many will tell you Argentina.2
And because Malbec is the country's signature grape, Wines of Argentina created Malbec World Day in 2011 to pay homage to its famous grape. Celebrated on April 17 each year, its a great day to embrace a grape that may not receive as much attention outside of Argentina. It also serves as a reminder of how excellent this variety can be. But the love is growing and there is even a #MalbecMonday movement afoot on Twitter.
Compared to its more tannic stature in Cahors, Argentinian Malbec tends to be full-bodied and intensely colored with black fruits and smooth tannins. The grape is grown throughout Argentina at high and low altitudes and everything in between with each region putting its own stamp on the style of wine. Lower altitude wines tend to be more full-bodied with richer fruit flavors while those from higher altitudes tend to be more elegant with fresher fruit flavors. With the Andes in its backyard, and excluding the southernmost regions of Rio Negro and Neuquen, most vineyards in Argentina lie at 2,000 feet and go up from there.
The spiritual home of Malbec within Argentina is Mendoza and its sub-appellations. Mendoza accounts for more than 70% of Argentina's vineyard acreage and is ground zero for Malbec. While once known for over-extracted, over-oaked wines, many of today's wines tend to be more balanced and elegant with gentler extraction techniques.
With what has typically been a male-dominated field, the influence of women in Argentina's wine industry has been steadily growing. And with so much in the news and media about women power (and rightfully so!) I was thrilled to be able to learn more about the strides women are making in an industry where they often have not had a seat at the table. Not to mention tasting the wines. I may have had some empanadas too. When in Rome…
2017 Domaine Bousquet Gran Malbec, Valle de Uco, Mendoza, Argentina (~$25)
Located in Tupungato, in Mendoza's Uco Valley, Domaine Bousquet is run by Anne Bousquet and her husband. The winery was founded by Anne's French-born father, Jean Bousquet, in 1997 who previously owned a vineyard in southern France. With multiple degrees in, and a previous career in Economics, it's fair to say that Anne Bousquet knows a thing or two about running a business. Add that to being a mom and managing a winery in another country (she and her family reside in Miami most of the time) and this is a woman who knows about balance.
Domaine Bousquet crafts wines with a French-Argentine sensibility from 100% organic fruit grown at a cool 4,000-foot-high altitude. Here, sustainability is more than a tagline and encompass everything they do – even ensuring economic sustainability for their community. The "Gran" series (previously known as "Grande Reserve") of wines represents the winery's top varietal line and shows a mix of old world and new world winemaking. Grapes are sourced from the best sites of the winery's estate vineyards. This one is composed of 85% Malbec and 5% each of Cabernet Sauvignon, Merlot, and Syrah. Intense aromas of baked red and black fruits leads to a palate of blackberry, pepper, mocha, and earth. Full-bodied, medium plus tannins and lingering finish.
2016 Susana Balbo Signature Malbec, Valle de Uco, Mendoza, Argentina (~$24)
Susana Balbo once wanted to pursue a career in nuclear physics. Instead, she became the first woman in Argentina to receive a degree in enology. And lucky for us that she did! Since opening her own winery in 1999, she quickly rose to the top of her game winning awards and honors left and right.3 With the family winery4 located in the Andes foothills in the Luján de Cuyo sub-appellation of Mendoza, Susana says the creation of her wines "is the culmination of all my efforts as a winemaker."
A strong commitment to nature through the use of sustainable practices, as well as to the community around them, is part of the foundation of Susana Balbo Wines. Whether it's refraining from using chemicals in the vineyard, recycling water, reducing GHG emissions though packaging choices, or providing financial and educational support for the surrounding community, those commitments are honored. The commitment to excellence comes through in the wines as well. Crafted of 95% Malbec and 5% Petit Verdot, the Malbec has notes of black plum, black cherry, baking spice, and chocolate. Full-bodied, bold and ripe and coats the tongue like velvet.
2015 Catena Zapata Argentino Vineyard Malbec, Mendoza, Argentina (~$110)
Bodega Catena Zapata has been making wine in Mendoza since 1902. High altitude Malbec pioneers, it was third generation Nicholas Catena who was one of the first to see the potential of these vineyards for producing world class Malbec. Several generations have been involved in the family winery, with the fourth generation (Dr. Laura Catena) running the show today. Laura, who is a physician and author,5 is currently the managing director of Bodega Catena Zapata and has been called "the face of Argentine wine." Her tireless efforts in studying and promoting not only Malbec, but the entire Mendoza region, as well as her work in viticulture and sustainability practices, have helped to propel the industry forward.
The Catena Zapata Malbec Argentino is pretty special inside and out. The fantastic label depicts the history of Malbec represented by women from the 12th century to the 20th century. Even Ms. Phylloxera is represented!6
Crafted from old, pre-phylloxera vines, this wine is sexy, hedonistic, dense, rich, ripe, heady, juicy, velvety. It's just damn good! Black fruit, vanilla spice, silky tannins. Great for a special occasion.
2017 Kaiken 'Ultra' Malbec Las Rocas, Valle de Uco, Mendoza, Argentina (~$18)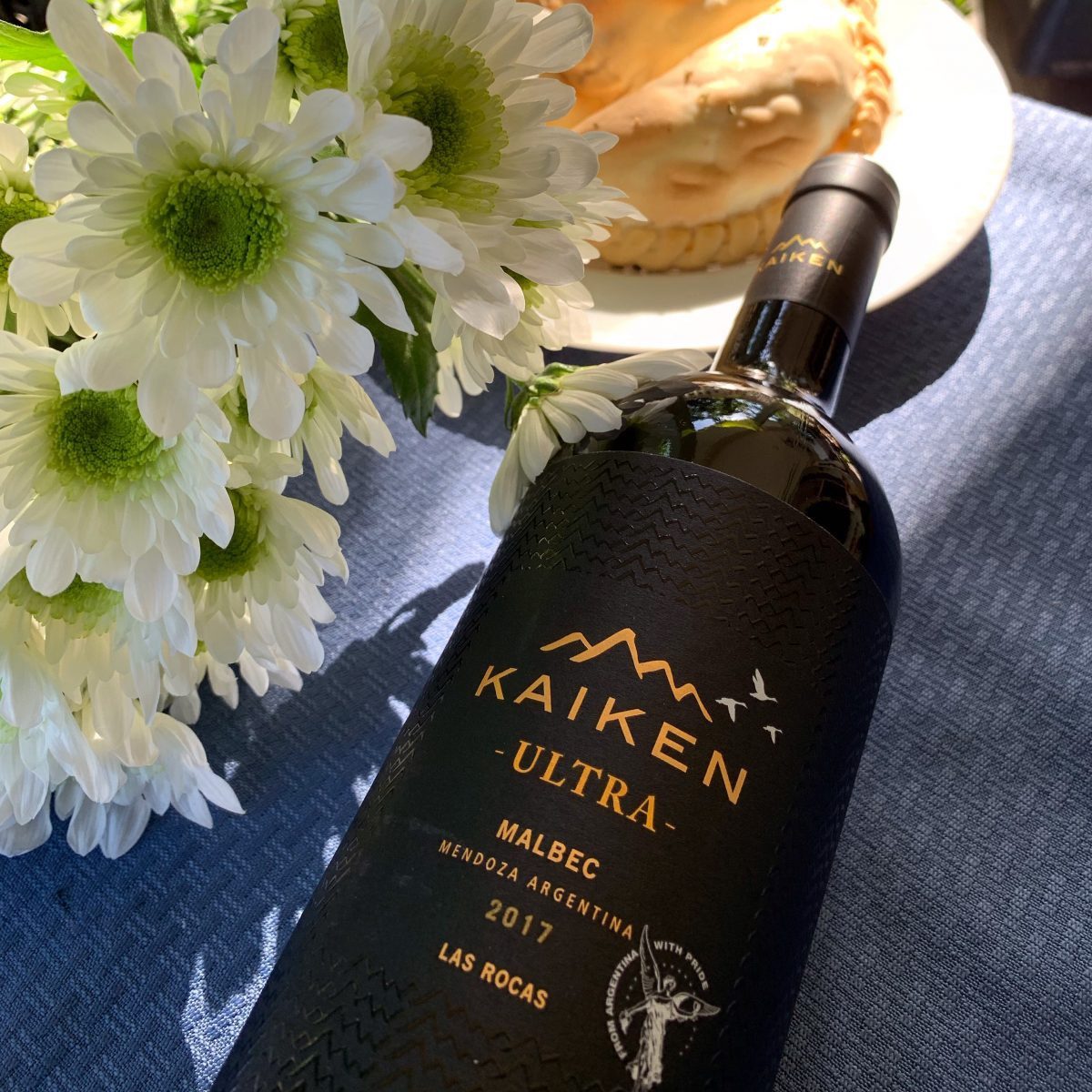 The 'Caiquen' is a wild goose from Patagonia that flies back and forth across The Andes between Argentina and Chile. Similarly, the winemaking Montes family of renowned Chilean Bodega Montes crosses between Argentina and Chile to craft their wines. Kaiken in Argentina and Montes in Chile. And shoutout to the Montes Purple Angel Carmenere! It is still one of my fave expressions of Carmenere.
Biodynamics and sustainability are at the heart of Kaiken winemaking. This particular Malbec has consistently been a great performer for the winery. The 2015 vintage was ranked #45 on the Wine Spectator Top Wines of 2017 list. With fruit sourced from three different vineyards in the Uco Valley with a minimum altitude of 3,600 feet, the 2017 version is quite the elegant wine. The hallmark floral aromas characteristic of the Uco Valley greet you as you swirl the glass. Blackberries, blueberries, and herbs accompany the soft tannins which lead to an ultra smooth finish. This one needs a little time in the decanter to show you its best.
2017 Familia Schroeder Saurus 'Barrel Fermented' Malbec, Patagonia, Argentina (~$20)
The one, non-Mendoza wine hails from Patagonia at the southern end of Argentina. And I have to say that I have such a fascination with Patagonia as I've heard stories from my neighbor about epic goose hunting trips to the region. Of course, I know it more for wine. The region, know for its desolation and wind-swept, semi-arid desert is characterized by warm days and cold nights. These conditions result in elegant, fresh, ripe, and aromatic wines. Further, the region's constant sun and breezes mitigate disease which allows for less intervention in the wine. Gone are the high altitude vineyards from Mendoza. Instead, the region's vineyards are planted around 300-500 meters. I still recall the first wine that I had from Patagonia – a Pinot Noir from Del Fin Del Mundo. That I still remember it says a lot.
And while the region is known for a wide variety of grapes, Malbec7 still reigns supreme accounting for over a third of the grapes. The Saurus wine is interesting in that it is fermented in barrel which adds more vanilla and toasty notes. 100% Malbec, it is fruit forward with red plum and baked raspberries, prominent spice, soft tannins and a smooth finish. Quite expressive and fun to drink.
Malbec is certainly one of those bridge wines that can appeal to a wide variety of palates. I've made it a point to include Malbec, whether it be from Argentina, Cahors, or elsewhere, in my rotation of wines. Cheers!