Well what do you know? We have a Wine Enthusiast 'Top 100 Wine Restaurant in America' deep in the heart of Texas. Fredericksburg's Cabernet Grill just received this honor for its all-Texas wine list.
That's right, 100% Texas wines. Cabernet Grill is one of only seven Texas restaurants to make the prestigious list which recognizes establishments that represent the most dynamic experiences in wine-focused dining across the country. The restaurant boasts the nation's largest selection of Texas wines with over 115 selections and more than 1,200 bottles in inventory. Wine Director Elizabeth Rodriguez says from the very beginning they've been focused on partnering with the fast-growing Texas wine industry. Even better, the wines are fairly (friendly) priced which invites customers to explore the selections at will. Many selections are available by the glass as well as featured wine flights.
I was invited1 to dine at the restaurant to try out some of the delicious Texas wines – not to mention the excellent food menu prepared by Chef Ross Burtwell. Chef partners not only with local vintners, but also grape growers, farmers and craft beer and spirits entrepreneurs to showcase the best food and wine that Texas has to offer. With seasonal and locally sourced cuisine expertly paired Texas with wines, diners get the ultimate Texas Hill Country dining experience.
Whether you sit out on the expansive patio complete with soothing waterfalls or sit inside the quaint dining room near the cozy fireplace, there's not a bad seat to be had.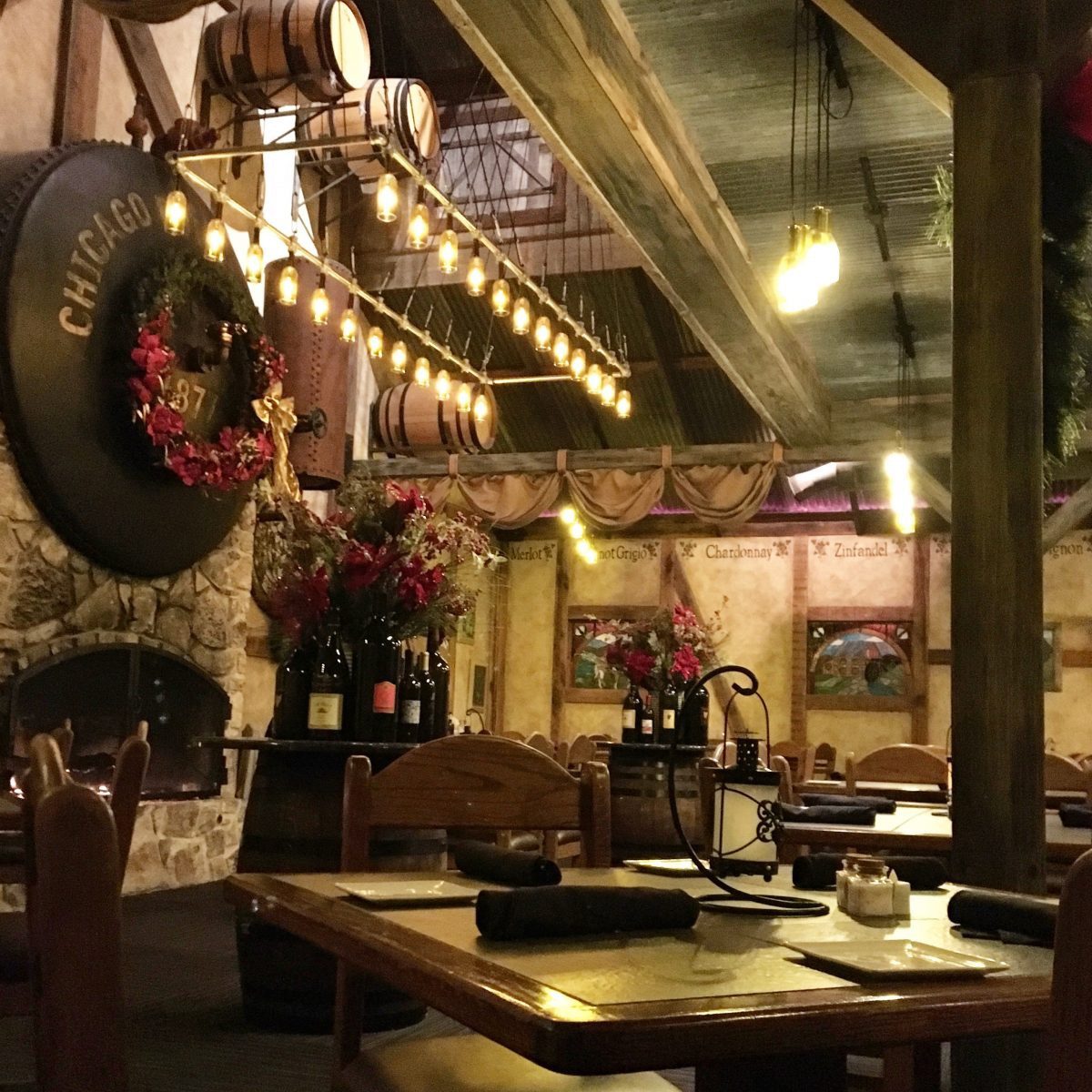 Here are a few highlights from my dining experience. Warning, you will drool…
Amuse
My dining experience started with a Roasted Butternut Squash Soup with maple cayenne cream and crispy pepitas. I loved the combo of sweet and spicy along with the crunch of the pepitas.
First Course
The first course featured a Pecan Crusted Crab Cake with Mango, Mayo, and Sriracha paired with a 2015 Hilmy Viognier. The creaminess (but restrained oak) and acid was a natural for the crab cake.2
And so full of succulent lump crab!
Second Course
The second course featured Sagebiel Pecan Smoked Trout Rillettes with pumpernickel crostini and gin pickles paired with the 2014 Wedding Oak Terre Blanc.
Keeping it real y'all, but when I tasted the trout rillettes, I instantly just wanted two pieces of bread to make a big sandwich with a bag of chips. Of course this was way more refined. I really need to up my tuna salad game! And totally loved this with the wine. With quite an aromatic nose, the Wedding Oak Terre Blanc is crafted of 53% Marsanne, 23% Viognier, 16% Roussanne, and 8% Trebbiano. I was happy to finally try some Wedding Oak wine as I'd been hearing more and more about them.
Third & Fourth Courses
The third and fourth courses were paired with the 2017 C.L. Butaud Rosé.
I've been curious about this wine for a while so was happy to finally have the opportunity to try it. Comprised of Grenache Noir, Piquepoul Blanc, and Rolle with eight months lees contact, this pale salmon pink wine with a strawberry cream nose had a bit more weight than many Rosés.
The first pairing with the Rosé was the Texas Twinkie. And y'all, I can't do this any justice with a photo, but it was my favorite bite of the night.
The Texas Twinkie is a bacon-wrapped jalapeño with house-made beer sausage, redneck cheddar, and jezebel dip (their version had some orange marmalade in it). OMG! It's one of the restaurant's signature appetizers and just a party in my mouth. Love, love, loved it with the Rosé.
The second pairing with the Rosé was a Wild Organic Arugula Salad with locally sourced CKC goat cheese, pickled beets, San Saba pecans, Beladi Tree EVOO, and 25-year balsamic. It was almost too pretty to eat. Almost.
I always love a fresh crisp salad with Rosé. And I don't even like beets but these pickled ones were delish!
Fifth Course
The fifth course was Chicken Fried Quail w/ Chipotle Sweet Potato Mash & Green Chile Gravy paired with a 2016 Grape Creek Cabernet Trois. The Cab Trois is a combo of three different Cabernets – Cabernet Sauvignon, Ruby Cabernet, and Cabernet Franc.
I'm not a big gravy fan3 but this was off the chain! I would never have paired this together but the soft tannins in the wine allowed it to work really well. And this is why they do what they do!
Sixth Course
The sixth course (see how hard I work?!) featured a 72 hour Niman Ranch Short Rib w/ Paprika Aioli, Braised Jus, and Three Cheese Grits paired with a 2017 Baron's Creek Vineyards Merlot.
So apparently Chef played around with the whole sous vide process for the short rib and finally determined that seventy-two hours was the sweet spot. Indeed it was. I loved the whole combo with the roasted vegetables, cheese grits, and onion strings, but it was the paprika aioli that drove it home. It was just such a nice touch. So, so good.
And I've never been to Baron's Creek but based on the Merlot, I need to get over there soon. The Merlot was such a nice balance of fruit and tannins.
Seventh Course
Last, but certainly not least was the fabulous dessert course. German Chocolate Bread Pudding w/ Salted Caramel paired with the Val Verde Winery 'Don Luis' Tawny Port.
This was so decadent and tasty as hell! All that luscious chocolate made be swoon. And the win, with its nutty caramel flavor and hints of chocolate, just melded seamlessly. A perfect ending for sure.

Well done Ross and Elizabeth!
The Cotton Gin Village B&B
And after an indulgent dinner, isn't it convenient that the the restaurant also has an on-site B&B – the absolutely charming Cotton Gin Village? Consisting of seven, 19th century log cabins, this elegantly rustic B&B is the perfect option to waddle walk back to your room and put up your feet. Featuring antiques, wood-burning fireplaces, and log-framed beds, it exudes the rustic charm for which the Texas Hill Country is known.
The quaint porches and courtyards just beckon you to have a glass of two while soaking in the ambience that includes soothing rock waterfalls, meandering pathways, and historic touches like an antique cotton gin.
In the morning, a warm Texas breakfast will await just outside your door.
Perfect to prepare you for the winetasting or shopping to come!

Cabernet Grill is open for dinner service, Tuesday through Saturday, from 5pm to close.
This was such a treat as I'd dined at the restaurant on previous trips and knew I was in for quite the experience.