When in Austria, a trip to taste the juice of Burgenland is a must. I was going to try to compile all of the wineries I visited into one post but that just wouldn't do it any justice. So I've decided to write about all of the wonderful winemakers I was privileged to visit and taste with.
The first winemaker1 I met with on my trip to Burgenland was Judith Beck who was actually on her way to holiday with her kids before coming back for an uncharacteristically early harvest.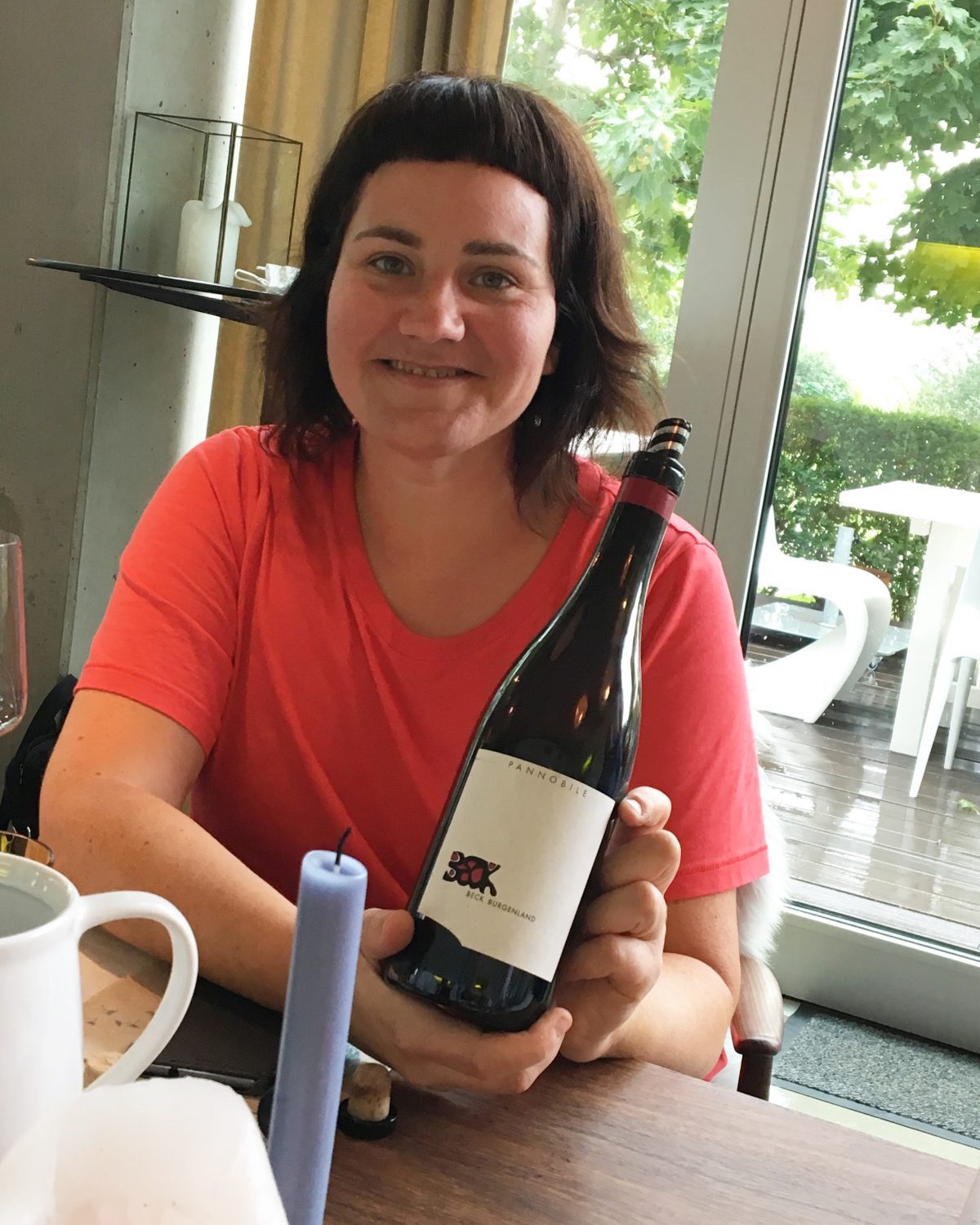 Judith reminded me a bit of myself with her work life and kid life intertwined, but definitely rocking it all, kicking ass, and taking names. A member of the Pannobile Wine Group, Weingut Beck was established in 1976 and since 2007 has been run in accordance with biodynamic principles.2 The Pannobile Wine Group is a nine-member growers' association located in Burgenland in the village of Gols whose purpose is to collaboratively set standards of excellence for the region. Even before converting to biodynamic farming, Judith's parents practiced sustainable viticulture from the very beginning. Prior to taking over from her parents in 2004, Judith worked at wineries in Bordeaux, Piedmont, and Chile. She made her first vintage in 2001 before assuming full control of the winery three years later.
All of the action takes places in a modern winery complete with aging cellar in the town of Gols.
With 18 hectares, the production is comprised of about 90% red varieties (Zweigelt, Blaufränkisch, St. Laurent, and Pinot Noir) with a small portion dedicated to white wine production. Whether red or white, the focus is squarely on creating wines with minimal intervention. While they don't use the term "natural wine" this is pretty much what they produce. No commercial yeasts are used and the wines exhibit a natural purity.
Fermentation starts spontaneously in stainless steel tanks or in open wooden casks. Red varieties Zweigelt and Blaufränkisch are matured in large wooden barrels (1000 – 2000 liters) to emphasize the fruit characteristics of the grapes. St. Laurent, Pinot Noir, Blaufränkisch from Altenberg, and the Pannobile and Judith Cuvées are matured for 15-24 months in classic barriques and 500-liter-barrels as these tend to be more powerful, structured wines that benefit from small oak barrels.

I tasted four wines with Judith.
2016 Bambule Neuberger
First up was a (new to me) wine called Neuberger. Neuberger, which is a cross between Sylvaner and Roter Veltliner, used to be quite an important grape for the region. It all but disappeared but has been making a resurgence of recent. This wine saw 10 days skin contact and was made with no additional sulfur. It spent 12 months on the lees in old barriques and was bottled unfiltered. Tart and soft all at once with a bit of stone fruit and funk, this is one of those wines I could dissect for hours. Aromatic, with a rich full body, this is quite a versatile wine that could pair with a number of dishes.
2017 Zweigelt
Produced with fruit grown on the plain, this was a fun, fresh and fruit driven wine. Fermented in stainless steel and spending about 8-10 months in barriques, this one showed great acid and a lower level of tannins along with fresh dark cherry and blackberries. A classic summer red that could be served slightly chilled due to its lower level of tannins.
2016 Blaufränkisch Bambule
A bit more tannic than its predecessor, this one underwent gentle whole berry fermentation similar to carbonic fermentation. With three weeks of maceration (no punch downs) this was quite the eloquent wine capped by seamless tannins. Blaufränkisch is one of those grapes that is quite dependent on its terroir3 so winemakers must be quite precise when picking. Spice, wild berries, and fine-grained tannins with a nice long finish made this one a joy to drink.

2015 Pannobile Wine Blend
In addition to their own individual winery efforts, each member of the Pannobile Wine Group selects a wine from their portfolio each year as a candidate to be considered as a Pannobile Wine. A wine labeled 'Pannobile' may be either red or white and must be made from local, indigenous varieties4 for red Pannobile wines and from Pinot varieties or Neuberger for whites. Judith's Pannobile wine is a blend of all three local red grape varieties coming in at 60% Blaufränkisch, 30% Zweigelt, and 10% St. Laurent. I love that you can taste the influence of all three varieties which provide power, fruit, and finesse. Produced in a good vintage year, the wine was sleek and powerful all at once with great structure, juicy fruit, and a lingering finish.

Tastings at Weingut Judith Beck are available by appointment.