If you're like me, you're always in vacay planning mode. And not far behind picking the destination, is choosing what
 wine I'm going to have and where. I mean what could be more relaxing at the end of a full day of vacation fun than "wine-ding down" with a great bottle as the sun sets over the ocean, or the mountains, or the city skyline? And who better to consult than wine experts at hotels and resorts across the U.S. for the perfect pairings for any adventure, from a desert hike to a day on the beach.
Without further ado…
Sancerre and the Sea on Martha's Vineyard
"Our go-to wine after a day of boating, biking, or beach-combing on Martha's Vineyard would be Sancerre, which is 100% Sauvignon Blanc from the Loire Valley.1 Being from France, the wine expresses flavors like honeysuckle, lime, Meyer lemon, quince, gooseberry, green apple, poached pear, honeydew, white peach, smoke, lemon curd, and brioche. Sancerre goes great with most seafood, especially New England shellfish. We pour Sancerre, Pascal Jolivet by the glass here at Harbor View Hotel, and recommend it with our signature local diver scallops, which are served with fresh hand-rolled gnocchi, native corn, romano beans, and linguica sausage. It complements all the flavors of the sea and brings great balance to the heartiness of the gnocci and sausage. A glass or bottle of Sancerre can –  and should – be enjoyed our favorite way: in a plastic cup on the porch during sunset overlooking the harbor and Edgartown Lighthouse."
-Jason Cotter, Director of Food & Beverage, and Gregory Fournier, Restaurant Manager, Harbor View Hotel
In the Adirondacks – A High-Altitude Argentinian Chardonnay & a New York Native Rosé
"Argentina's Nicolas Catena Zapata pioneered vine growing at high altitude. In fact, the Catena vineyard is roughly the same elevation as Whiteface Mountain here in Lake Placid. High altitude means more sun exposure, which in turn causes the grapes to develop a deeper pigmentation, thickening the skin of the grape and creating a wine with more flavor that ages very well. The Catena Chardonnay is filled with tropical fruit flavors. It has notes of pears and peaches and has clean acidity. So, after spending a day in the Adirondack sunshine, why not enjoy a wine that comes from a very similar place?
"Closer to home, the Wolffer Estate in Long Island has been working hard for more than 20 years to prove that great wine can come from New York State. Inspired by the Rosé Wolffer is primarily known for, the Summer in a Bottle blend is, as the name suggests, a perfect wine for a summer's day. Consisting of Chardonnay, Gewurztraminer, Riesling, Pinot Blanc, and Pinot Gris, it has intense fruit flavors – lychees, papaya and cantaloupe are all evident and the finish has just a hint of minerality. It's a perfectly refreshing way to unwind after a day of outdoor adventure."
-Ralph Bell, Wine Steward, Whiteface Lodge
Perfect Post-Hike Picks in the Arizona Desert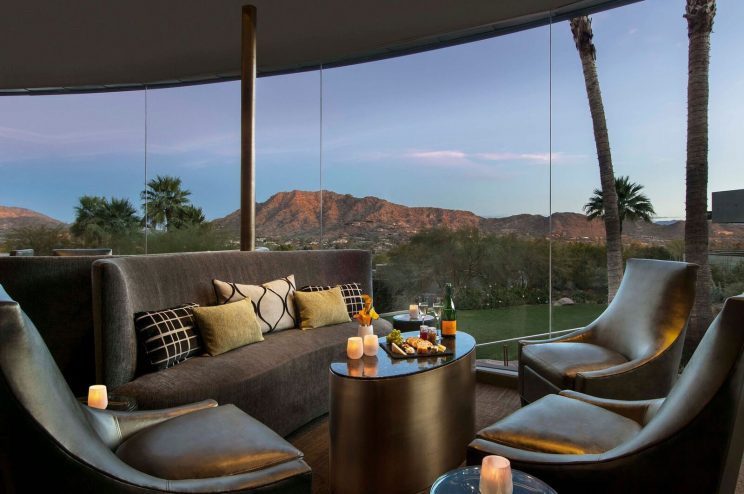 "After a fun day of hiking in Arizona's Paradise Valley, a beautiful Rosé from Provence is always nice – such as Chateau d'Esclans Whispering Angel2 or Domaine Ott – or a crisp refreshing Sauvignon Blanc like Merry Edwards or Eisele Vineyards. For hikers who tackle the challenge of Camelback Mountain, a Grand Cru Chablis such as Les Clos, Bouguerots, or Vaudesir is a delicious and well-deserved wind down. But if your goal is to gear up again, say for an evening of dancing, bubbles are a refreshing and uplifting choice.  My recommendations: Sea Smoke Sea Spray Blanc de Noir, Piper Heidsick Rare, or Billecart-Salmon Rosé."3
-Laurie Wray, Sommelier, Sanctuary on Camelback Mountain Resort & Spa
Going Local with a Seneca Lake Riesling in Syracuse
"After a fun day vacationing in Syracuse, the eastern gateway to the Finger Lakes wine region,4 we would be remiss if we didn't recommend a local Riesling. In fact, the region – and specifically Seneca Lake – has gained a reputation in recent years for some of the best rieslings in the world. Marriott Syracuse Downtown proudly serves Wagner Dry Riesling from the eastern shore of Seneca Lake. It's a fantastic pairing wine that complements whatever is on your table – just the right balance of acidity and fruit with a clean finish. We like food wines, and Wagner Dry Riesling does not disappoint!"
-Chuck Anthony, Director of Food & Beverage, Marriott Syracuse Downtown
For Fun in the Florida Sun, It's Prosecco & Rosé
"Rosé and summer go hand in hand. It's light and fruity and usually features blackberry, strawberry, vanilla, musk, green apple, citrus, pear, acid and earthy flavors. Whispering Angel5 is one of my favorites and a perfect summer bottle – full of mouthwatering flavor, delicate and fruity. It's ideal for a day at the beach while enjoying our light salads, pasta, and seafood dishes.
"Prosecco is the best of the bubbly group, in my opinion. Its flavors include green apple, honeydew, pear and vanilla, which pair nicely with fresh fruit and beach snacks, like our flatbreads and salads that include gorgonzola, figs and prosciutto. One of my favorites is Mionetto Prosecco (Organic) Extra Dry.6 Prosecco has a tendency to be light and crisp with a slight hit of acid. The grapes for this wine are from a certified organic winery in the town of Vazzola in the hills of Treviso. The winery uses organic farming methods and grows the grapes without synthetic chemicals and fertilizers."
-Nais Lopez, Food & Beverage Manager, Palm Beach Marriott Singer Island Beach Resort & Spa
Great Post-Golf Pours
"I can't think of a better way to celebrate the end of a bucket list round on Pebble Beach Golf Links than a bottle of Champagne in our new Stave Wine Cellar. Whether you were under par or bogeyed every hole,7 you have reason to raise a glass and toast to your experience. One of our favorite bottlings is Billecart-Salmon Brut Rosé.8 A blend of Chardonnay, Pinot Noir and Pinot Meunier, it is demure and yet vibrant, elegant and crisp. Just thinking about it makes my mouth water for its distinctive flavors of strawberries and raspberries, complemented with minerality, chalkiness and refreshing acidity. Definitely makes you want to come back and have another glass, and another.
"If Champagne isn't your style, have Jeff Birkemeier, Stave's resident sommelier, bring you a bottle of Larkmead Cabernet Sauvignon. Sometimes lost behind Napa's more well-known names, the Larkmead estate is one of the oldest family-owned wineries in the valley, dating back to the late 1800s. This wine is a classic representation of Napa Valley Cabernet Sauvignon, showing both red and black fruits, cedar and earth on the nose. Similarly, on the palate it shows blackberries, cassis, graphite, forest floor and spice. One sip and you instantly know you're drinking Napa cab. It's balanced, without over-extraction or being over-oaked, and has silky, refined tannins. The finish is as long as our golf course!"  
-Wendy Heilmann, Director of Wine & Spirits, Pebble Beach Resorts
A Rosé Takes Manhattan
"We recommend toasting an excellent day exploring all the world-class cultural draws of Manhattan with a bottle of TASTE rosé from New York's own Bedell Cellars, one of the pioneering wineries on Long Island's North Fork. With a freshness that's perfect for summer, it embodies the spirit and endless energy of the city – and has a fun label to match!
"If you feel like sampling, TASTE is one of three rosés featured in our unique wine flight along with California's Chandon Rosé and Côtes de Provence Rosé from Chateau Miraval. Not in the mood for pink? Other flights include L'Elégant, featuring three excellent sparklers, plus Le Francaise and L'Américain, focusing on irresistible French and American wines respectively."
-Océane Galtié, Food & Beverage Manager, Sofitel New York
I would love to hear how y'all 'Wine-Down' after an active vacay day!