You have to be doing something right to be able to make wine for nearly 100 years. Enter Pasqua wine. So often we accomplish great feats in life and are OK resting on our laurels, maintaining the status quo. But that has never been the case with the Pasqua Family. The family has been making great wines since 1925 with Pasqua being a household name in Italy for about as long. Even back as early as the 1940s, the family prided itself on being innovative and setting the standard in the winemaking world when they invested in vineyards and a bottling plant to help secure the winery's future.1.

So, while making quality wine and being ahead of the curve is nothing new to the Pasqua family, what is new is the approach taken by third generation brothers Riccardo and Alessandro Pasqua. The brothers took over at the helm of Veneto's Famiglia Pasqua winery in 2014. Intent to build upon and put their own mark on the family's legacy, the brothers continue the family's tradition of being innovative but with a nod to today's consumer. Unafraid to push boundaries and tread into the unfamiliar, the calculated risks have certainly paid off.
I was fortunate enough to share a delicious lunch at Houston's Perbacco restaurant2 with Alessandro to taste his family's wines.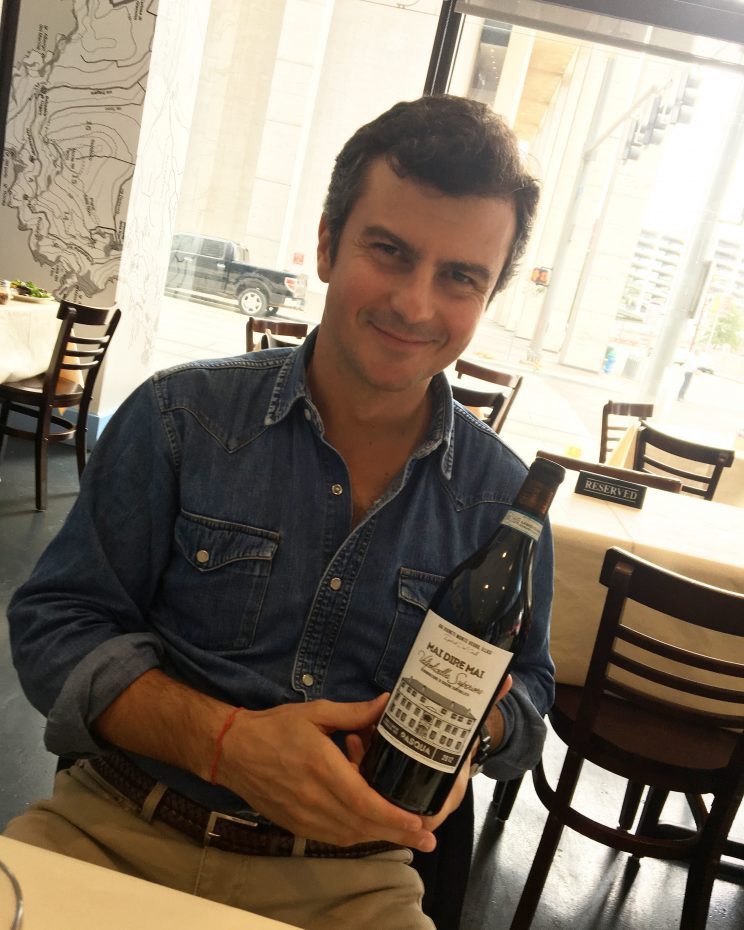 In addition to the opportunity to taste quality wines, I absolutely enjoyed hearing Alessandro's story about his family as well as his own personal journey in moving to the U.S. and representing the family business. Not only was I able to learn about the family's storied wine traditions, I was also able to hear about the current generation's approach to building on that legacy. With so many mass produced wines out there, it's such a pleasure to be able to taste family-owned, hand-crafted wines where the focus is on quality, terroir, and family.
We tasted four wines during our lunch.
2017 11 Minutes Rosé delle Venezie ($20)
A new Rosé interpretation by Pasqua introduced in 2017, this was our first wine with lunch and certainly set the stage for what was to come. The name of the wine comes from the duration of the skin contact which lasts 11 minutes. It also sees 3-4 months lees contact which gives it a bit more body and smoothness than a lot of Rosés. The wine is a blend of Corvina, Trebbiano di Lugana, Syrah, and Carmenère, with each varietal providing a distinct characteristic.
Corvina is the dominant varietal in the blend as it is one of the principal grapes of the region and provides the cornerstone of the wine's acidity. Trebbiano brings elegance, Syrah provides the fruit flavors, and the Carmenère contributes structure to the wine. The resulting wine offers up strawberry cream, peach, and floral notes accompanied by medium acidity. Just a joy to drink and perfect with grilled veggies, lightly grilled seafood, sushi, and soft cheeses.
Romeo & Juliet Passione Sentimento Wines
Next up were two of the wines from the Passione Sentimento ("Passion and Feeling") collection. This line of wines was created to appeal to a younger and more international consumer. In other words, the wines are made in a more modern style. The Pasqua family dedicated these wines to one of the legends that has made Verona famous in the world. The labels for the wines were inspired by Juliet's (of Romeo and Juliet) Graffiti Wall in Verona. In fact the famous wall was photographed and transformed into labels for the wines. The use of such an urban art piece not only symbolizes the Pasqua family's deep connection to the history and culture of the city but is also a nod to the present and future.
The wines from this collection are made using the "appassimento" process, best known for producing Italy's famed Amarone. This involves drying the grapes to concentrate the intensity of the grape's aromas and flavors. After the grapes are hand harvested, they are transferred to wooden crates and aged in a special room called a "Fruttaio" where they begin drying out, essentially becoming like raisins. The vineyards for these wines are located on hillsides in northeast Valpolicella.
2016 Romeo & Juliet Passione Sentimento Bianco, Veneto ($16)
I can't ever recall having a white wine made made using the appassimento process and I hope this isn't my last. Where has this been?! Crafted of 100% Garganega, this was such a unique white wine. I'm a big fan of Soave but this was a different take on Garganega. Initially I wasn't sure what to expect but it ended up being an elegant, full bodied wine. Intense aromas just pull you in followed by peach, apricot, mango, and almond flavors. A tad off-dry and artfully balanced by nice acidity, this is quite a versatile wine. While it was wonderful with Perbaccos's simply grilled fish, I'd happily drink this in the pool, with cheese, or with my favorite food group – popcorn. Me, Romeo, tropical beach, and this wine – bring it!
2016 Romeo & Juliet Passione Sentimento Rosso, Veneto ($16)
While the Rosso is made similarly to Amarone in some respects, this one was quite fresh and easy-drinking. Think Baby Amarone. Crafted of Corvina, Croatina, and Merlot, it is the epitome of tradition and modern winemaking combined. A portion of the Corvina and Merlot are dried until the grapes lose about 30% of their water content. The rich, concentrated juice from these grapes is combined with juice from non-dried grapes resulting in a wine that exhibits richness and freshness all in one tasty sip. Cooked black plum, ripe juicy cherry, vanilla spice, and a touch a leather accompanied by smooth tannins and a lingering finish. The wine's acidity makes it a natural for food pariing and it was heavenly with eggplant parmigiana.
I'd also have this with pizza, roasted meats, and cheese. And at this price point, it's not a bad idea to stock up. Such a steal at $16!
2012 Famiglia Pasqua Amarone Della Valpolocella DOCG ($46)
Ahh, Amarone. The darling of Veneto and made with such painstaking precision. I'd previously had the Pasqua Amarone and it was joy to have again. The family's flagship wine which is the signature of the first generation, is a treat for the senses. The deep garnet in the glass, the heady dark fruit and spice aromas, and the decadent black cherry, mocha, and vanilla flavors captivate and evoke a sense of enthusiasm and appreciation. Crafted of Corvina, Rondinella, Corvinone, it is a classic wine. Velvety and lush, it's one of the few red wines that I like with dessert. Yes it's fantastic with slowed cooked, braised meats (veal cheeks!) but give it a whirl with some chocolate and you may have a new favorite pairing. It's also one of my faves with smoky, Texas BBQ. But as luck would have it, we were able to pair with a delicious trio of desserts.
Pasqua has seven wines that make up its presence in the U.S. including the four above. I also have the Romeo & Juliet Passione Sentimento Prosecco and the Mai Dire Mai Valpolicella wines in my home cellar so stay tuned to hear about these. And do let me know if you are able to try any of the Pasqua wines as I'd love to hear your thoughts. Cheers!