I admit it, I drink way too much red wine and neglect the whites. But of late, I've been trying to add balance to my life. In fact, in the last 12 months, I have righted the ship and have incorporated more white wines into the mix. I mean, just see my article on off the beaten path white varietals. Those were some fantastic wines, many of which were quite #BudgetMinded. However, the versatility and general affordability of Riesling has me coming back to it again and again. How many times have you heard "Drink a Riesling with Thanksgiving dinner?" It's because it has the ability to pair with so many foods. And to be honest, Riesling gets a bad rap sometimes. So many people think they don't like Riesling because they think it's too sweet, it's flabby, or it's just not good. Some of this may be true, but such criticisms are not exclusive to Riesling. And I submit to all of those people, that they just aren't drinking the right Riesling.
Produced in cool (and some warmer) climates around the world, Riesling has such versatility that there is bound to be a style that suits everyone. One of my favorite things about Riesling is that the wines tend to be lower alcohol with higher acidity which makes them the ultimate food wines. Even when produced in a sweeter style, that hallmark acidity remains which allows many Rieslings to mature in the bottle for years. Hoping to pass on my appreciation of this noble grape, I assembled my #WineSquad to get their thoughts. And to prove my point, I served up some Thai and Vietnamese cuisine, and of course some Tex-Mex.
Nik Weis Urban Riesling, Mosel, Germany (2015) ~$12
So of course we started with a German Riesling because when you think of Riesling, this is the country that comes to mind for many. Germany has several regions that produce Riesling and surprisingly there is a great deal of variation between the various regions. Not all German Riesling is the same nor are they all equal. Mosel is probably the most well-known of the German regions for Riesling. Compared to just about any other Riesling, including others from Germany, Mosel Riesling generally is the lightest, most delicate with pronounced floral notes.
The Urban Riesling1actually gets its name from the patron saint of all who work in the wine industry, Saint Urban of Langres, France.2 This one was off-dry with lemon, orange, and white floral aromas. Some folks picked up a touch of melon and pear as well. On the palate it exhibited some nice acidity, felt smooth in the mouth and was overall the favorite of most of the group.3 An easy drinking crowd pleaser for sure, not to mention it was fabulous with curry.
Pewsey Vale Eden Valley Riesling, Barossa, Australia (2016) ~$16
Australia is also well known for its Riesling, particularly those from its Clare and Eden Valley regions. These regions produce wines which are usually unoaked, bone dry, and known for their lime aromas and high acidity. The wines also have an ability to age – some up to a decade or more. Tasmania and parts of Western Australia also produce Riesling.
This particular Riesling offered up lime and intense petrol aromas. Many of the tasters couldn't get past the petrol and rated it low. On the palate, the lime was quite pronounced (it was there from start to finish) and I had a difficult time finding a food pairing, but finally got around to pairing it with a cold cucumber and shrimp salad where it paired quite nicely. I also liked it with guacamole. Ceviche or raw oysters would also work here. We also picked up a hint of spice, green melon, and some minerality. I loved the fact that this quintessential Australian Riesling got everyone's attention and caught them off guard. And while we (I) assumed all of the Riesling would pair well with our Thai food, it definitely had a different profile than the Mosel Riesling. And the more I think about it, the more I think this one could take some time in the bottle.
Poet's Leap Riesling, Columbia Valley, Washington (2015) ~$20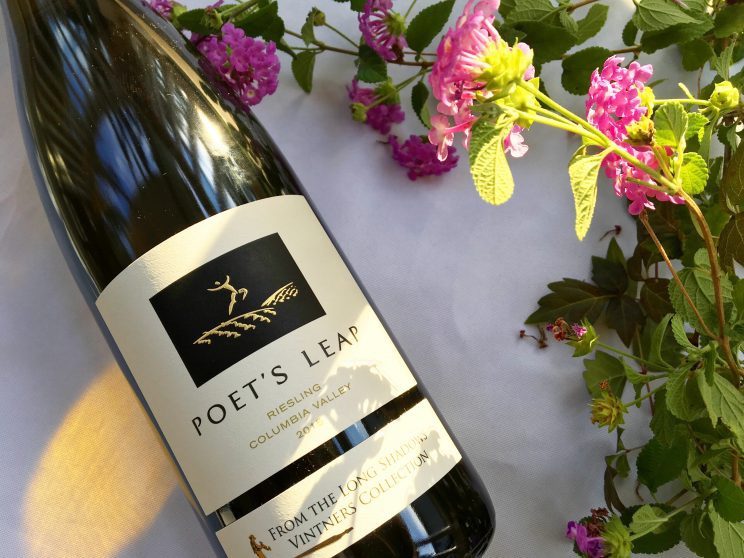 If there is an official white wine of Washington State, it would be Riesling. They may have more Chardonnay under vine, but the popularity of Riesling from Washington is undeniable. Washington State Riesling is grown under warm and dry conditions in Eastern Washington. Due to the warmth and the long daylight hours in the summer, the wines tend exhibit ripe fruit.
With less pronounced petrol than some of the others we tasted, the Poet's Leap Riesling had lemon-lime, peach, apple, and apricot flavors and almost seemed to have a slight fizziness to it which made it all the more refreshing. It was well received and was generally liked by most of the tasters who rated it in the middle of the scale. The consensus favorite pairing with this one was a Vietnamese Eggplant which is stir-fried eggplant in a rich, sweet "secret" sauce. We didn't have any, but orange chicken would also be a nice accompaniment to this one.
Domaines Schlumberger Grand Cru Saering Riesling, Alsace, France (2011) ~$32
If Mosel Riesling, with its light, delicate characteristics has an opposite, it may very well be Alsatian Riesling. Alsace, in eastern France along the German border specializes in dry Riesling which is often higher alcohol (due to drier, warmer temperatures), medium to full bodied, and a bit more complex. Instead of the cool, green fruit flavors more typical of Germany, Alsatian Riesling tends to show more citrus and stone fruit flavors.
Our Riesling offered up honey, toast, peach, petrol, a little spice, and some creaminess. And this is what I love about Alsatian Rieslings. You get so many different flavors and aromas and the wine continually evolves. It was definitely my favorite of the bunch and scored highly with more tasters than I was expecting. One taster described it as a wine that makes her happy which makes me really happy. For the food, I loved this one with our Pad Thai.
Riesling is also produced in several other regions around the world including Austria, which typically makes a dry style as well New York's Finger Lakes which tends to make a fruitier, sweeter style.
Urban was once the bishop of Langres, France and was driven from his home in the midst of political upheaval. He took refuge in a vineyard where the workers concealed him. After Urban converted them to Christianity, the workers helped him discreetly move from town to town via the vineyards to continue to spread his ministry to the vineyard workers.
In fact, one of them sent me a tag on Instagram showing me that they'd gone out and purchased a bottle for themselves. My work here is done.