So what happens when you're in the land of coffee that is Seattle and can't get over the mountain to visit wine country out east or even out of the city a bit to visit Woodinville? Why you suck it up and drink all the fabulous wine that is IN the city. I've been to Seattle multiple times on business and generally was unable to get out of the city since I was there for the umm, #Lawyering. But not to worry as Seattle has a fantastic wine scene along with great food. I also may have done some shopping…
Here are a few cool Seattle wine spots worth checking out – with bit of food thrown in.
The Estates Wine Room
Located in Pioneer Square, the city's oldest, most historic neighborhood, I sort of stumbled upon The Estates Wine Room. But lucky me! It's a beautiful tasting room with great staff to boot. Clean and modern with eclectic art throughout, it's such a chill spot.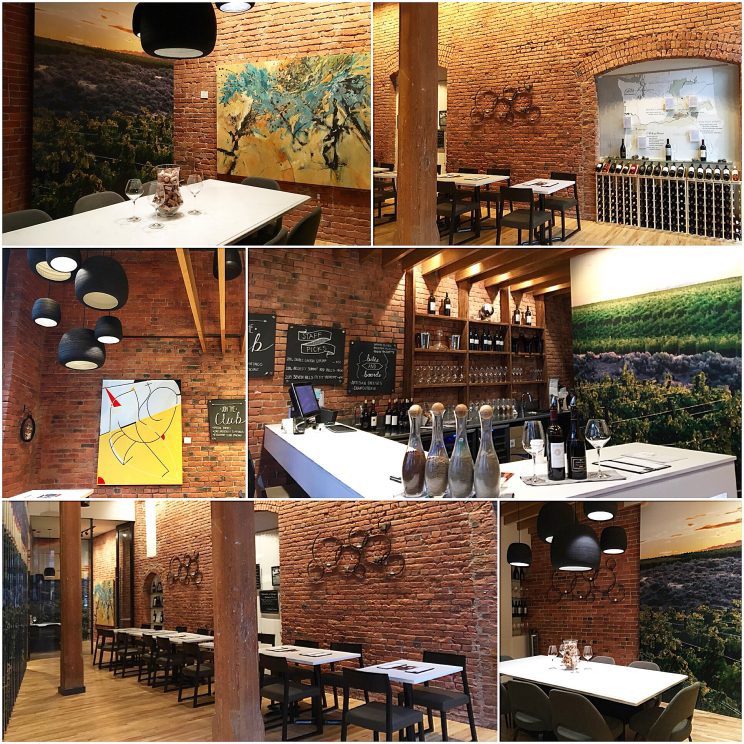 Estates is sort of a combination wine bar and urban tasting room. They actually feature the limited-production estate wines of three wineries – Double Canyon from Horse Heaven Hills, WA, Seven Hills Winery from Walla Walla, and Archery Summit from Willamette Valley, OR. Take a seat and have a tasting, but if you like something, you can purchase a bottle to go as well.
As someone that is now in love with Washington wine (that post is coming next) I was thrilled to find this place!
I tasted through all of Seven Hills Wines as well as a couple of the Double Canyon wines. They also feature the champagne of A. Bergere. The Blanc de Blanc was amazing! Really.Good.Bubbly! I got some of that too!
Kimpton Alexis
Yes, it's a hotel but it also provides a great opportunity to try a few new wines. Kimpton is known for its daily Wine Hour where they offer up complimentary wine and light bites. On this occasion I was introduced to the wines of Monde eau which crafts its wines with organically grown Washington grapes. Monde eau Wines was actually established to support humanitarian efforts that supply safe drinking water to the developing world. So you can drink wine and be charitable all at the same time.
The hotel actually has a fabulous location and where else will you be provided with a plush leopard robe and a bottle of wine to enjoy in your hotel room?
Or be able to sip your wine in such a swanky setting?
I should also add that the Bookstore Bar & Cafe, which is attached to the hotel, has an excellent whiskey selection.
Purple Café and Wine Bar
In addition to its original location in Seattle, the Purple Café and Wine Bar also has locations in Woodinville, Bellevue, and Kirkland. Boasting a menu with seasonal and local foods, this central business district wine bar (which is just a few blocks from Pike Place Market) has pages and pages of wines from which to choose. The wine list is both a fun read and educational. Really. And it is both exceedingly global as well as exceedingly local. Want to try something from Slovenia, Morocco, or Georgia (yes the country!)? They have it. Want to really get to know some Pacific Northwest wines? They have loads from which to choose. And not only are they happy to let you have a taste to see if you like something, most of their wines are available for retail purchase at 40% off. And being in the business district as well as near major tourist attractions, this place is perfect to sit for some wine and nosh. Not to mention that I want that wine staircase in my house.
As an FYI (really a favor to you), the sherry-mushroom soup is the business and is perfect to shake off the cool, damp Seattle weather. Add in a hearty glass of red and you're ready to go back out and tackle the weather.
And I would be remiss if I didn't mention how fantastic the Lamb Sausage pizza is. Just trust me.
Von's 1000 Spirits
Because a girl needs bourbon sometimes and it's tough to beat the selection at Vons. With over 1000 spirits available (hence the name) this bar and restaurant is a great place to take a load off and treat yourself to a stiff drink. Just thumb through the Bar Bible – such a cool book – to find something to your liking.
But be sure to tell them what you're into as they get new things in all the time that haven't made it into the Bar Bible. And while they do have wine available, I was all about the bourbon. And yes, it was a GOOD night.
Vino Volo
Because you ALWAYS visit Vino Volo when you see one. Because it's a fantastic opportunity to snag a bottle of wine on your way home. Because you need a flight before the flight. And since they open at 7am to accommodate many of us folks flying out early since we have to go east, you almost always have the opportunity to pop in. This Sea-Tac Airport wine bar is a favorite of mine. I once visited 4 times in 5 weeks to the point where they wanted to know if I was going to buy "another bottle of that wine I liked." I've definitely made some great discoveries there over the years.
TO EAT WITH YOUR SIP
Metropolitan Grill
I love a good old school steakhouse. Dark wood, dim lighting, and the feeling that I'm hanging out in a secret club.
I couldn't decide which I loved more at Metropolitan – the wine or the bourbon selection. So I had some of both. The bourbon selection almost brought a tear to my eye. I'm still trying to think where I've seen a more extensive selection save the Multnomah Whiskey Library in Portland. I mean they have their own collection crafted for them by Woodford Reserve. And all that Pappy…
The wine list is a thing of beauty as well. Seriously. But not being the Big Baller that I sometimes imagine myself to be, I opted for a wine I'd been curious about for a long time after seeing it on Instagram and had yet to try. And yes, the Robert Craig Howell Mountain Cab lived up to the hype.
Just know that the list goes on and on and is quite extensive. And while there are a wide range of price points, I'll admit that some of the prices hurt my feelings. But like me, you can find something in your price range because they really do have what seems like a little bit of everything. They also offer an amazing selection of specialty steaks including some famed Japanese beef, in addition to the "regular" stuff. A nice compromise (for your wallet) is the "American Wagyu" from Snake River Farms in Idaho.
And yes it's random, but they had some seriously fantastic salads. One of the best wedges I think I've ever had. So OK, I said it was random.
Blueacre Seafood
While I will always tout the deliciousness of Gulf seafood, I generally make it a point to try local seafood wherever I go. Blueacre fit the bill and had an extensive election of fresh, local seafood all creatively prepared. There were also some Southern influences on the menu evidenced by the duck and Andouille gumbo as well as the smothered collard greens. Perhaps this was due to chef's previous stint in New Orleans. Either way, I was intrigued. The wine selection here leans decidedly Pacific Northwest and why not when you have such excellent options? And yet I have no clue how I ended up with a Napa Sauvignon Blanc. All good though.
We started with a smoked salmon crostini amuse which let me know we would be in for a fabulous meal.
Some menu standouts included the fried deliciousness of the Dungeness Crab & Bay Shrimp Tater Tots and the Roasted Cauliflower & Cambozola Fritters.
The Kasu Marinated Neah Bay Black Cod was Ah.Maz.Ing. Seriously good stuff.
The halibut was also fantastic. Just an all-around fantastic spot for fresh seafood.
Shuckers
Of course, while you're on the coast and in the midst of the sea, you may as well opt in for some fresh oysters. And if I'm going to have oysters, I must have good wine to go with them. Shuckers, an upscale restaurant and oyster bar in the Fairmont Olympic hotel has an extensive oyster selection with as many as ten to fifteen varieties available – all of which can be prepared 6 different ways. And all of which are screaming out for a glass of wine. Cheers!