If you've ever done any fine dining in New Orleans, chances are you've visited a Brennan family restaurant as it is the epitome of Southern fine dining. We're talking elegant, old school dining. The original Brennan's Restaurant was opened in 1946 in the French Quarter in New Orleans and is still going strong today albeit with a few hiccups along the years. Pioneers of upscale French Creole cuisine, the Brennan Family launched the careers of famous chefs Emeril Lagasse and Paul Prudhomme at their Commander's Palace restaurant and are the folks responsible for the iconic bananas foster dessert.
From the opening of Brennan's Restaurant all those years ago, various members of the family have expanded their restaurant offerings, including the aforementioned Commander's Palace which has won six James Beard Foundation Awards, as well as Mr. B's Bistro (that BBQ shrimp tho'), Dickie Brennan's Steakhouse, Palace Café, and on and on. While most of the restaurants are located in New Orleans, there are a few restaurants sprinkled about in a handful of other cities. Houston is one of those lucky cities that has had a Brennan's Restaurant since 1967.
And while you are still able to find some of the old school Creole favorites, whether traditionally prepared or with updated interpretations, at dinner (and I do love getting dressed up and going to a fancy dinner), the restaurant also recognizes the importance of the institution that is "Happy Hour" and has rolled out the latest version of their 7-7-7 Courtyard Bar Menu. The menu features seven appetizers, seven cocktails, and seven wines for $7 each and is available from 2:00 – 7:00pm seven days a week. The restaurant is located downtown and the courtyard is a perfect spot to hang out after a long day at the office. It's also perfect for brunch.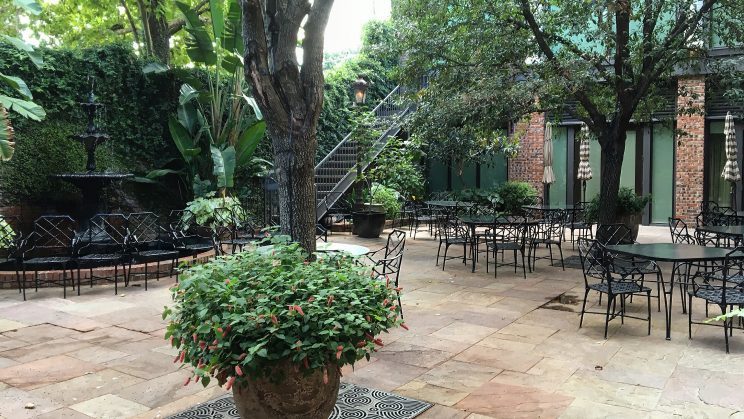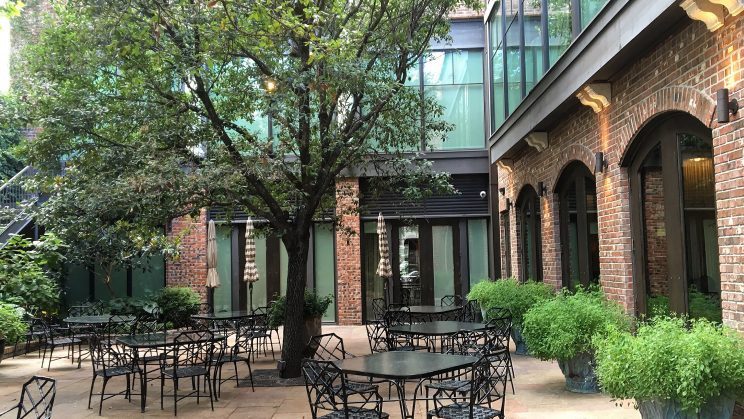 The bar area is just as nice and is quite swanky and cozy.
I recently had the opportunity to try the new menu. All I can say is that they still got it! The menu had a solid foundation of Creole classics all with new and inventive twists.
Walking in the door I was presented with the house barrel aged Sazerac, which is a local New Orleans cocktail. I first had this cocktail when staying at the Roosevelt in New Orleans many years ago. It was originally made with Cognac, but rye whiskey was later substituted when Cognac became difficult to get.
The Food
After whetting my palate (literally) it was time to try some food. The first thing I tried was the Island Shrimp Ceviche.
It featured fresh Gulf shrimp and was delicious. It's splashed with a bit of Tito's Vodka which is made in nearby Austin and was served with tostones, which are fried plantain slices.
Next, I tried the Honey Roasted Crisp Duck.
This was probably my favorite thing I tried. The duck featured was a Rohan duck which was inspired by the Rouen duck from Normandy and is a cross between a Mallard and Pekin duck. It was juicy and full of flavor and had the best crispy skin. I really wanted to ask for more skin but I behaved. The duck was served atop crawfish fried rice (doing Louisiana right) and was served with peaches, a Texas Blueberry Sauce, and a bit of swiss chard and cabbage. I love chefs. I really do.
Up next was the Acadiana Boudin Link.
In my house, the Louisiana-bred Husband and Thing 1 would love it if boudin was its own food group. This featured Black Hill Ranch Pork Boudin in Zatarain's Creole Mustard and topped with more of the cabbage and swiss chard. I would never have put such a combination together but it worked. I talked to Chef Danny Trace and they make the boudin in house. He has some Louisiana roots so I knew it would be done right!
I then ran across the Tuna Crudo.
The tuna was served with a peach vinaigrette, caramelized peaches, cucumber, and a bit of crema. Such a light and refreshing dish after chowing down on the duck and boudin.
My final stop was the Grand Platter. Oh my! It was quite grand.
This deliciousness consisted of Blue Crab Raviote, Zatarain's Boiled Shrimp, Creole Lobster on a Stick, West Indies Crab Claws, Smoked Catfish Dip, and Bluepoint Oysters on the half shell. It was almost too beautiful to eat but I persevered. All that shellfish was begging me to go back and get more Prosecco. I'll talk about the wine in a bit.
I almost teared up at the Blue Crab Raviote. Lump crab for days! And those crab claws!
You just can't miss me with anything crab.
The Vino
Ah, the vino! In addition to trying a few of wines they had available for the 7-7-7 feature, I was able to get a behind the scenes glimpse of the wine program.
The first wine I tried was Carmina Loggia Prosecco from Italy. This was a beautifully crisp, dry, and refreshing wine with bright acidity. It certainly cleansed my palate and got me ready for the aforementioned ceviche. I also refilled my glass of this when trying out the Grand Platter. Talk about a great pairing.
For the white wine selection, the 2013 Matteo Braidot Prinot Grigio from Venezia Italy was available. This was equally as nice as an aperitif and a match for the seafood.
The featured red wine was the Liberated Pinot Noir from Monterey, CA. This was a well-balanced wine with nice acidity along with some earthiness and cherry and raspberry flavors. I absolutely loved this with the duck.
After having tried all of the appetizers and wines available, it was time for a tour. Wine Director Marcus Gausephol took me on a behind the scenes tour of the restaurant's wine program. They have a fantastic wine list which features more than 800 bottles and over 80 selections by the glass and which has received the Wine Spectator Award of Excellence.  Great wine for great cuisine. In fact, they do many things "wine." They have a featured selection of wines poured from the Coravin which I love as sometimes you just want to try a wine without committing to the whole bottle. And sometimes you don't want to pay for the whole bottle. Just keepin' it real folks. I have a Coravin at home and absolutely love it.
They also do a "Wine Table" daily where their wine guys pull various wines (inspired by the guest) and pair them with a five-course tasting menu. It's meant to be a fun, relaxed experience for wine enthusiasts whether they are new to wine or old hands. They also have a wine event called "Case of the Mondays" where they literally open a case of wine and allow guests to taste them. It's usually based on the restaurant's wine focus for the particular month. I have got to get over there for one of these events! Talk about hashtag #MondayMotivation!
The restaurant also has several dining rooms that are available for private dining, including the Courtyard. Of course my favorite is the Wine Room on the second floor.
How better to dine than being surrounded by the nectar of the Gods? The room houses their old world wine collection as well as a few cult California Cabs. They also have a downstairs cellar where most of their new world wine is stored. And then they have a couple of other cellars for new and old world white wines. There could have been another one but I lost track somewhere. Just rest assure that there is ample wine from which to choose. If brunch is more your speed then you have to check out the Saturday Brunch where they offer 25-cent Mimosas and Bloody Marys. You just may need a nap afterwards. So whether you're up for some fine dining (which I'm all about when Thing 1 and Thing 2 have plans) or just want something a bit more causal with brunch or the bar, you definitely can't go wrong here.
Just be sure not to forget your complimentary praline (or two) on the way out the door!