So I decided to host an Easter brunch for the family this year. And when I say family, I mean mom, siblings, aunts, uncles, cousins, etc. Everybody. It had been a while since we had all gotten together and I had been been feeling particularly "host-ful." Is that a word? Probably not, but I'll go with it. My instructions were for everyone to bring a dish as well as a beverage that they'd like to drink. Of course I know my family (still love them) and knew most of them would not really bring anything to drink as they always know I'll have something for them to drink. And I did have a great selection of Easter brunch wine ready to go. But one of these days I'm going to shock the hell out of them and just have ice water, but until that day…
But they did come through with the food (some of it per my suggestion) and we had a nice spread of glazed ham, fried chicken, pasta salad, chicken spaghetti, breakfast casserole with potatoes and sausage, fresh fruit, fruit salad, and on and on.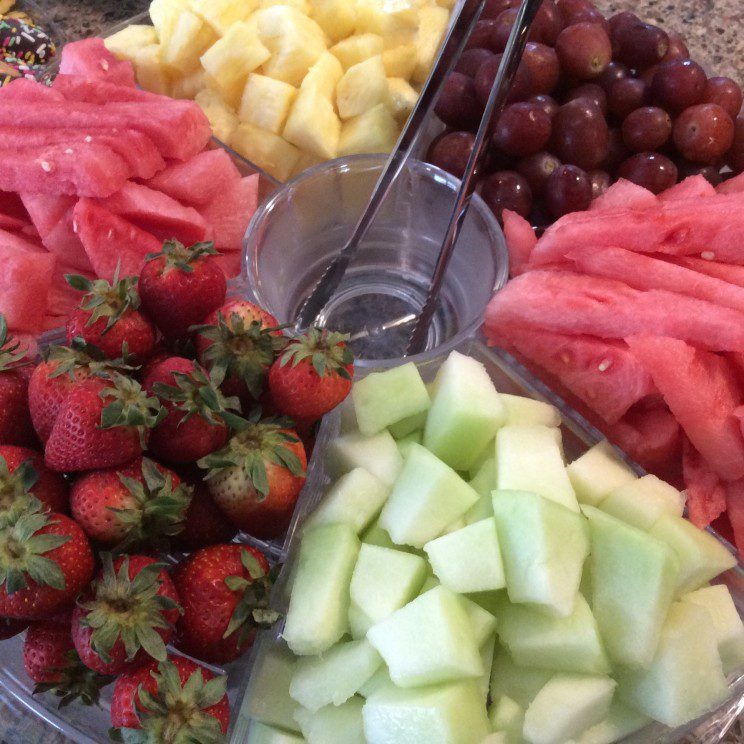 We also had a few sweet treats.
But I write about drinks, right? So in addition to the traditional mimosa (which is always perfect as an Easter brunch wine) I had a couple of other drinks planned. Most of the family leans toward the sweeter side of things, so I based my drink selections with that in mind. Of course, the variety of brunch dishes was also begging for something of the sparkling variety.
Strawberry Infused Moscato D'Asti
First up was a strawberry infused Moscato D'Asti that was an absolute hit. They went crazy for it. And it was so simple. Just Moscato and frozen strawberries. I used the Prima Mazzo Moscato D'Asti, which is a pretty sweet (but not syrupy) wine from the Piedmont region of Italy. Despite its sweetness, it's still very light. It has lovely notes of peach and honey, is such a good value at around $12, and is always a crowd pleaser. I let it sit for about 15-20 minutes and that's it. Thirty minutes would have been ideal, but whatever.
They were so impressed with it that I really didn't want to let on as to how easy it was. I mean it's a good thing that I had several bags of frozen strawberries as I was having a hard time keeping up with them!
Classic Peach Bellini
I also made a few pitchers of classic peach bellinis. If you don't know the history of this drink, it originated in Venice, Italy at a place called Harry's Bar, which was frequented by the likes of Ernest Hemingway and Orson Welles. The drink's creator, Giuseppe Cipriani, named it for a painting by Venetian artist Giovanni Bellini as the colors in one of his pairings reminded him of the color of the drink. The classic recipe calls for puréed white peaches and sparkling wine. The original Italian version uses Italian sparkling wine (generally Prosecco) and has a bit of raspberry mixed in to give the drink a pinkish hue. Today, it's normal for people to mix in peach nectar or even peach schnapps as fresh peaches aren't always available or folks just don't want to take the time to purée peaches. I used the Powell and Mahoney Bellini Mixer which consists of puréed white peaches. Yeah, I was not in the mood to purée peaches. I also used frozen peaches for additional flavor and to keep it cold. And of course I used an Italian Prosecco – the La Marca Prosecco from the Veneto region of Italy. This is a delicious Prosecco on its own and is such a steal at around $10. It's light, refreshing, and has notes of citrus, apple, and peach.
The result was delicious if I must say so myself. I found myself having to make multiple pitchers of this.
Other Easter Brunch Wine Goodies
Since I was dealing with a crowd with a sweet tooth, I had a couple of other Easter brunch wines – all with some sweetness – to showcase.
Like just about everything else, this ChocoVine Raspberry was also a hit.
Just be careful as its packs some serious alcohol! Per their website, ChocoVine is a "French Cabernet subtly combined with a rich dark chocolate from Holland, paired together to create a decadent, silky smooth drink, which can be served by itself on the rocks or as the main ingredient to an array of sinful cocktails." OK. It was definitely rich and while drinking it, I kept wanting to eat a piece of chocolate with it. I ended up having one of the chocolate bunny cupcakes with it. Talk about a sugar rush!
The Franz Haas Moscato Rosa found some fans too – including me. This wine is from the Trentino-Alto Adige region of Italy. Funny that we ended up having so many Italian wines with our brunch.
The crowd had dwindled down some, but those who stick around know that as long as they were there, I would continue to shower them with goodies. I'd picked up this half bottle for $60 (yes they were proud of it) but knew that I had a couple of family members that would love it. The Moscato Rosa is a desert wine, but is not a late harvest wine. Apparently Moscato Rosa just has a naturally high sugar level. It offered nice orange and berry flavors. I have to say that I really enjoyed sipping on this and would treat it like an after dinner drink as I would a Port, but with a much lower alcohol level at 11.5%.
For those of us without a big sweet tooth, I also had some traditional Moët & Chandon champagne, Perrier-Jouet Rosé champagne, and the always popular Miraval Rosé on hand, amongst other things. It was a fun brunch, we ate too much, and people stayed way too long. And we had some great Easter brunch wine selections. Can't wait to do it again!
And after all the fun was over, the Easter Bunny still had work to do…