I was in the Willamette Damnit! Given my love of Pinot Noir, I'd been trying to get over to Oregon to do some wine tasting in Willamette Valley for years. Years I tell ya! Well, I finally flew myself (my husband got to play too) out to Portland and headed south to the Willamette Valley. We actually based ourselves in Portland and did a day trip down to the valley. Now I have to admit that as much as I'd been wanting to go, I was a bit concerned that I'd have trouble finding wines that I loved. Of course, I'd had some Oregon Pinots over the years that I liked (and some not so much too), but I wanted to discover some new wines that weren't widely distributed and that I couldn't get at home. Whenever you hear about Oregon Pinot, you usually hear comparisons to Burgundy and that honestly concerned me. I have a "typical" American palate (that continues to evolve) that appreciates fruit forward wine. I don't always appreciate wines that truly signify their terroir and take on more earthy, mineral qualities. Part of the problem is that these wines require some patience and need to be laid down for a few years. I just remember that on a previous trip to Burgundy, I enjoyed my wines so much more when I gave them some time in the cellar. And while I do have several bottles that I age a bit, I'm also a fan of instant gratification.
Usually when I go to Napa or Sonoma, my prime interest is in finding a winery that makes good Pinot in addition to other things. But they must make a good Pinot before I even set foot in the door. The problem with the Willamette Valley is that everyone makes Pinot. How in the world was I going to choose wineries to visit when they all made Pinot?! Research of course! So I spent hours and hours learning about the different wine regions or AVAs in the Willamette Valley and their various characteristics and what distinguished them. I was looking for areas that were warmer and got more sun as that usually helps with the fruit I was looking for. From everything I'd read it seemed that Pinot produced in the Yamhill-Carlton AVA was going to be for me. So after spending hours (seriously) of my life reading and studying the area, I had finally narrowed my list down to eight wineries. I was all set to hire a car and driver to take me around when I decided to pose a question on Trip Advisor about recommended drivers. Most of the people that provided comments suggested that I look up some guy named Fred at a company called A Nose for Wine. Well, I'm not a tour kinda girl as I need to have some input (OK control), so there was no way this would work for me. I emailed one of the guys back and forth and he assured me that Fred would take into account my preferences and that I would absolutely be pleased. I then read the reviews on Fred and they were ALL good. So, I took the plunge and sent Fred an email. Despite all of my research, since I'd never been to the Willamette Valley, I decided to let Fred choose all of the places we visited. Yeah, that was hard for me. I gave him some information on Oregon wines we'd tasted in the past and told him a little bit about myself, but pretty much left everything to him. I wasn't disappointed.
Privé Vineyard
Our first stop was to Privé Vineyards in Newberg. And note that it is by appointment only, but please don't let that deter you. I promise it's usually a better experience. This was such a charming place smack dab in the middle of farmland and vineyards. I should also note that most of the wines are available on futures as their production is very small and goes very quickly. I added myself to list and can't wait to get my email to purchase.
Tina, the winemaker hosted our tasting and she was truly a delight. The production is very much a family affair as her husband Mark grows all of the grapes. They both retired from other careers so perhaps my husband and I need a career change?? But I digress. We tasted seven wines here – four Pinots, a Syrah, a red blend, and a port. We were off to a great start indeed. With the exception of the non-vintage port and the red blend, everything was from the 2014 vintage. So all very young wines. Tina indicated that the sweet spot for Orgeon Pinot was about five years from the vintage date and that seven or eight years out was probably the longest we'd generally want to hold on to a wine.
The first Pinot we tried, the Willamette Valley Pinot, was extremely light – a bit too light for me. It's meant to be more of an everyday wine but just didn't have enough body to suit my standards. The next Pinot, the Chehalem Montains Pinot was definitely a little bigger and a bit more tannic. Now we were getting somewhere. Next up were the Le Nord and Le Sud Pinots, which are the wines for which they are known. Le Nord means North and the grapes for the wine are grown on the north block of their vineyard. And yes, Le Sud means south. Both wines were very earthy, but the Le Nord showed brighter, red fruit while the Le Sud was a bit more fuller bodied, and showed more of the earthy terroir. I actually liked both of them and can't wait to see what they do in the bottle over the next few years.
Having finshed the Pinots, next up was the Syrah. As I've mentioned in other posts, I have a diffciult time loving Syrah. Tina's was fantastcic! She calls it a Pinot Lover's Syrah. Talk about hitting the nail squarely on the head! It didn't overpower and hit me over the head. It was quite elegant as far as Syrahs go. Tina told us that she sources grapes from the Walla Walla AVA in eastern Oregon to craft Syrah, Cabernet Franc, Malbec, as well as a red blend. I was all ready to try the Cab Franc but Tina says she makes it every other year, so I guess I'll just have to wait. Darn! Next up was the red blend called Mélange. It's a blend of Cab Sauv, Cab Franc, Malbec, and Merlot. Loved the fruit on this and as it was still relatively young (2013) I anticipate it being even better in a few years. Pizza, anyone?
The final wine we tasted, and definetly worth the wait, was the Port. Oh the Port! What can I say? It was delicious! It's made with one hundred percent Pinot Noir. Tina explained that the wine was aged using what is known as the solera system of wine aging. This process of aging, also known as fractional blending, originated in Portugal and is accomplished by blending some fraction of wine from each of the past vintages together. Each year they take out ten to fifteen percent of the wine and bottle it and then add back new wine from the current year. This has been going on at Privé since 2002, so it's a continuously evolving wine. This alone was worth the trip! And I have to tell ya' that I'm kicking myself that I didn't buy more than a couple of bottles.
Bella Vida Vineyard
Bella Vida was our second stop in Dundee. And it was stunning!
We tried six wines here – five Pinots and one white wine blend. So the story about Bella Vida is that the owners, Steve and Allison, initially hired three winemakers and whichever wine they liked best, this person was to be their permanent winemaker. The problem was, people liked all three wines! So they kept all three and now produce what's called a Winemaker's Series, which are three Pinot Noir wines called Tardy, O'Donnell, and J. Christopher – named after the three winemakers. They take the same grapes from the same vineyard and let each of the three winemakers produce a wine in their own individual style as part of the series. I couldn't believe the differences in the wines! It was amazing that each of the winemakers started with the same thing and crafted something so different.
Bella Vida also produces what they call their Two Row Proprietor's Cuvée. This is a really neat wine and is a blend of all seven of their Pinot Noir clones. The owners pick two rows (hence the name) top to bottom of the Pinot Noir grapes and ferment them all together right away with no blending after the fact. We tried the 2011 and 2012 and it was then that I was truly able to appreciate the extent that the weather affects the grapes. 2012 was a warmer year than the cool 2011 and it was very apparent in the wine. With the warmer year, the 2012 wine was much more fruit forward while the 2011 showed much less fruit and was more earthy. This pattern would repeat itself when we tasted other wines.
While Bella Vida was all about the Pinot, the did produce one white wine that I really, really liked. They coined the term Gris-Ling for this blend which was half Pinot Gris and half Riesling. I'm pretty sure I've never had anything like it, but it was so refreshing and I was already thinking about sitting outside enjoying this on a warm evening or maybe having some Chinese food with it.
DePonte Cellars
Next up was DePonte Cellars in Dayton, which is a small winery surrounded by some true wine giants including Domiane Drouhin and Archery Summit. They are located in the heart of the Dundee Hills AVA and have a French winemaker, Isabelle, who is from Burgundy. I loved the laid back vibe of the place and even though we were battling intermittent rain, we were able to take in some amazing views.
We tasted a LOT of wine here. Because we were with Fred, we got to taste the four wines on the regular tasting list as well as some library and single vineyard wines. All told we had seven wines and after revisiting some of them to compare/contrast – well let's just say I was getting a bit loose. Like Bella Vida, they were all about the Pinot with one white wine.
The white wine, called the Melon de Bourgogne, was the first thing we tasted and is something for which they are apparently known. Melon, as its called, is quite rare in the U.S. It's actually identical to the Muscadet grape from France. And just so you know, this is not the same as the sweet Muscat (aka Moscato) or Muscadine wine. This is a dry wine. The folks at the tasting room were saying how well it would go with oysters, but I was thinking jambalaya (or some other Cajun classic) all the way.
After the lone white wine, it was time to taste the Pinot. Similar to what I found at Bella Visa, I was more drawn to the wines from the warmer years. We tasted primarily 2011 and 2012 wines and in every case, I liked the 2012 better – but only slightly. I have to say that I enjoyed just about every one of their wines. One highlight was tasting their 2008 estate wine which was a limited re-release of what they consider one of their best vintages ever. Lucky me! The tasting notes indicate that it could age anywhere from seven to nine years. It seems like we were tasting the sweet spot as it was fantastic!
Winderlea & Brittan Vineyards
Our final stop was to the combined Winderlea and Brittan tasting room in McMinnville.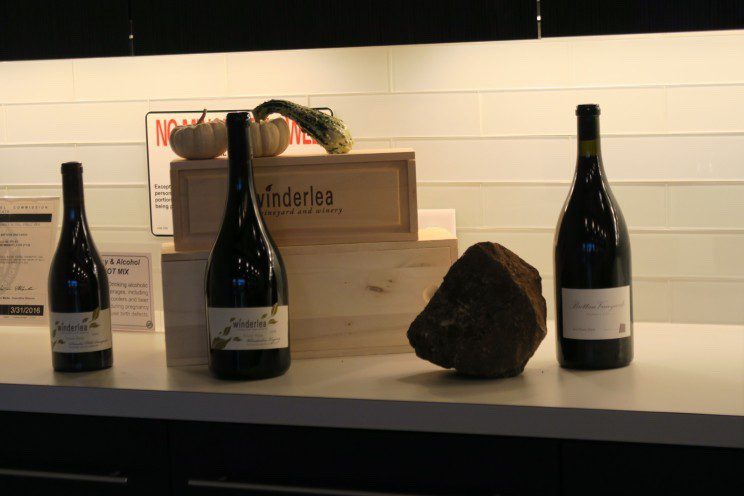 Though these are two separate and distinct wineries, they share a common winemaker, Robert Brittan. I have to say that these are the wines I struggled with the most. Doing some reading on these wines, I saw that they were highly regarded. I even went to a local tasting back home and when I told the guy that I tasted Brittan wines while in Oregon, he practically salivated.
If I thought I'd tasted a lot of wine at the others places, I was mistaken. I had so many different wines going here that I had to formulate a system for keeping track of them!
There were some that I tasted initially and then had to go back and revisit after they'd opened up a bit. This was such a wonderful opportunity to not only see how the wines evolved when they'd been opened for a while, but also to compare and contrast the various Pinots. I really had to focus while tasting these wines, which is not a bad thing. They were all relatively young and very powerful. So I had to pay close attention to the aromas and flavors and think about what the wines would do after a bit of aging. I absolutely loved the challenge! And my pattern of preferring the warmer 2012 over the cooler years repeated itself. The really neat thing about this tasting was learning about the soils in which the vines are planted. I won't bore you with too much detail (it took me YEARS to have any sort appreciation for this) but I was fascinated hearing about how the Brittan Basalt Block Pinot vines are essentially grown in rocks – basalt rocks – and how the grapes have to really struggle to grow which results in fewer grapes, but with very intense flavors. Totally makes sense given how powerful many of the wines were.
I plan to be quite patient with my wine purchases here to really let them age and evolve some. I absolutely believe it will be worth the wait!
I was thrilled that I'd finally gotten the chance to scratch the surface and go wine tasting in Willamette Valley. I can't wait to go back! And I can't say enough about our day with Fred. It was just my husband and me so no true "tour" as I think of them. The great thing about all of the places we visited is that Fred had relationships with the people there, so in some instances we were able to try wines that weren't ordinarily available to try. I think this is becoming more of a trend and I may need to embrace the idea of being taken around by an "insider" though I very much like to be an independent traveler. I recall a few times that I've been frustrated during a tasting when half of the wines were reserved for wine club members. If I can't taste some of your better wine, why would I ever join your wine club?! Of course the day of the week you visit and your overall demeanor affect this as well. We've gone wine tasting during the middle of the week with no crowds and were able to have extensive conversations with the folks in the tasting rooms. Sometimes (not always) when you tell them your preferences or what interests you, they may open up something that isn't on the regular tasting menu. But you can't just be there to get your drank on. You need to really have some interest in the wine. And I would extend that sentiment to Fred as well. I went to Oregon knowing that I was going to bring home a few cases of wine. If you just want to try a few wines and maybe purchase a couple of bottles, Fred is probably not who you need. In such an instance you may be better off going it alone. Just depends on what you're looking for. So until next time Willamette.